This Country Heads Up Barack Obama's Ultimate Vacation Bucket List
"The Secret Service wasn't that thrilled about the logistics of that," Obama disclosed of his dream vacation destination.
Most retirees like to travel, but Barack Obama gets to go a little further afield than the Grand Canyon. In a forum Wednesday at the World Travel and Tourism Council Global Summit in Seville, Spain, the former president praised travel as a way to expand horizons and dispel stereotypes.
"It reminds people both of the incredible value of our diversity on this planet and the differences we have," he told Hilton CEO Christopher Nassetta. "Because that's what makes food in Sevilla different than food from Bangkok — and they are both really good."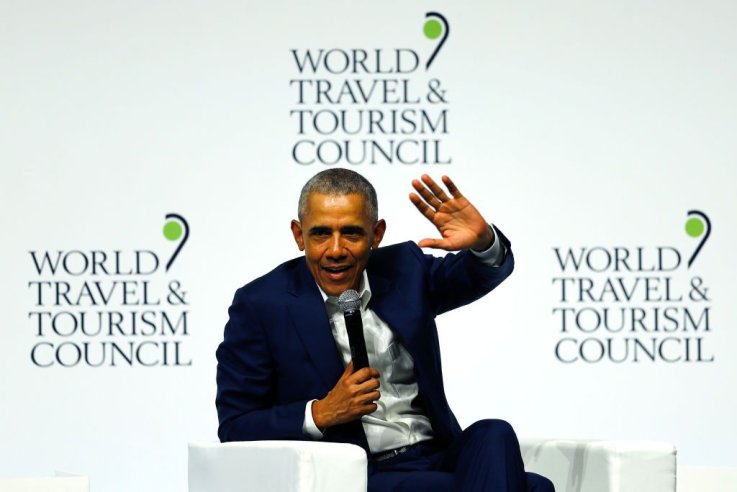 Obama, who lifted travel restrictions against Cuba while in office, also spoke about pratical steps to improving international tourism—like making travel visas more easily accessible.
"We saw huge growth in people in Brazil with disposable income that wanted to travel and go to Disney and other places. But they could only get a visa in Sao Paulo or Rio. Brazil is a massive country—that was going to cap how well we were going to do."
He urged governments and travel industry reps to create safer environments for women travelers: "If you're part of a tourism council in a city or nation where young women feel uncomfortable where they're traveling, that will potentially reduce your market. Young women aren't going to put up with that; they don't need to feel harassed or uncomfortable when they travel."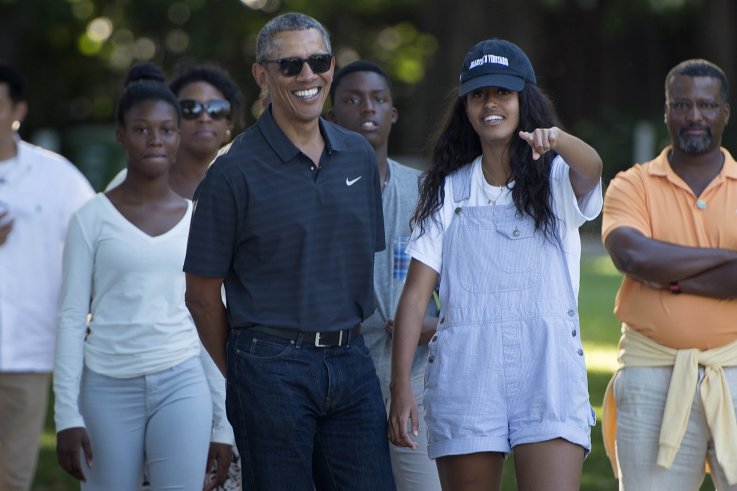 Obama also cautioned against overtourism and stressed balancing tourism with safeguarding the environment. "Some of the most beautiful places on this planet, that we most want to visit and share with our children and spend time in, are at risk."
He recalled his own solo adventures in Europe and Kenya, as well as trips with Michelle and the girls. "There is something spectacular about seeing a new place and experiencing a different culture but when you're able to watch that sense of discovery in your children's eyes, that's more special than anything else."
So where is President Obama dying to travel to next?
"Angkor Wat. I was in Cambodia for an meeting. I was two hours away and could not get there because there was a crisis back home."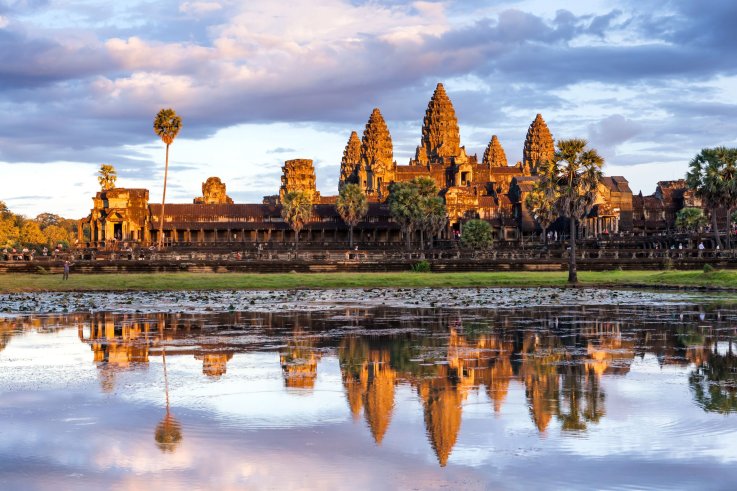 He had a similar holdup with a pilgrimage to the Taj Mahal. "I was scheduled to go and then King Abdullah of Saudi Arabia passed away, and we decided to stop in Riyadh."
He's also hoping to return to South America—Brazil, Chile, Patagonia, Argentina—followed by a bucket-list stop that might scare off even veteran travelers.
"We're thinking of jumping off to Antarctica," Obama told attendees. "The Secret Service wasn't that thrilled about the logistics of that because if the weather turned, we might not be able to get in communications for several weeks. But now that I'm no longer president, I may have to go make that trip."
The graphic below, provided by Statista, illustrates the countries that a sitting U.S. president has not visited.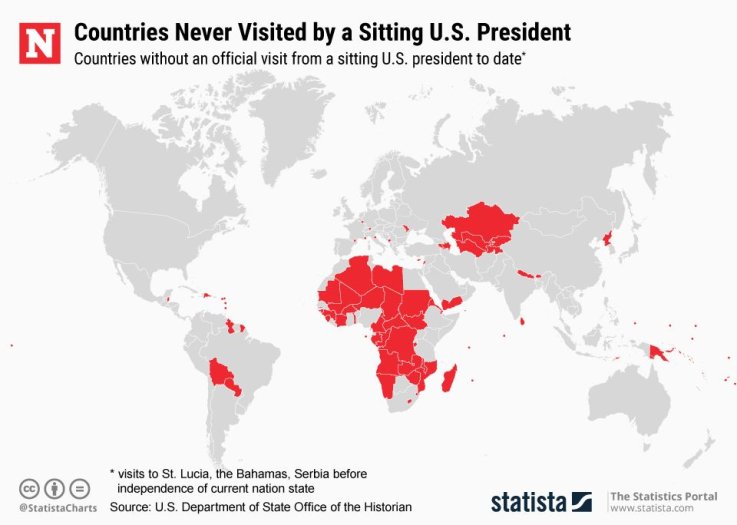 This Country Heads Up Barack Obama's Ultimate Vacation Bucket List | Culture