Barack Obama Says Trump Admin's Rollback of His Fuel Policies Make It 'Almost Impossible' to Solve Climate Change
Former president Barack Obama expressed disappointment that fuel standards introduced under his tenure are being rolled back, telling audiences: "I instituted higher fuel-efficiency standards on cars, and the subsequent administration has now tried to actively reverse them."
Obama made these comments on January 23 at the Metro Convention Centre in Toronto, Canada, where he spoke at an event held by the Economic Club of Canada and the Global Institute for Conscious Economics. It is the first in a four-part series discussing new ways of thinking about the future of work.
As the Canadian press first reported, Obama revealed his frustration at seeing environmental policies introduced during his time at the White House be reversed by the current administration. The most recent example being the replacement of a 2015 rule redefining the "waters of the United States" (WOTUS), announced yesterday.
Referring to the Trump Administration's roll-backs of fuel standards introduced when he was president, Obama said: "If we can't even do that, where we're going to say, 'We're not going to drive gas guzzlers' when other countries don't even have cars, then it's going to be almost impossible to solve the problem."
When it came to the discussing the climate crisis, Obama said a "surge of energy" is needed from citizens to place pressure on industry to take control of greenhouse gas emissions. He highlighted the part taken by the younger generation, who are taking up the environmental mantle of through student strikes and other forms of climate activism.
Greta Thunberg got a call-out, with Obama praising her ability to speak for a generation.
"Which is why you have somebody like a Greta Thunberg who gets so much traction," he said. "Because she speaks for a generation that is going to have to deal with this mess in a way that somebody like me, who's 58, is not going to have to deal with it."
Obama previously praised Thunberg in a series of tweets celebrating "the courageous, committed young leaders" stepping up to save the planet on Earth Day.
"They're people like 16-year-old @GretaThunberg, whose protests at Swedish parliament sparked a movement," the former president said at the time. "Inspired by Greta's action, Fridays for Future brought together more than a million strikers on every continent last month to demand action on climate."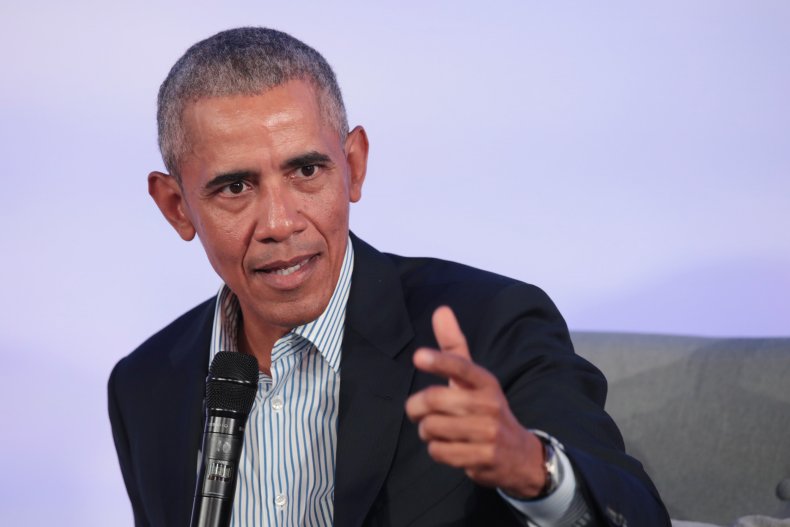 Obama also emphasized the role industrial countries have to play in helping developing countries so that they can "leapfrog our development models" and achieve a good living standard without harming the Earth.
"We have to figure out how do we give them the opportunity to enjoy a reasonable standard of living while still preserving the environment," he said.
He argued it was unreasonable to simply tell developing nations to stop emitting greenhouse gases after industrialized countries like the U.S. and Canada spent so long emitting their own.
At other points during the event, Obama touched on mental health and the skills needed to navigate the future economy—according to the former president, those include imagination, empathy and creativity. Newsweek has contacted the Economic Club of Canada for further details about Obama's remarks.