Obama Reps Custom USWNT Jersey After Players Say They Won't Visit Trump White House
Former President Barack Obama showed his support for the U.S. Women's National Soccer Team with a custom jersey.
The team celebrated their World Cup victory on Wednesday morning along with tons of fans with a parade in New York City. While Obama didn't attend the parade, he showed his support for the team on social media.
The president posted a photo on both his Twitter and Instagram accounts of him smiling while holding a custom jersey. Along with his last name written in red at the top, the former president's jersey had the number 19 on the back.
Defender Crystal Dunn wears the number 19 on the field and while it's possible it was a nod to her specifically, it more likely referenced the year the team won the championship.
"Proud to rep America's best team! Congrats @USWNT and thanks for being such a strong inspiration for women and girls—and everybody—all across the country," Obama wrote on Twitter alongside the photo.
The photo and caption were also posted on Instagram and forward Christen Press commented on Instagram asking where the former president was when the photo was taken.
After their victory on Sunday, Obama voiced his congratulations to the team, writing on Twitter that they're an "incredible team" that pushes both themselves and "the rest of us" to be better.
In 2015, Obama hosted the team at the White House after their World Cup victory and credited the team members for inspiring people on and off the field. The group included several members of the 2019 squad. During the visit, the team gifted him a custom jersey that also had his name on the back and the number 44 to correspond with him being the 44th president of the United States.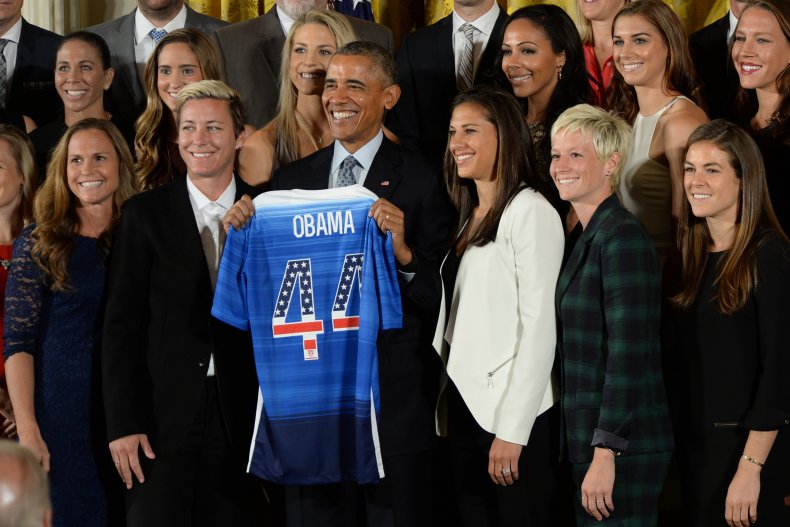 This year, it's unlikely that the team will visit the White House. A video of team captain Megan Rapinoe saying that she wouldn't attend a celebration at the White House drew global attention, and the ire of President Donald Trump.
"Megan should never disrespect our Country, the White House, or our Flag, especially since so much has been done for her & the team. Be proud of the Flag that you wear. The USA is doing GREAT!" Trump wrote on Twitter.
Trump invited the team to the White House regardless of whether they won the World Cup. On Sunday, the president also posted a congratulatory message on Twitter. He wrote that it was "great and exciting play" and that America was "proud of you all."
Ahead of their win, several players expressed support for their captain and on Tuesday, Rapinoe told CNN's Anderson Cooper that every teammate she spoke to said they would not attend. She said going to the White House could be an opportunity for the Trump administration to corrupt their mission.