Barack Obama Wishes Malia a Happy Birthday on Fourth of July
On the same day people celebrated the birth of America, former President Barack Obama also celebrated the birth of his oldest daughter, former first daughter Malia Obama, who turned 21 on Thursday.
Celebrated annually on the Fourth of July, Independence Day commemorates the signing of the Declaration of Independence, which occurred on July 4, 1776. It's common for politicians to make celebratory remarks given that the day was an integral part of America's founding.
As a former president, it would be reasonable to assume Barack would say something about the holiday. However, he's also a father, so he used the Fourth of July to celebrate both the country he previously led and the daughter he raised.
"Happy Fourth of July, everybody! This is always a great day in the Obama family: a chance to celebrate America—and Malia's birthday, too," Barack posted on Twitter. "Hope all of you are able to get some time with friends, family, and fireworks."
While every birthday is one worth celebrating, this year's was especially noteworthy, as it was the day Malia turned 21 years old.
Malia was accepted at Harvard University in Cambridge, Massachusetts, but decided to take a gap year before beginning her studies. After leaving the White House, the former first daughter entered the prestigious Ivy League institution in 2017 as a freshman.
During an event in September 2017, Barack addressed what it was like dropping his oldest daughter off at college for the first time. He noted that "it just happens fast" and said dropping his daughter off at Harvard was a bit similar to "open-heart surgery."
"I was proud that I did not cry in front of her," the former president said. "But on the way back, the Secret Service was off looking straight ahead, pretending they weren't hearing me as I sniffled and blew my nose. It was rough."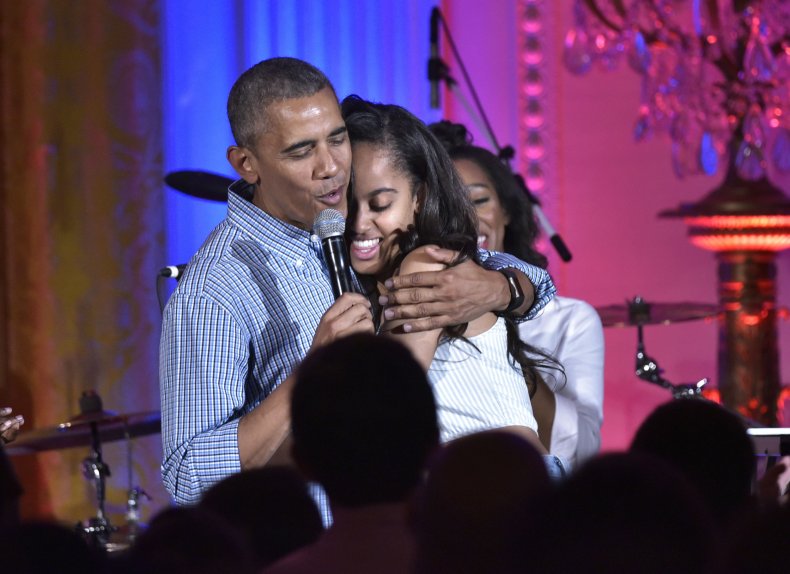 When her father was elected president, Malia was only 10 years old, so she, similarly to her sister, former first daughter Sasha Obama, grew up in the public eye. She celebrated eight birthdays in the White House and for her last birthday as a first daughter, her father serenaded her.
During an Independence Day event, Barack thanked service members for protecting America's freedom and expressed his admiration for military members. Along with enjoying fireworks, hot dogs and even just having the day off, Barack encouraged people to remember how lucky they are to live in the United States and be free.
At the end of his message, he noted that he had one last thing left to do: embarrass his daughter, as is the "job of the father."
"It just so happens we celebrate our country's birthday on the same day we celebrate my oldest daughter's birthday," Barack said before breaking out into a rendition of the happy birthday song.