Xi and Obama Likely to Clash Over Cyberspying, Human Rights and the South China Sea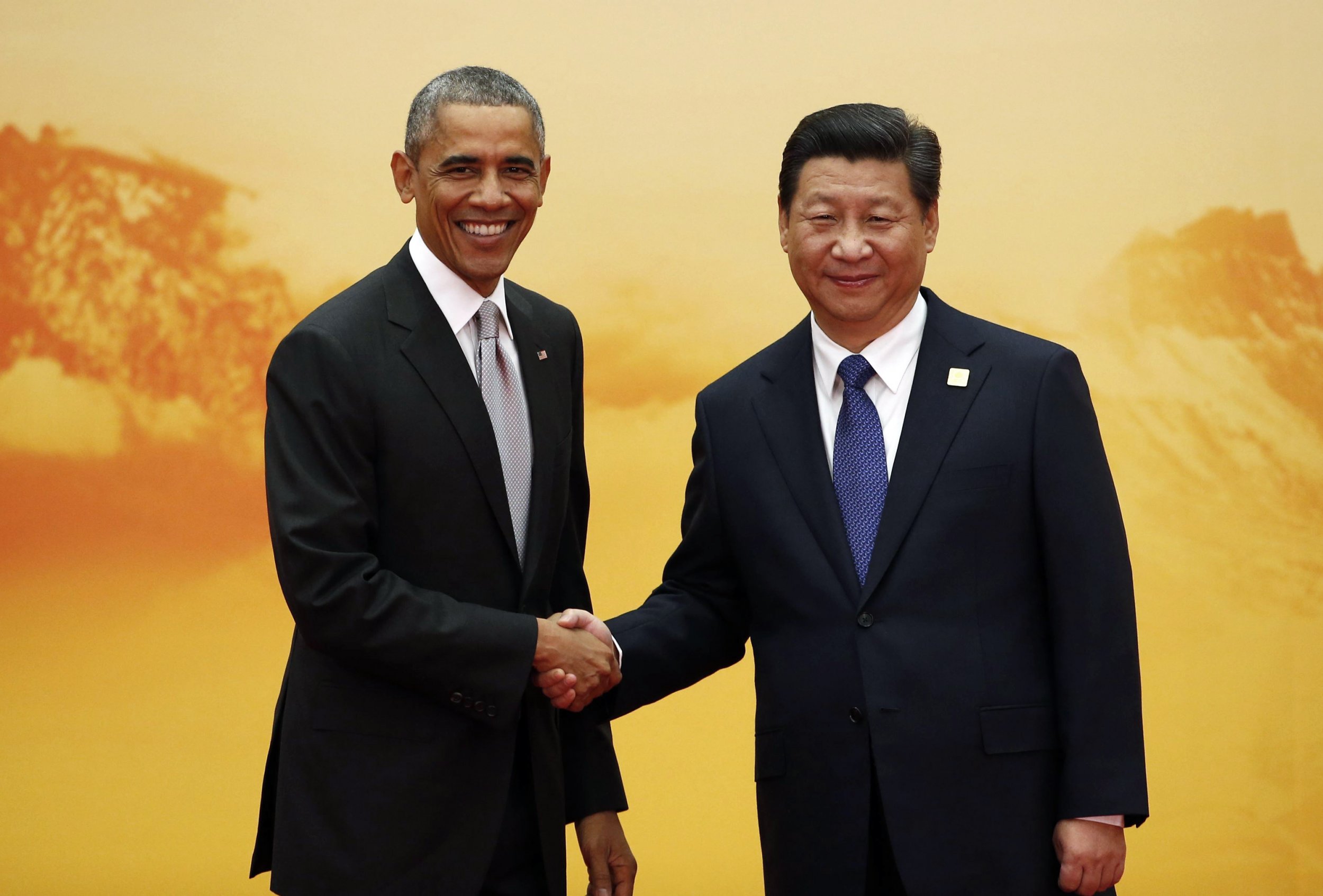 The headline in Tuesday's China Daily reflected Beijing's lofty expectations of a diplomatic tour de force as President Xi Jinping began his weeklong U.S. visit. "Key Deals in Sight," the state-controlled paper confidently predicted, noting that Xi and President Barack Obama were likely to seal more than 40 agreements, including a major accord on climate change. But among White House officials, the forecast for the summit is markedly more cautious, with the two leaders expected to clash once again in at least three major areas: China's use of cyberspying to poach U.S. trade secrets, China's territorial claims in the western Pacific and Beijing's poor human rights record.
National security adviser Susan Rice set the tone for Obama's talks with Xi in a speech on Monday. She underscored the corrosive effect that China's cyberspying against American companies is having on U.S.-China relations. "This isn't a mild irritation," the famously blunt Rice said. "It puts enormous strain on our bilateral relationship, and it is a critical factor in determining the future trajectory of U.S.-China ties...and it needs to stop." Rice also defiantly rejected China's claim to nearly 80 percent of the South China Sea, emphasizing that as far as the U.S. was concerned, it remains international waters. The United States," she declared, "will sail, fly and operate anywhere that international law permits." And she lectured Beijing on its crackdown on free speech, as well as a draft of Chinese law that would effectively outlaw foreign-funded nongovernmental organizations. "As my critics allege, I am rather direct," she said of her meetings with Chinese officials earlier this month in Beijing. "I can assure you President Obama will be just as direct when he sees President Xi."
Some of those differences may surface subtly on Tuesday evening in Seattle, where Xi kicks off his U.S. visit with a major policy speech at a dinner for business leaders and other dignitaries. Though Xi is likely to focus on the benefits and promise of a close U.S.-China relationship, he's also expected to deny—as he did in a Wall Street Journal interview Tuesday—that China hacks into the networks of U.S. companies and then gives their trade secrets to Chinese companies for competitive advantage. He's also likely to reaffirm China's territorial claims and make no apologies for China's authoritarian system of government. Yet on Wednesday, he's scheduled to preside over a roundtable discussion with American and Chinese high-tech executives before visiting the Boeing factory and the Microsoft campus—underscoring once again the complex strategic and trade relations between the world's two largest economies.
"The message coming out of this trip will be that despite a lot of issues that are tough and not resolvable, there are a number of areas where we can cooperate," Kenneth Lieberthal, the top White House adviser on China during the Clinton administration, tells Newsweek. "And we need to cooperate to get better outcomes for both of us, whether it's climate change [or] nuclear proliferation in Iran and North Korea."
The long list of deals that the official Chinese media predict will emerge from Obama's talks with Xi on Thursday and Friday is likely to include many agreements to expand cooperation in areas that now make up the intricate fabric of U.S.-China relations, such as global health initiatives, combating terrorism, human trafficking and nuclear nonproliferation. "It will be heavily padded with good intentions," says Lieberthal, now a China scholar at the Brookings Institution, a Washington-based think tank. With the United Nations conference on climate change in Paris set for the end of November, there's also a good chance both sides could agree on specific measures to meet the goals that the last climate change conference set out last year.
But on the issues of cybersecurity, territorial claims and human rights, Washington and Beijing remain far apart. Earlier this month, U.S. officials warned the administration was preparing sanctions against several Chinese companies and individuals over cyberespionage in advance of Xi's visit. That prompted a visit to Washington by Meng Jianzhu, China's domestic security chief, who pledged after several days of talks with U.S. law enforcement officials that Beijing will punish anyone who hacks from within China's borders or steals corporate secrets.
The New York Times reported on September 20 that U.S. and Chinese officials were discussing what could become "the first arms control accord for cyberspace." Such an accord would involve a commitment by each country that it will not be the first to cripple the other's critical infrastructure during peacetime. But a White House official dismissed the report as overblown. "This idea of a cyberarms accord is not how anyone here is thinking about the kinds of negotiations that we're having and where we see this topic going," the official tells Newsweek. "I'm not looking for a new START treaty to come out of this meeting," the official adds, referring to the 1991 and 2010 strategic arms reduction treaties between the United States and Russia.
Even if the two sides were to reach some kind of agreement, cybersecurity experts say the difficulty in determining the origin of an attack—whether it was a Chinese government computer or one operated by a private Chinese individual—makes the value of any accord questionable. "I'm not sure how much weight this kind of an agreement really has," says Terrence Gareau, a former U.S. government cybersecurity officer and now chief scientist at Nexusguard, an international cybersecurity firm.
Meanwhile, the White House is playing up the threat of sanctions unless Xi makes some concessions that will curb China's economic cyberespionage. "We've made clear that we have other punitive measure available when we do see instances of cyberintrusion and cybertheft," Ben Rhodes, the deputy national security adviser, said Tuesday in a conference call with reporters. "Sanctions remain a tool of the United States, and we would be prepared, if necessary, to pursue sanctions." Emphasizing the administration isn't bluffing, Rhodes also cited last year's Justice Department indictment of five Chinese army officers for hacking into U.S. corporate networks and stealing intellectual property.
On the struggle between the U.S. and China for dominance in the western Pacific, little substantial progress is expected when Obama and Xi sit down for what will be their third summit since the Chinese leader came to power in 2013. China's insistence that the East and South China seas are part of its territorial waters has ignited disputes with Japan, Taiwan, the Philippines, Vietnam, Malaysia and Brunei. Tensions have mounted with China's land reclamation work and its construction of an airstrip on Fiery Cross Reef in the Spratly Islands, which could be used for military purposes. "When we see militarization of the South China Sea, when we see land reclamation, that obviously has the potential to be destabilizing," Rhodes said. "What it also does is provoke some of the other nations in the region. And it's not in China's interest to do so."
The United States doesn't recognize China's territorial claims and continues to sail its warships through the disputed waters, as well as conduct military flights in the skies overhead. But experts say there's still a possibility for some small technical advances to defuse this issue. During Obama's talks with Xi in Beijing last year, the two leaders agreed on procedures to prevent collisions between U.S. and Chinese warships. At this week's summit, these experts say there is a good chance the two leaders could reach a similar agreement on avoiding collisions between U.S. and Chinese military aircraft.
Human rights concerns also will figure prominently in the talks between the two leaders, U.S. officials say. Obama will try to persuade Xi to drop plans for a law that would sharply curtail foreign or foreign-funded nongovernmental and civil society organizations in China. Under the draft law, no foreign support would be allowed and all NGOs would require an official sponsor. In addition, the NGOs also would have to register with China's public security bureau, which will have the authority to expel any organization it deems unfriendly. Veteran China hands say organizations like Save the Children that provide badly needed social services are unlikely to be affected by the legislation. But any group that deals with politically sensitive issues such as promoting the rule of law or free expression would be forced to close. The measure, which is likely to be enacted, is part of Xi's crackdown on advocates of Western liberalism, which included the recent arrest of several hundred civil right lawyers and activists.
Don't expect to find news of these disagreements in state-controlled media organs like China Daily. With Beijing's censorship of the Internet, few Chinese will be able to read anything besides the sanitized coverage of Xi's visit. "The Chinese have an interest in portraying this visit as a hunky-dory meeting of like-minded friends," a White House official says. "But we'll be pushing them."