Barack Obama's Father's Day Message Was A Little Different From Donald Trump's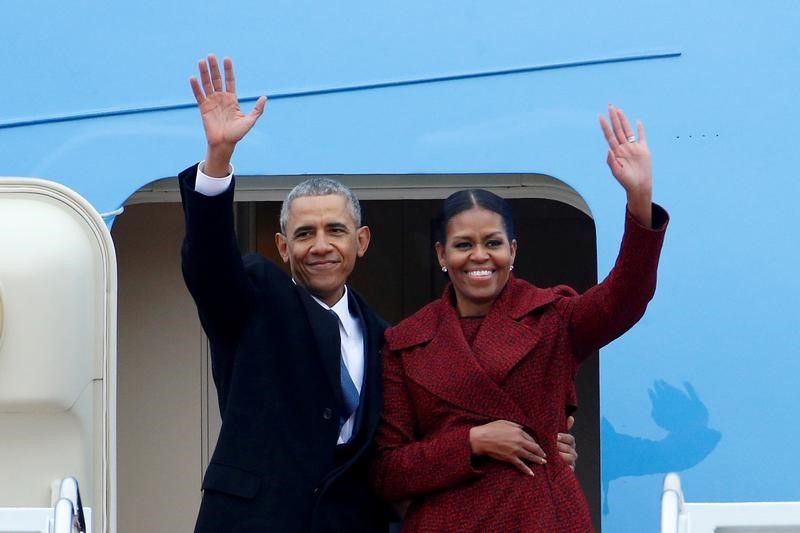 Barack Obama has taken to Twitter to share a heartfelt Father's Day message to his two daughters.
The Democrat former president wrote on social media on Sunday: "Of all that I've done in my life, I'm most proud to be Sasha and Malia's dad. To all those lucky enough to be a dad, Happy Father's Day!"
Along with the Father's Day wishes, Obama also posted a picture of his daughters and his wife, former first lady Michelle Obama, who wrote her own message to her husband.
The Democrat has previously spoken of his admiration for Sasha and Malia, who grew up in the spotlight, having turned 16 and 18 respectively while their father was in the White House.
In his final press conference as president, Obama says in comments carried by Today: "Every parent brags on their daughters or their sons, but man, my daughters are something. And they just surprise and enchant and impress me more and more every single day."
His social media message differed somewhat from that of his predecessor President Donald Trump, who used social media to celebrate his approval rating going up and complain that he was the victim of a witch-hunt.
"The new Rasmussen Poll, one of the most accurate in the 2016 Election, just out with a Trump 50% Approval Rating. That's higher than O's #'s!," he wrote on Sunday morning.
And in an earlier tweet, the president had said: "The MAKE AMERICA GREAT AGAIN agenda is doing very well despite the distraction of the Witch Hunt. Many new jobs, high business enthusiasm."
However, Trump's children did remember to send their president father well-wishes, with Eric sharing a picture of the whole family and Donald Jr. writing: "Happy Father's Day dad. Thanks for everything you've taught us and for fighting everyday to ‪#maga. We love you. ‪#fathersday."
Trump Jr. also shared a message from his father written in 2013, in which the Republican had said: "Happy Father's Day to all, even the haters and losers!"
However Trump's daughter Ivanka shared a Father's Day message to her husband Jared, the father of her three children, but failed to mention the president.
She wrote: "Happy Father's Day! Thank you, Jared, for loving, encouraging and teaching our kids (and me!) everyday. We love you very much! ‪#fathersday."