Barbara Bush Was 'Glad' Melania Trump Entered White House Instead of Bill Clinton
The late former first lady Barbara Bush, did not vote for President Donald Trump but wrote to his wife Melania Trump that she was "glad" to be welcoming her into the "First Ladies' very exclusive club" instead of penning a letter to ex-President Bill Clinton, who would have entered the White House had his wife Hillary Clinton been elected.
"Dear Mrs. Trump, The world thought I was writing this note to Bill Clinton. I am glad that I am not," Bush wrote in the letter revealed in her upcoming biography. "I wanted to welcome you to the First Ladies' very exclusive club. My children were older and therefore I did not have the problems you do. Whatever you decide to do is your business and yours alone."
Bush, who died last April, at the age of 92, sent the letter to Melania Trump two weeks after Donald Trump won the election, as the incoming first lady faced scrutiny over whether she would move from New York to Washington, D.C.
"Living in the White House is a joy and their only job is to make you happy," Bush wrote. "If you decide to stay in NYC that will be fine also. When you come to the White House let your son bring a friend. That is my unasked for advice. God Bless you."
Melania Trump reportedly was not happy that her husband won the election and that she would be thrust into politics. She made the unprecedented decision to stay at their Trump Tower penthouse in New York City with their son, Barron Trump, instead of moving to the White House once her husband was inaugurated.
"My husband is traveling all the time," Melania Trump said at the time. "Barron needs somebody as a parent, so I am with him all the time."
Melania Trump and her son finally moved into the White House nearly five months after her husband took office.
Bush's warm welcome to Melania Trump was a sharp contrast to her decades-long dislike of Donald Trump, as documented in her biography to be released next week, The Matriarch: Barbara Bush and the Making of an American Dynasty, by USA Today's Washington bureau chief Susan Page.
The former first lady wrote that Trump was "greedy, selfish and ugly" in her diaries from the 1990s, the biography reveals.
Not expecting Trump to win, Bush wrote a congratulatory letter to Bill Clinton, welcoming him to "the First Ladies Club." "We can't wait to initiate you," she wrote humorously.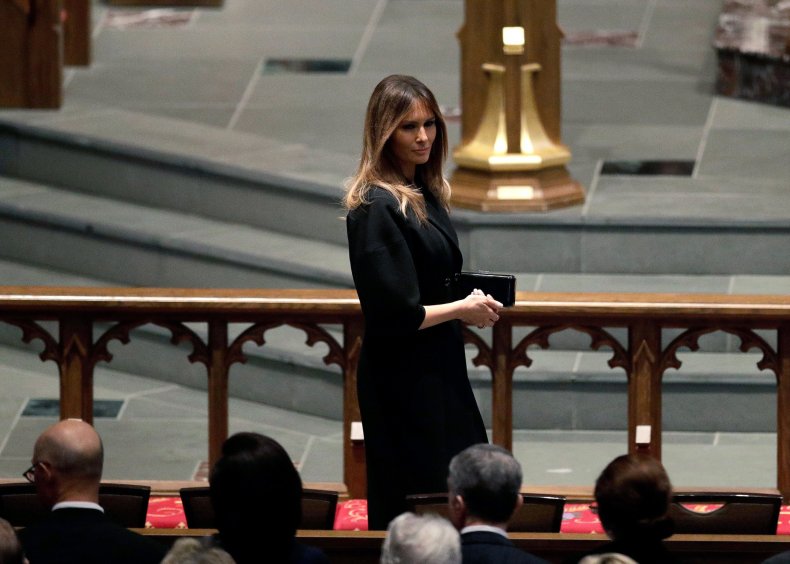 Melania Trump attended Bush's funeral, which her husband opted not to attend.
"It was my honor to travel to Houston to give my respects to Barbara Bush and the remarkable life she led as a mother, wife, and fearless First Lady," Melania Trump tweeted after Bush died. "My sincerest thoughts and prayers continue to be with George H.W., and the entire Bush family."