Barbara Bush Quotes: Former First Lady on Trump, Iraq, Katrina and Children
Barbara Bush received bipartisan praise following her death Tuesday at the age of 92 and was long highly regarded for her passion when speaking about the subject of education, specifically literacy.
"If everyone could read and write, all the problems I worried about could be solved," she told USA Today on the occasion of the 25th anniversary of the Barbara Bush Foundation for Family Literacy in 2014. "If you can't read, you can't do anything."
One of only two women to be both the wife and a mother to a U.S. president—the other being Abigail Adams—Bush repeatedly stressed the importance of family.
"Fathers and mothers, if you have children, they must come first," she said during her time as first lady in 1990. "You must read to your children and you must hug your children and you must love your children. Your success as a family, our success as a society, depends not on what happens in the White House but on what happens inside your house."
She was also known for her sense of humor. It was a quality she showed off in 1995 when discussing her husband George's election defeat to Bill Clinton three years earlier, which made him still the last president to be voted out after a single term.
"One thing I can say about George … he may not be able to keep a job, but he's not boring," she said.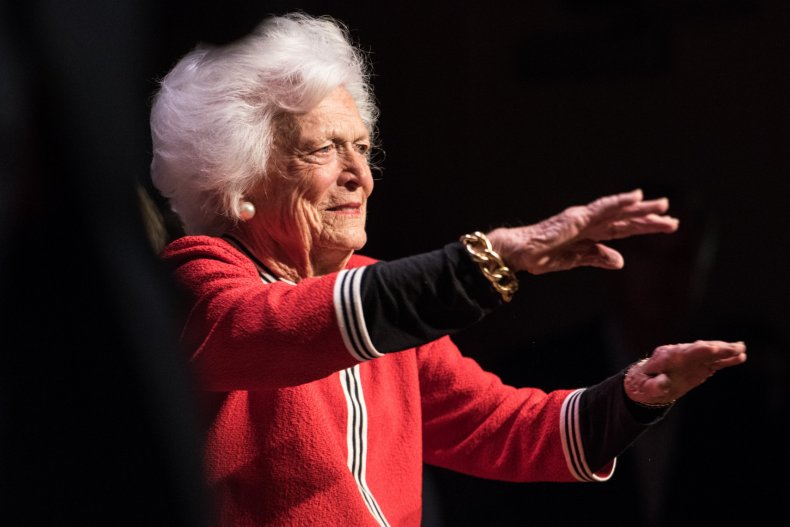 Bush had a temper, too. During the 1984 election campaign, when her husband was running for re-election as vice president to Ronald Reagan, Bush shot back at a suggestion from Democratic rivals Walter Mondale and Geraldine Ferraro that her family was out of touch with average Americans. Ferraro, she said, was a "$4 million—I can't say it—but it rhymes with rich."
Bush later apologized and said she meant "witch."
She also received criticism at times in her life as a public figure for coming across as insensitive or out of touch.
For example, she once appeared to dismiss the horrors of war in the lead-up to the invasion of Iraq, which was led by the administration of her son, George W. Bush.
"Why should we hear about body bags and deaths? It's not relevant. So why should I waste my beautiful mind on something like that?" the former first lady said in an appearance on ABC News' Good Morning America that aired in March of 2003.
The larger context of the comment appeared to be Bush saying that she did not want to pay attention to speculation that her son was about to lead the country into war, which he ultimately did, days later.
She also received blowback for appearing to trivialize the struggles of Hurricane Katrina refugees. While touring the Astrodome in Houston, which had been used as a makeshift home for New Orleans residents who had been displaced by the deadly storm, Bush suggested that coming from a lower-income household would somehow make displacement less problematic to those who were living there.
"Almost everyone I've talked to says, 'We're going to move to Houston.' What I'm hearing, which is sort of scary, is they all want to stay in Texas. Everyone is so overwhelmed by the hospitality," Bush said. "And so many of the people in the arena here, you know, were underprivileged anyway, so this, this is working very well for them."
More recently, Bush did not hold back in her views on the current president. She told CNN in February of 2016 that she was "sick of him," referring to then-candidate Donald Trump, who ended her hopes of having a second son in the White House.
"He doesn't give many answers to how he would solve problems. He sort of makes faces and says insulting things," she said about Trump when defending her son Jeb during a bruising Republican primary slog. "He's said terrible things about women, terrible things about the military. I don't understand why people are for him, for that reason."