Who is Barbara Hepworth? Google Doodle Celebrates English Abstract Sculptor
Dame Barbara Hepworth, the English abstract sculptor, is honored in today's Google Doodle, on the anniversary of the day she arrived in St. Ives and established her studio.
In the Doodle, Hepworth can be seen sculpting her "Pendour" piece at her studio, while her cat looks on.
Now considered one of the mid-20th century's most impactful sculptors, Jocelyn Barbara Hepworth was born on January 10, 1903 in Wakefield, West Yorkshire, and decided to become a sculptor at the age of 15.
Hepworth enrolled at the Leeds School of Art, where she began a lifelong friendship with sculptor Henry Moore, before attending the Royal College of Art in London. The artist's early work incorporated classic elements but by the 1930s, Hepworth had moved towards creating abstract pieces, which were among the earliest abstract sculptures in Britain.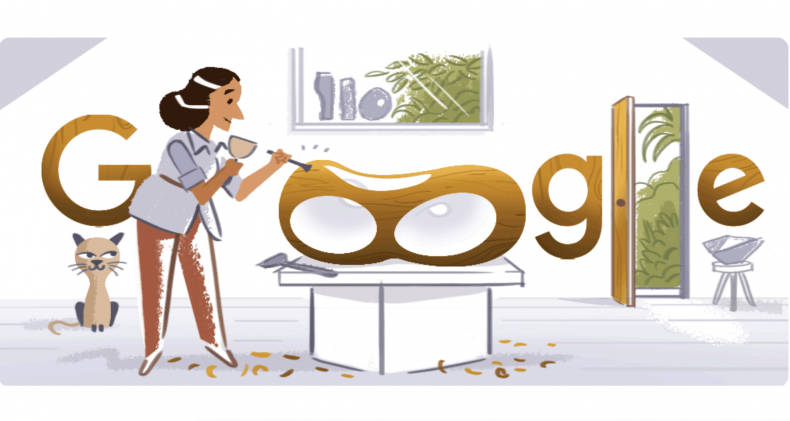 Hepworth was a leading practitioner of "direct carving," which is a technique in which the qualities of the raw materials influence the sculpting process.
The Tate art gallery describes her work as primarily about relationships: "Not merely between two forms presented side-by-side, but between the human figure and the landscape, color and texture, and most importantly between people at an individual and social level."
Hepworth was also concerned with the relationship between the sculpture and the body of the viewer, as she once said: "I think every sculpture must be touched, it's part of the way you make it and it's really our first sensibility, it is the sense of feeling, it is first one we have when we're born.
"I think every person looking at a sculpture should use his own body. You can't look at a sculpture if you are going to stand stiff as a ramrod and stare at it, with a sculpture you must walk around it, bend toward it, touch it, and walk away from it."
On August 25, 1939, Hepworth established her studio in St. Ives, on the southwest coast of England, where she lived for the rest of her life. The artist was awarded the Grand Prix at the 1959 São Paulo Bienal and was named Dame Commander of the Order of the British Empire in 1965 for her contributions to British art.
Matt Cruickshank, an artist from the UK who created today's Doodle, said in a Q&A with Google that his approach was "imagining such a magnificent space to create in with windows open and cats quietly judging.
"I had made small sculptures firsthand to try and understand Barbara's thought process before looking at 'Pendour'—one of Barbara's pieces that seemed to fit our logo and composition the best."
Cruikshank said he was inspired by one of Hepworth's quotes: "I draw what I feel in my body."
The artist said: "This [quote] is so prolific. She approached subjects with great classical knowledge and training. These tools gave her the base with which to nurture her ultimate skill: instinct."
Cruikshank explained what he hopes people take away from today's Google Doodle: "That we can aspire to achieve what Barbara did—to shape forms in balance with nature and harmony, whether that form is sculpture, writing, music or even just ourselves."
Google Doodle says: "Thank you, Dame Barbara Hepworth, for using your art to help carve a path toward greater harmony within our society and environment."