Barbara Walters Accuses Corey Feldman of 'Damaging Entire Industry' With Pedophilia Accusations
Barbara Walters is known for asking the hard-hitting questions, but in this video, she may have gone a little too far. In a resurfaced clip from an October 2013 episode of The View, the media personality asked Corey Feldman about the abuse he faced in the past. Feldman was on the show promoting his memoir Coreyography.
"I'm saying that there are people that were the people that did this to both me and Corey [Haim] are still working, are still out there. They're some of the richest, most powerful people in this business," Feldman explained. "And they do not want me saying what I'm saying right now."
Feldman and fellow '80s star Corey Haim have been vocal about the abuse they faced and claimed that they were "passed around to pedophiles," as per Page Six. "They would throw these parties where you'd walk in and it would be mostly kids and there would be a handful of adult men," Feldman recalled. "They would also be at the film awards and children's charity functions."
Haim died in 2010 from drug-induced pneumonia.
"Are you saying that they're pedophiles?" Walters asked. "And that they're still in this business?" Feldman confirmed that yes, that is what he was alleging.
"And that's what you're saying in your book," The View co-host Sherri Shepherd chimed in. "When you talk to parents, Corey, there are a lot of parents out there, who want to put their kids in this business. They're cute, they're great actors, what would you say to a parent who just has the best of intentions coming here with their child? If you're saying there's a lot of predators in this industry."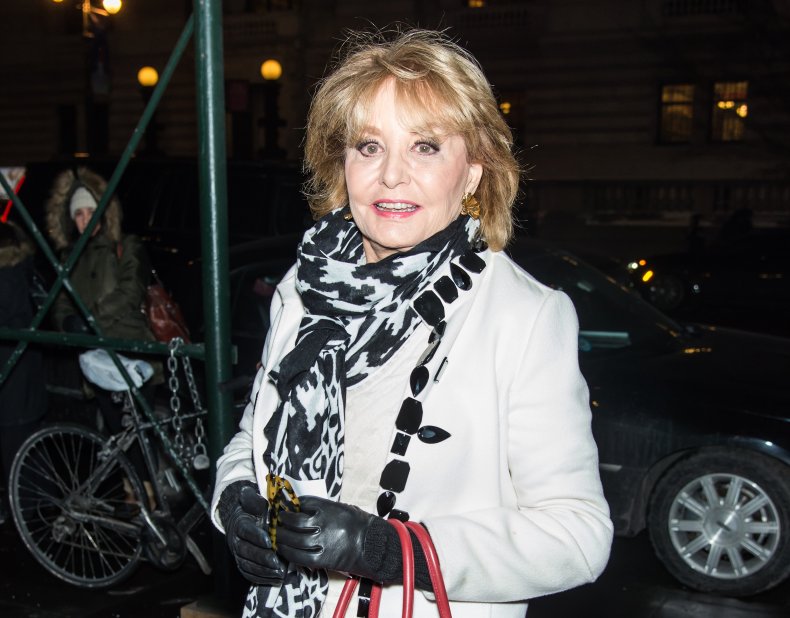 "It's a many-feathered bird," Feldman responded. "Be careful what you wish for. That's what I'll tell you. Don't into it with naivety, don't go into it thinking it's all roses and sunglasses — "
"You're damaging an entire industry," Walters cut in. Feldman apologized to Walters, adding that he was not trying to. "I'm trying to say that it's a very important, serious topic," he emphasized.
Redditors watching the clip this week were shocked by Walters' comments. "Barbara's response is quite disgusting and other than making Barbara look bad serves no purpose. I also feel really bad Corey felt the need to apologize," one wrote.
This isn't the first time that Walters has been criticized for the segment with Feldman. Video of their 2013 exchangealso made the rounds online in October 2017, after accusations against Hollywood producer Harvey Weinstein were published in a bombshell New Yorker article by Ronan Farrow and a New York Times report by Jodi Kantor and Megan Twohey. Some people on Twitter called Walters out for the way she reacted to Feldman's allegations.
There was also speculation regarding whether or not Weinstein had anything to do with Feldman's allegations. At the time, Feldman denied that the man who molested him or Haim was Weinstein.
Walters also faced backlash for defending Woody Allen in 2014 amid allegations from Allen's adopted daughter, Dylan Farrow. "He is a loving, caring father," Walters said during an episode of The View in February of that year, in reference to the way the director treats his two daughters with his wife, Soon-Yi Previn.
In a statement emailed to Newsweek, Feldman commented on his 2013 back and forth with Walters and the concept of victim-shaming.
"The gratuitous display of carelessness and thoughtlessness for the weight and importance for what I was trying to put across, showed a particular callousness to the concept that anyone in Hollywood could be doing something wrong," Feldman explained. "Even worse, the concept that even if they were I should just endure the personal pain and keep my mouth shut, because that's what is most convenient for others. It's shocking that only a few years ago, this was completely acceptable in the media."
He continued, saying, "Because of the #Kids2 movement and #Metoo movement, fortunately many people have begun to realize that silencing a victim or shaming a victim is no longer acceptable - especially when it comes to children. That's why I created My Truth documentary, so that people can gain a better understanding."
Newsweek reached out to Barbara Walters for comment, and did not hear back in time for publication.
Updated 8/14/2020, 2:45 p.m. ET: This story has been updated to include additional context and comments from Corey Feldman.
Updated 8/14/2020, 6:05 p.m. ET: This story has been updated to include comments from Reddit and Twitter users reacting to the 2013 video, and to further clarify Feldman's statement to Newsweek.