Barbie Day of the Dead Doll: Is the Dia De Muertos Holiday Toy Available in Walmart and Target?
Barbie is getting a makeover to celebrate Mexico's Day of the Dead (Dia de Muertos) on November 2—with a new holiday-inspired doll going on sale this Thursday across the U.S.
The limited-edition doll is designed to celebrate the Mexican festival, during which people remember and pay respect to their lost loved ones.
According to Mattel, the toy company behind Barbie, the doll "honors the traditions and symbols often seen throughout this time."
The Dia de Muertos Barbie doll comes with an embroidered dress that has hearts and butterfly details on it. Barbie's face is adorned with the traditional skull face painting, often seen during Day of the Dead festivities in Mexico, with dark lipstick, detailing around the eyes and a red heart painted in the center of her forehead. The doll also comes with a flower crown made up of monarch butterflies and bright marigold flowers.
The doll retails at $75 and also comes with "earrings, necklace, shoes, butterfly ring and doll stand."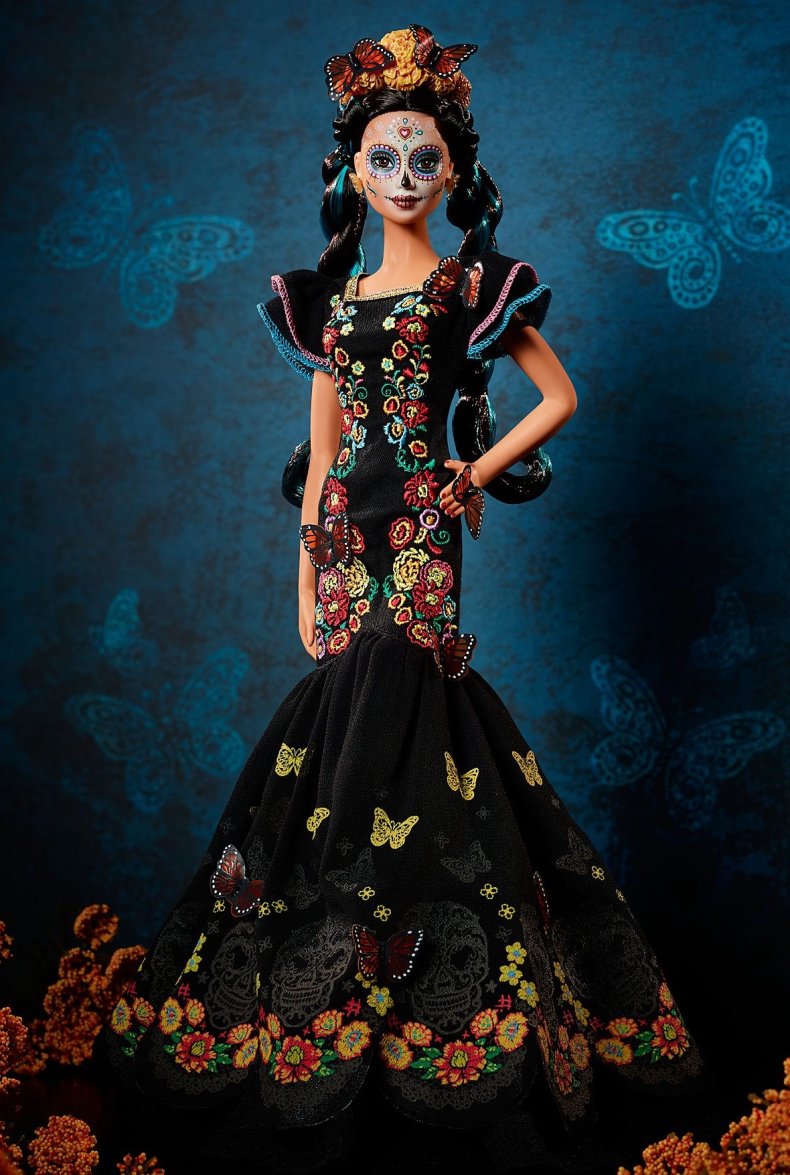 Is the Barbie Dia de Muertos doll available in Walmart and Target?
Collectors hoping to get their hands on the holiday-themed Barbie will need to be quick because the figure will be in high demand around the U.S. as it hits stores on Thursday.
According to USA Today, the Dia De Muertos Barbie will be available in stores at Target and Walmart from Thursday (at the time of publication, the doll isn't listed on either company's website). The doll can also be ordered from Amazon, said USA Today.
The special edition Barbie is available direct from Mattel, too.
Barbie backlash over Day of the Dead doll
The release of the Dia de Muertos-themed Barbie has received some criticism for culturally appropriating the important Mexican holiday, which dates back some 3,000 years.
"I think we have to be careful in the way that we portray our celebrations as Mexicans. It's important that it is not a parody of the celebration, and more of a representation of Latinos," José Higuera López, deputy director of the Jamie Lucero Mexican Studies Institute at Lehman College in New York, told The New York Times.
López said that Dia de Muertos has become popular with non-Mexicans due to the popularity of movies such as Disney-Pixar's animated hit Coco.
However, the Mattel designer behind the new doll, Javier Meabe, told the New York Times that he is of Mexican heritage and wanted to ensure the new Barbie was respectful of the culture.
"I grew up going to Mexico and I pulled a lot of that inspiration and things that I remember growing up," said Meabe.
"That is something that is very dear to my heart. I know how important it is to honor and respect family and friends that are no longer with us."