Mattel has released new Barbie dolls to diversify its range, including a doll with no hair and one with the skin condition vitiligo. In a statement, Mattel told Newsweek: "As we continue to redefine what it means to be a "Barbie" or look like Barbie, offering a doll with vitiligo in our main doll line allows kids to play out even more stories they see in the world around them.
"To design this doll, we worked with a dermatologist to ensure vitiligo was accurately represented."
The dolls are part of the Barbie Fashionistas lineup, which features 176 dolls with nine body types, 35 skin tones and 94 hairstyles, according to its website. The six new designs focus on inclusivity.
Vitiligo is a skin condition that causes patches of skin to lose their pigment. Celebrities such as Jon Hamm, Steve Martin, model Winnie Harlow and "Thong Song" singer Sisqo all have versions of the condition. In 2018, Harlow spoke out against the media labeling her a "vitiligo sufferer."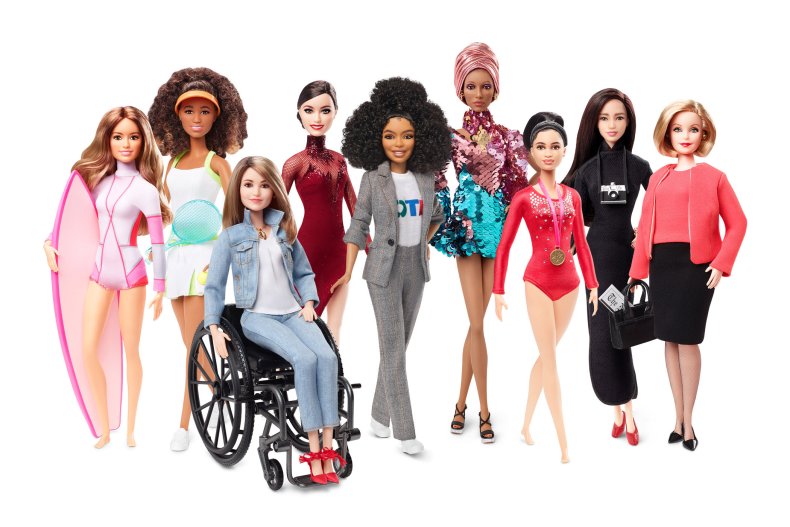 "I'm not a 'Vitiligo Sufferer.' I'm not a "Vitiligo model". I am Winnie. I am a model. And I happen to have Vitiligo," she wrote on her Instagram. "Stop putting these titles on me or anyone else. I AM NOT SUFFERING! If anything I'm SUCCEEDING at showing people that their differences don't make them WHO they are!"
The range also features a doll with no hair, which Mattell told Newsweek was to help girls see themselves reflected in the line if they are "experiencing hair loss for any reason".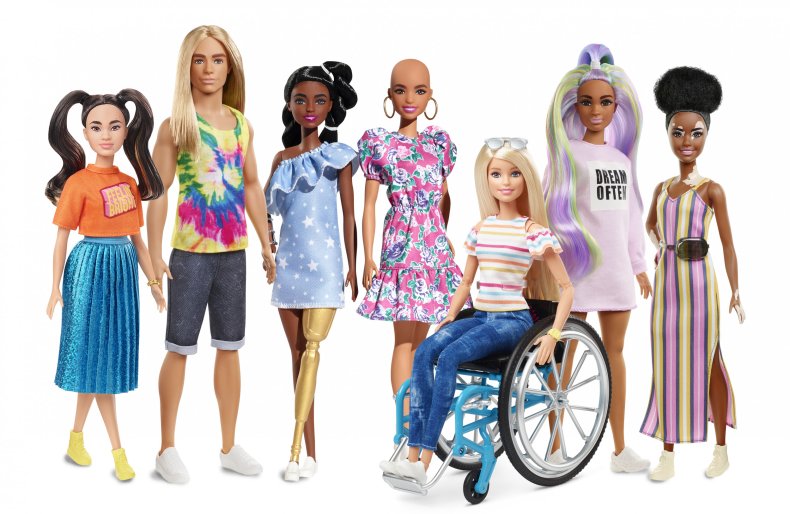 The lineup also includes a doll with a darker skin tone that uses a gold prosthetic limb—an expansion on the 2019 collaboration with 12 year old Jordan Reeves— and a Ken with long rooted hair newest style, which is a first in the Fashionistas line.
Mattel, through its Barbie brand, has been slowly diversifying its range. Back in 2015, it introduced three new body types: curvy, petite and tall. They then introduced Ken with new body types.
In the years since, more hair textures and "exciting" fashion looks were added to the lineup, with dolls using a wheelchair and having prosthetic leg released in 2019. According to Mattel, in 2019 over half of all dolls offered were diverse, with the top selling doll for almost every week in 2019 being the curvy black fashionista with an afro hairstyle. In the U.K., one in four dolls sold is a Barbie with a wheelchair.
The brand Barbie celebrated 60 years in 2019, bringing dolls to children across the world. Celebrating female role models and inspiring girls since 1959, the company is now looking to shatter glass ceilings and help the latest generation of young women become "The Last Generation of Firsts".
Fans of the brand can also visit the Barbie You Can Be Anything Festival, which is taking place in Los Angeles, California. Over the course of the day—Saturday, March 7, 2020—people can hear from female role models and take part in interactive workshops and hands-on activities, culminating in a dance party and musical performance.
All ticket sales from the Barbie You Can Be Anything Festival will be donated to the Dream Gap Project on GoFundMe.
The event is taking place at The Barker Hangar in Santa Monica, California.