Barbie Gets a Hijab in Muslim Makeover Inspired by Olympic Fencer Ibtihaj Muhammad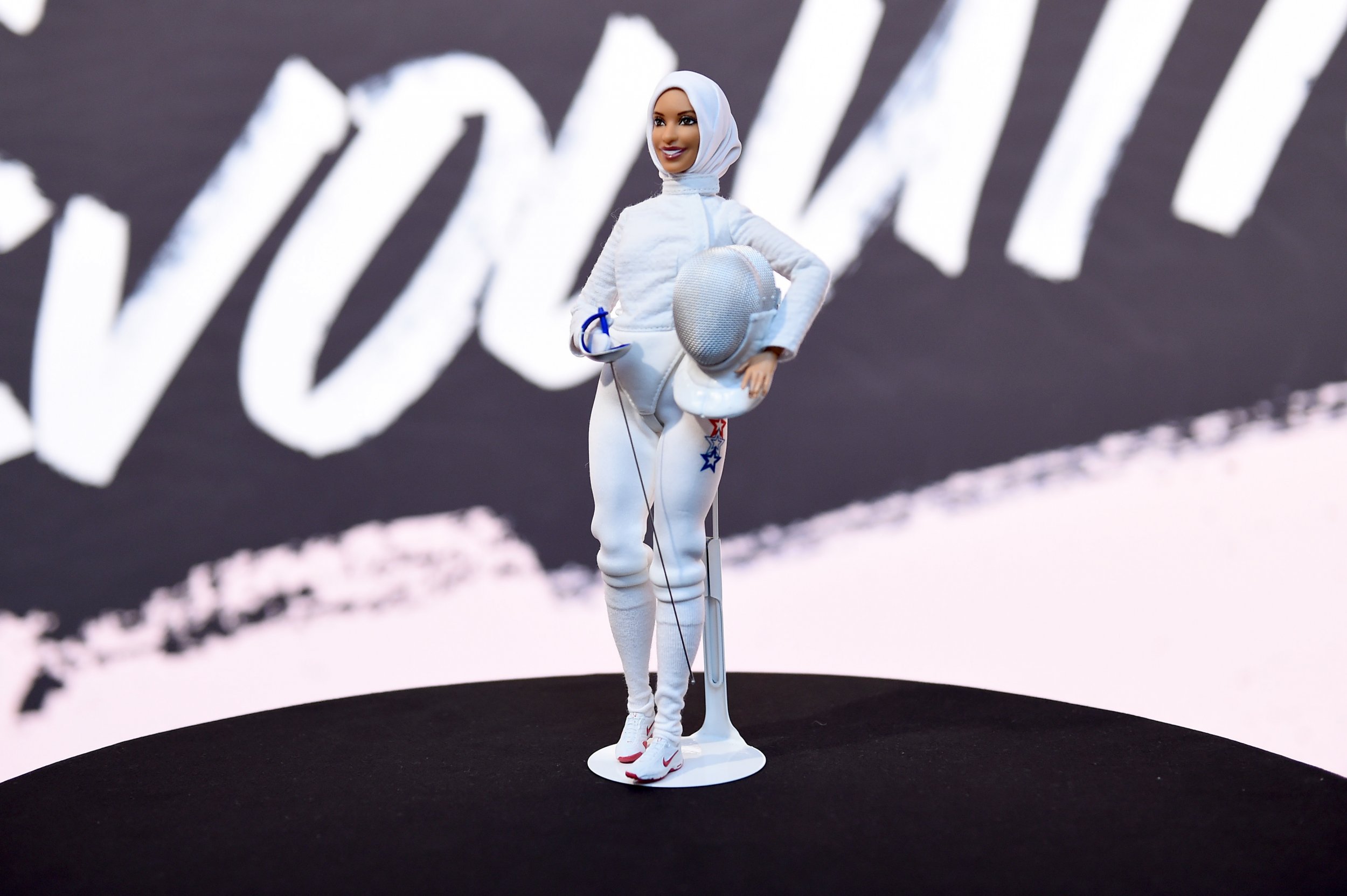 For decades, Barbie has been synonymous with a thin, blonde, Caucasian doll. But the doll's makers have gradually incorporated diversity into their dolls in recent years, designing Barbies with a range of ethnic identities and body types.
And now, for the first time in the doll's 58-year-history, Barbie is getting a hijab.
Mattel, the manufacturers of Barbie, are to release a doll modeled on Ibtihaj Muhammad, an American fencer who won a bronze medal at the 2016 Olympics in Rio de Janeiro.
Muhammad, 31, is well-known for being the first Muslim American to wear a hijab while competing for Team USA at the Olympics.
The athlete tweeted her thanks to Mattel on Monday for welcoming her into the brand's "Shero" family, which celebrates female role models. "I'm proud to know that little girls everywhere can now play with a Barbie who chooses to wear hijab! This is a childhood dream come true."
A one-of-a-kind doll made in Muhammad's likeness was revealed at Glamour's Women of the Year Summit on Monday at the Brooklyn Museum in New York City. Other dolls in the Shero range include ones modeled on Gabby Douglas—an African-American gymnast with three Olympic gold medals to her name—and Ava DuVernay, who directed the 2014 movie Selma that focused on the civil rights movement.
Read more: Hello Barbie, your child's riskiest Christmas present
Muhammad told People that she worked with the doll's designers to make sure every detail was correct, including larger legs—Muhammad says that fencers need strong legs to "propel ourselves into lunges"—and her signature winged eyeliner.
And, of course, the hijab. "I think it's revolutionary for Barbie to take a stand in this moment that we're in—and I would say, as a country, to have a doll wear a hijab and be the first of its kind," she said.
A message from the Barbie Twitter account said that Muhammad "continues to inspire women and girls everywhere to break boundaries." The hijab-wearing Barbie will be released to the public in the fall of 2018.
Muhammad, a New Jersey native, has previously spoken of the difficulties of being a Muslim in the United States. She told the Daily Beast that she felt unsafe "all the time" in her home country and that she had previously been followed home from fencing practice by someone who tried to report her to the police for no apparent reason.
The Olympian also claimed that she had been detained by U.S. customs agents for two hours in December 2016. "I don't know why. I can't tell you why it happened to me, but I know that I'm Muslim. I have an Arabic name. And even though I represent Team USA and I have that Olympic hardware, it doesn't change how you look and how people perceive you," Muhammad told POPSUGAR.
She has spoken out against the Trump administration's proposed travel ban on immigrants from several Muslim-majority countries and has vowed to be an advocate for "all impacted by profiling & bigotry."
While Mattel has been applauded for getting Barbie to don a hijab, the concept has already been exhibited by a Nigerian medical scientist, Haneefa Adam, who set up an Instagram account called Hijarbie, which features photos of Barbies dressed in Muslim attire.
Adam told CNN that she had not seen Barbie in a hijab before and thought it was "really important for a doll to be dressed like how I would be." Her Instagram account actually featured a doll dressed as Muhammad during the 2016 Olympics.