'Barbies and Bondage' Front Yard Display Is Stand Against Vaccinations: Homeowner
A New Mexico home featuring a "Barbies and bondage" display is a stand against COVID-19 vaccines, according to the homeowner.
The City of Albuquerque Police Department was called to a residence near the University of New Mexico, where the art installation was set up on the front lawn, according to local station KRQE. The city's Code Enforcement was also notified of the display.
The "Barbies and bondage" display, as the homeowner, only identified as David, calls it, features numerous Barbie dolls hanging on a wall in front of his home and from trees on the property. Several of the dolls wear protective face masks while others have nails puncturing their arms to represent the COVID-19 vaccine. Red paint marking the dolls is meant to signify supposed medical issues stemming from the shot.
David explained that the display is a statement about the ongoing COVID-19 pandemic. "I've had a lot of time to look at the people walking by wearing masks and I was taking telephoto pictures of the people with masks," he told KRQE.
"All of this art is about truth versus lies," David added.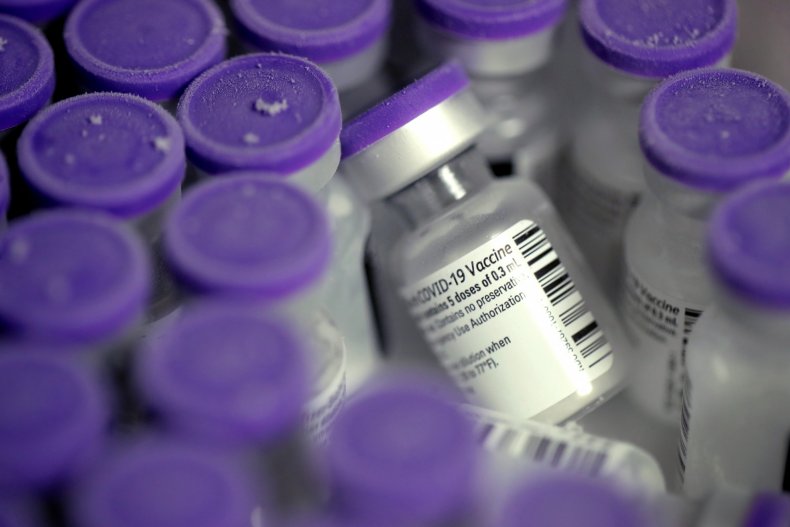 The U.S. Centers for Disease Control and Prevention (CDC) reported that less than 1 percent of the 331 million doses of COVID-19 vaccines administered through July 6 resulted in death.
In addition to the dolls, David also has other displays on his lawn, including a sign hanging from a tree that says "NM Slave State." Another display features old electronics with the word "Lies" painted in red.
Some of David's neighbors aren't pleased with his artwork.
"I mean, I love art so any other type of art would be great but having naked dolls with masks laying on the sidewalk is not appropriate," one neighbor, identified only as Antonio, told KRQE.
Neighbor Jett Vitali told the local TV station that "It's definitely a little graphic but at the same time after thinking about it, you can go out there and find pieces of art that look like this or even more explicit or graphic."
Despite the controversy, a spokesperson for the City of Albuquerque Code Enforcement told Newsweek that while they are aware of the display, it does not constitute any sort of a code violation as it is David's private property.
"This is protected free speech," the spokesperson said. "Our police department did receive a complaint about the display on July 6. However, officers determined the display clearly was on private property, so there was no police issue."
Newsweek reached out to the City of Albuquerque Police Department for comment but did not receive a response in time for publication.