Barbra Streisand and Ariana Grande Duet Is Everything You Didn't Know You Needed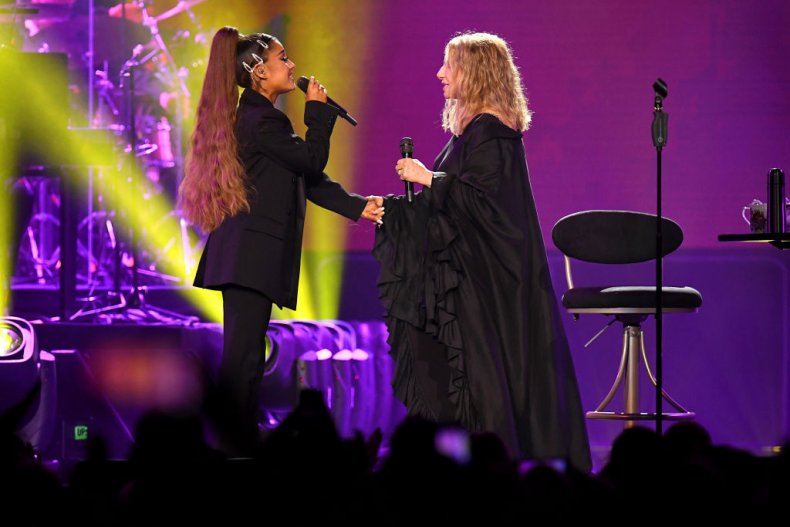 Sometimes two artists come together that you never imaged would mesh, but then it happens and you realize it's everything you always needed in your life. That exact thing happened Tuesday night when Ariana Grande made a surprise appearance at Barbra Streisand's concert at Chicago's United Center.
The two sang Streisand's hit "Enough Is Enough," a duet she originally did with the late Donna Summer in 1979, and the audience at her "The Music, the Memories, the Magic" tour collectively lost their minds.
But it wasn't just the fans who went crazy, Grande herself said she was left "shaking and crying."
Even Streisand was taken by Grande, posting many tweets and Instagram pictures of the two preparing for the performance. In one tweet, she wrote, "secrets out," accompanied by a picture of the pair.
She even shared a glimpse of the rehearsal process, with Streisand and Grande sitting around a white piano, their entourage looking on in amazement (because how could anybody look otherwise sitting that close to those two?).
Just to solidify this most incredible new friendship, Streisand even posted an Instagram picture of the two comparing nails. Streisand has been long known for her manicured nails, often long, only elongating her naturally long hand—which only make her dramatic arms-in-the-air musical finales that much more dramatic. It's clear Grande is also of the same mind.
Grande was already in Chicago in advance of Streisand's show. She premiered her new song "Boyfriend" at the Lollapalooza festival on Sunday.
Streisand's tour, to promote her ninth live album, has already garnered a ton of press. The New York City stop of the tour attracted all the stars, including Mariah Carey.
"A LEGEND," Carey wrote in a tweet accompanied by a picture of her and Streisand.
Then Carey posted a picture with Hillary Clinton and Bill Clinton, who were also in attendance at the concert.
"An honor to meet President Clinton and her husband, former President Bill Clinton," Carey tweeted with the picture. "Thank you for everything you have done and continue to do for our country."
The apparent diss at President Trump immediately went viral. Not missing an opportunity to acknowledge her "queen," Hillary Clinton responded to Carey's tweet, writing, "The honor is ours; it's not every day you meet a queen."
If the first few dates of Streisand's tour are any indication, expect more surprises to come.