Barcelona Attack: Police Hunt Jihadi Network After Second Attack Foiled in Cambrils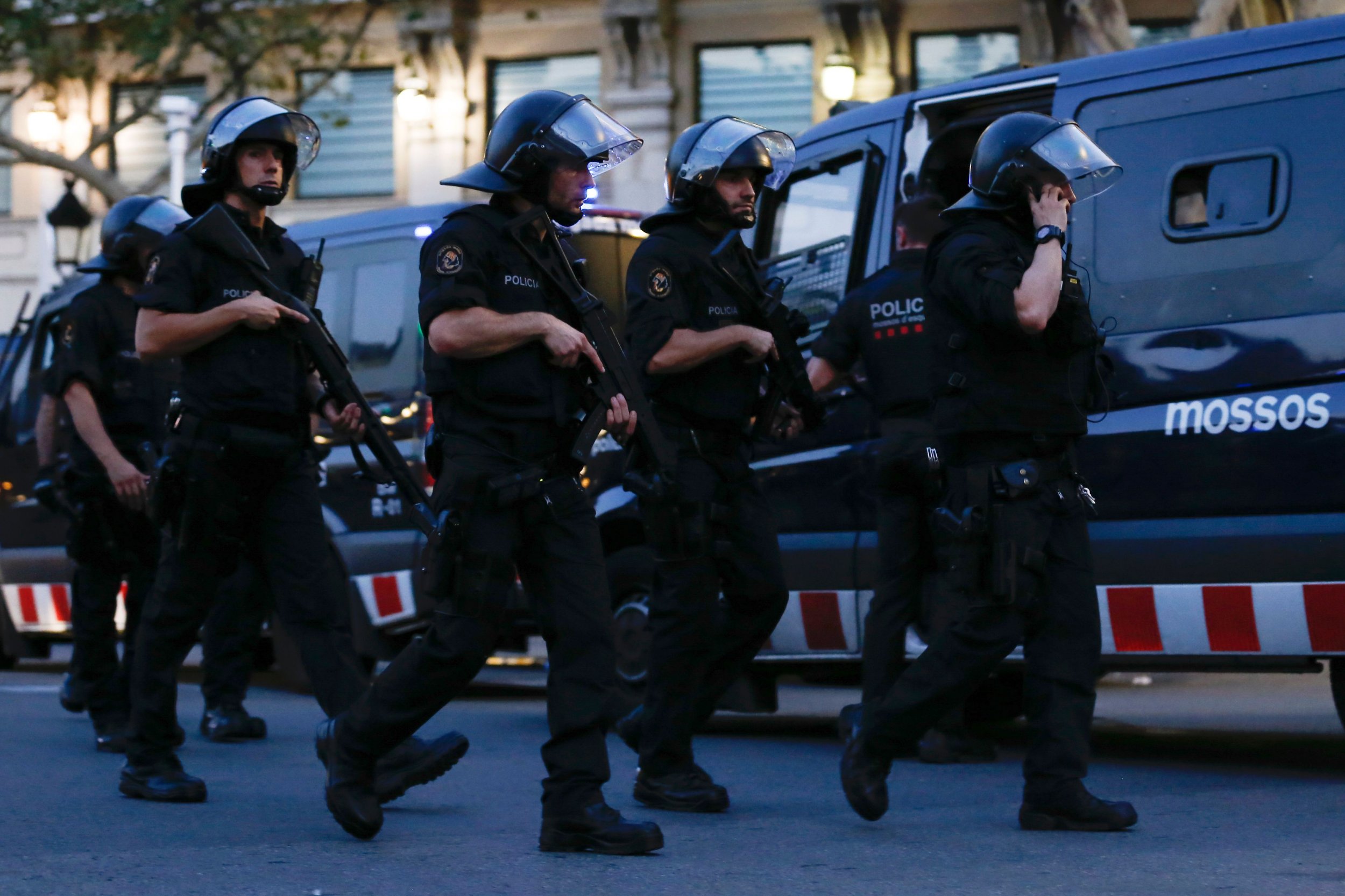 The manhunt for the driver of the van that embarked on a deadly rampage in central Barcelona continued Friday, as fears of a wider extremist network increased after police foiled a second attack in a nearby town.
Hours after a white van careered down the famous Las Ramblas avenue on Thursday night, zigzagging to cause maximum damage and killing at least 13 people, police shot dead five suspected attackers wearing fake suicide vests in the town of Cambrils, a quiet seaside resort 70 miles south of Barcelona.
They had driven a car—an Audi A3—into pedestrians, injuring seven people, including one police officer, before engaging in a shootout with local police. A woman hit in the attack died of her injuries on Friday, according to emergency services, taking the death toll to 14. Authorities detonated the fake suicide vests in controlled explosions. Catalan police said they believed the incident to be linked to the earlier van attack.
They also believe an explosion that left one person dead in Alcanar, south of Barcelona in Tarragona province, on Wednesday is connected to the van assault. Authorities discovered gas bottles at the residence they believe suspects were using to prepare an explosive device.
If those links are confirmed, it would signal a wider network that helped perpetrate the van attack and planned to cause even more destruction in Spain's second city.
Media coverage of European attacks has at times focused on "lone wolves," but security experts say attackers rarely attack alone; a network around them helps to facilitate their plans. This was the case in the deadly November 2015 Paris attacks, the Berlin truck attack in December 2016 and two earlier ISIS-claimed attacks in Germany: a suicide bombing and an ax attack in the Bavarian cities of Ansbach and Würzburg.
Authorities named Driss Oukabir, a 28-year-old of Moroccan descent who lived in Girona, Spain, as a suspect in the rental of the white van from the nearby town of Santa Perpètua de Mogoda, and released his image. He presented himself to police on Thursday night in his hometown of Ripoll, 60 miles north of Barcelona, saying his identity document had been stolen.
Police said Thursday they had arrested two people—A Moroccan national and a Spanish national from Spain's North African enclave of Melilla—and it is a possibility that Oukabir is one of them, but police have yet to confirm their identities. On Friday, they said they had detained a third suspect in Ripoll, the town where Oukabir lived.
"A third person has been detained in Ripoll in relation to the attacks," local Catalan police confirmed on Twitter.
Oukabir was born in 1989 and is from Aghbala, Morocco, 180 miles northeast of Marrakesh. Spanish media, citing police sources, reported that Oukabir arrived in Barcelona from Morocco on Sunday. El País reported that Oukabir had a stint in a Catalonian prison before being released in 2012. Police had not suspected Oukabir of any involvement with radical Islamists.
One theory is that his younger brother, 18-year-old Moussa, took Driss's identity document. Spanish media reported on Friday morning that Driss named his younger brother as a suspect. He had not reported his identity card as missing. Police will be investigating both brothers and their extended networks for clues to how Driss's identity card came to be at the scene, and, further, if the brothers have any connection to how the plot was hatched.
The Moroccan connection points to potential North African ties in the attack. In recent years, Spain has disrupted a number of cells that suspected Moroccan nationals have either led or been party to. Spain has two enclaves in the North African country, Ceuta and Melilla, which sit across the western Mediterranean.
In April 2016, Spanish police arrested a Moroccan national accused of links to the ISIS leadership and for encouraging attacks in Spain and across Europe.
In September of the same year, police detained two Moroccan nationals on suspicion of planning an attack on European soil after traveling to Turkey to meet an ISIS member. In October, police arrested two Moroccan Imams at a mosque on the resort island of Ibiza for alleged support of ISIS and the incitement of jihad.
At least 1,200 Moroccans have traveled to join ISIS in its self-proclaimed caliphates in Iraq and Syria, according to a December 2015 report by the Soufan Group, a U.S.-based security consultancy.
Driss Oukabir's Facebook page, now removed from the platform, said he had lived in the southern French city of Marseille, but French interior minister Gérard Collomb said he does not believe there are any French links to the suspects.
Thursday's assault was the first radical Islamist attack to strike Spain since 2004, when an Al Qaeda–inspired cell carried out a series of coordinated bomb blasts at Madrid's train system, killing 196 people.
But it was the seventh vehicle attack to target a European city since mid-2016, after assaults in Nice, Berlin, Stockholm, and three in London, including one that targeted Muslim worshippers.
Belgian, French, Australian and Danish authorities have confirmed that their nationals were injured in the attack. Spanish authorities said the dead and injured come from 24 countries.