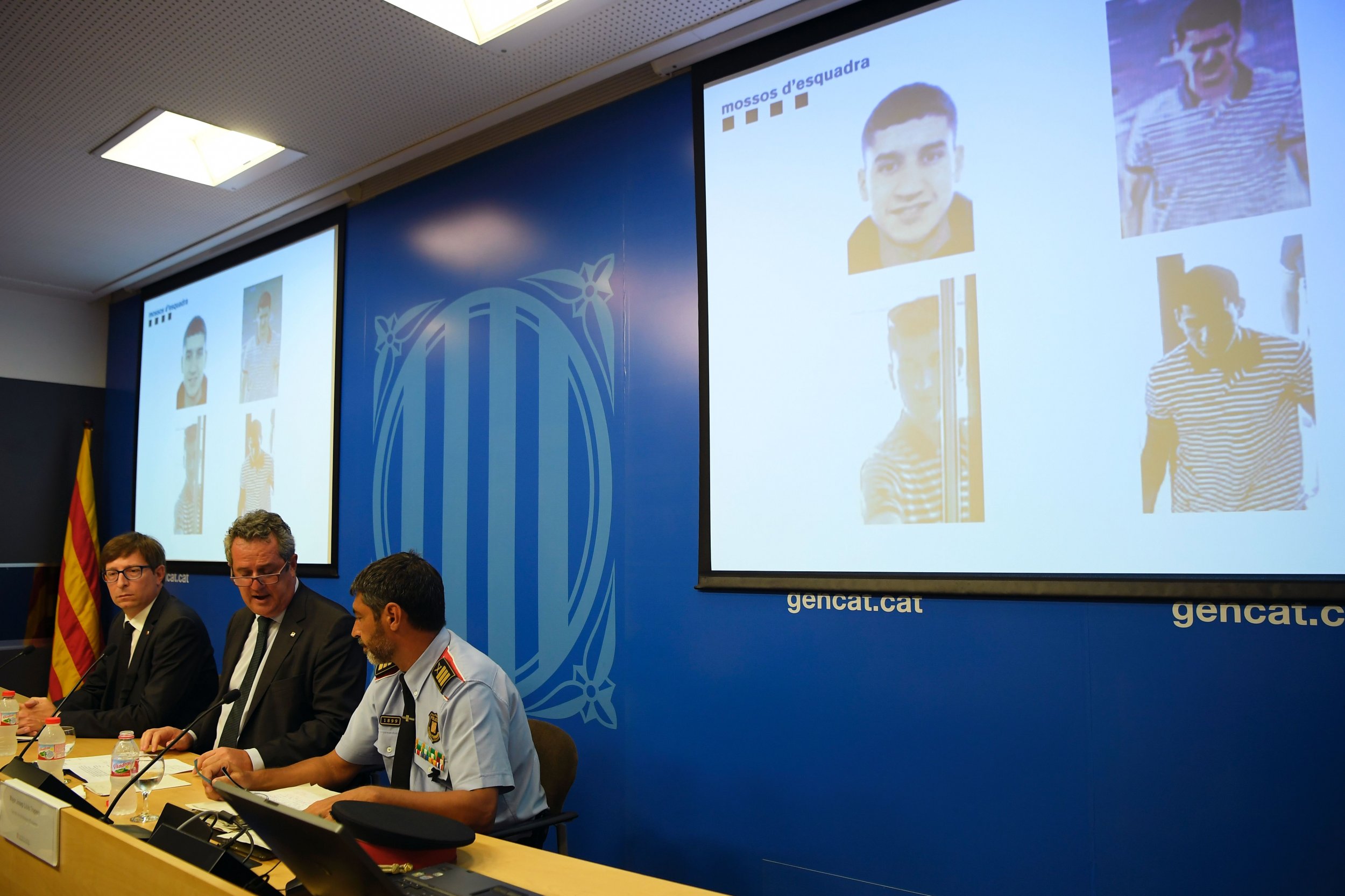 A faulty explosion, a white van in a deadly 50 mile-per-hour hurtle, a second ramming—this time an Audi A3—eight hours later, and a days-long manhunt that ended with a chase through Spanish vineyards.
This was the sequence of events in Spain's wider Barcelona region that turned into a search for Younes Abouyaaqoub, the man who mowed down and killed 13 people on the famous Las Ramblas boulevard.
By Monday, it had become an international manhunt, but police narrowed the search to the Spanish town of Subirats, 15 miles west of Barcelona. They shot Abouyaaqoub before identifying him as the driver of the van late Monday.
"We confirm that the person killed in the incident of Subirats is Younes Abouyaaqoub, perpetrator of the terrorist attack in Barcelona," Catalan police wrote on Twitter.
The total death toll caused by the Barcelona network stands at 15, after two murders in attacks in addition to the vehicle-ramming on Thursday, in which Abouyaaqoub zigzagged his way down the popular avenue at the heart of the northern Spanish city. The Islamic State militant group (ISIS) quickly claimed the attack.
Abouyaaqoub's network planned a larger attack, suspect Mohamed Chemlal conceded to a judge on Tuesday. Chemlal was injured in the explosion at a safe house in Alcanar, Spain, south of Barcelona, where the cell had stored 120 gas canisters, to be detonated with the same substance used in the Paris and Brussels suicide attacks: triacetone triperoxide, or TATP.
Abouyaaqoub remained at large four days after the attack. It became the longest manhunt for an ISIS-inspired attacker in western Europe, and questions will again be asked about how an attacker could career into civilians in one of the most popular areas of Europe's biggest cities and evade security services for days. But can Spanish security services be blamed for the time taken between the assault and the capture of Abouyaaqoub?
The sole surviving member of the Paris attacks cell, Salah Abdeslam, remained at large for four months, finally being found in a raid in the Brussels suburb of Molenbeek, just yards from his family home. But, despite his logistical role, he pulled out of the suicide bomb and shooting assault at the last moment, buying him time to escape across the French-Belgian border.
In Istanbul, the gunman who killed 39 people at the Reina nightclub on New Year's Eve remained in hiding in Turkey's largest city for more than two weeks before security services raided his safe house.
Security services knew the identities of both men after the Paris and Istanbul assaults. But Spanish authorities had to start from scratch. Abouyaaqoub was not on their radar, and he rented three vehicles in the name of Driss Oukabir, leaving his identification at the scene and framing him as the key suspect. Oukabir later handed himself in to police in the Spanish town of Ripoll, explaining his documents had been stolen. He remains in Spanish police custody.
"It is kind of searching for a needle in a haystack," says Raffaelo Pantucci, director of international studies at the London-based defense think tank Royal United Services Institute (RUSI). "If you have got someone who doesn't come from a network, then you don't know where to start looking. You've just got to start digging through what you know."
Images released of Abouyaaqoub following his assault made his escape even more galling. Spanish newspaper El Pais released pictures purporting to show Abouyaaqoub, in a striped polo shirt, strolling through Barcelona's centuries-old La Boqueria Market with his sunglasses on amid the mayhem.
But the immediacy of the attack, and the confusion surrounding the circumstances of the assault, whether it was an accident or a deliberate attack, would make apprehending the assailant a tougher task in the short-term.
"It's difficult to do it very quickly. I think that's one of the factors, of where the attack took place," says Richard Barrett, former head of counterterrorism at Britain's MI6 security service and now director of the Global Strategy Network. "There were very, very many different people there. You can see that if you do want to blend into a crowd, that's a pretty good crowd to blend into." In total, people from more than 30 different nationalities were killed or injured in the attack.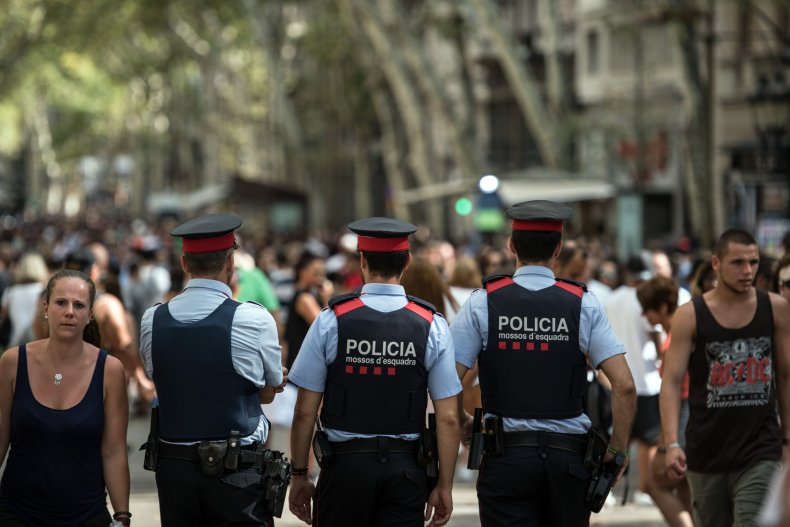 Abouyaaqoub's escape has highlighted the challenges of catching an attacker fleeing the chaos in the immediate moments after an assault by blending into large crowds. In December 2016, 24-year-old Tunisian national Anis Amri commandeered a 25-ton Scania truck he had hijacked after killing its Polish driver, plowing it into a central Berlin Christmas market, and leaving 12 people dead. German police arrested a Pakistani suspect, but it was the wrong man. Amri was able to escape, not to a neighboring country, but across three different EU states: the Netherlands, Belgium and France, before reaching Italy.
In the Milanese suburb of Sesto San Giovanni, Italian police officer encountered Amri for a routine check, firing a bullet into his chest when the suspect tried to reach for a pistol in his backpack.
The failure to identify Amri for two days allowed him to gain a march on investigators and escape across the continent. The same appears be the case with Abouyaaqoub, who was able to go on the ground for four days, and in the immediate area of Barcelona.
After stealing the van, Abouyaaqoub escaped toward the city's university area, where he hijacked a car, stabbing its 34-year-old owner Pau Perez to death. With his body still inside the vehicle, Abouyaaqoub drove through a police checkpoint, drawing fire from officers. But he again managed to escape, and they discovered the car abandoned. A second attack in the quiet seaside town of Cambrils just hours later gave authorities more leads. Police shot and killed five members of the cell after their Audi overturned. Identifying those involved would opened up new doors.
Abouyaaqoub was eventually spotted near a vineyard by a woman in Subirats. She tipped off the police that she was certain the man was the fugitive everyone was looking for.
Two police officers then confronted him, at which point he shouted "Allah is great" and revealed a suicide-bomb belt (later determined to be fake). Police shot and killed Abouyaaqoub on the spot. They found a bag of knives on his person, but he did not appear to have a clear plan to get away, or anyone to stay with. The imam to whom he was linked was killed in Wednesday's faulty explosion in Alcanar, and the other 10 members of the network were either dead or in detention. But authorities initially had no knowledge of this, so it was all about playing catch-up.
"You are starting from zero, where he is already moving," says Barrett of the challenges of dealing with an attacker who may already have a Plan B. "So you've got to accelerate really hard to come up and then overtake him."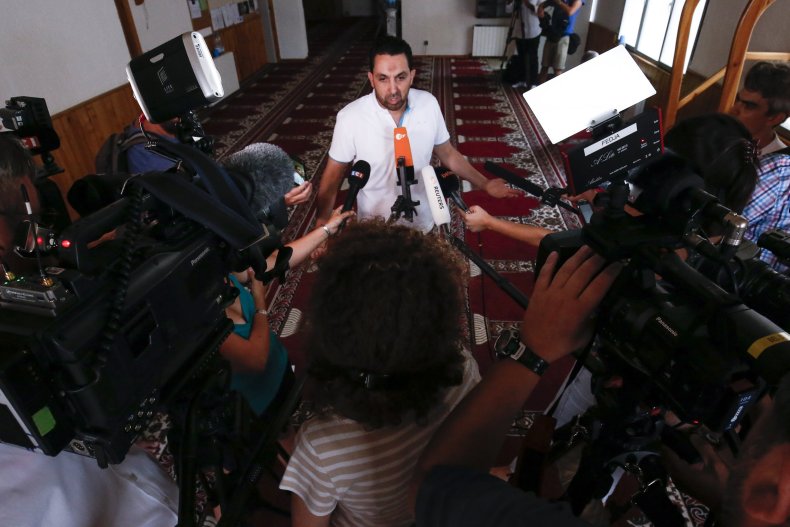 Spain has a long history of combatting militant activity by Basque separatists who sought independence through deadly bomb blasts. They eventually handed over its weapons this year, and Barrett puts Spanish and Catalonian expertise witnessed in the aftermath of the van attack to dealings with Euskadi Ta Askatasuna (ETA), the Basque separatist movement, and an excellent relationship built up between Spanish and French authorities.
"I thought the police response was excellent within Barcelona and within Catelonia too for that matter, in that they identified the people quickly, they linked it to the house explosion, they managed to wrap up almost everybody except for this guy," he says.
But as Pantucci notes, it will be of concern "that so many radicals can slip under the radar."
So with Abouyaaqoub neutralized, all known remaining members of the network in custody, and as security services review their response in the four days following the attack, attention will now turn to where the Moroccan driver laid low, who may have helped him, and, importantly, who he was in touch with.