#BareShelvesBiden Becomes Top Trend on Twitter Amid Supply Chain Crisis
The hashtag #BareShelvesBiden was the top trending topic on Twitter Friday morning amid the ongoing supply chain crisis that is worrying consumers.
On Wednesday, the White House announced steps it was taking to intervene and help ease the bottlenecks preventing products from getting to store shelves. However, the White House also cautioned that it could not guarantee that shortages would not affect the Christmas shopping season.
Biden critics on Twitter have used the hashtags #EmptyShelvesJoe and #BareShelvesBiden to attack the president's leadership. While #EmptyShelvesJoe was a top Twitter trend on Thursday, #BareShelvesBiden shot up to No. 1 on the social media platform by Friday morning. As of this writing, the hashtag had been shared by more than 35,000 Twitter users.
"Good morning to everyone except #BareShelvesBiden," alt-right political activist Jack Posobiec tweeted on Friday.
"Once you understand how they oversample Dems, you'll realize that #BareShelvesBiden's real approval is in the 20s, not 30s," right-wing TV commentator John Cardillo claimed in a Twitter post.
Biden's approval rating stands at about 44.8 percent, according to FiveThirtyEight's average of recent national polls. Meanwhile, about 49.5 percent of Americans say they disapprove of the president.
Some Twitter users shared a meme of Biden's head in front of empty store shelves with a sign that read, "Please bear with us, we're experiencing President Biden." Another poster shared a meme of Biden pointing at empty shelves with the words "I did that!!!" written below him.
Others defended Biden, pointing out that shelves had been empty in grocery stores at the start of the COVID-19 pandemic in 2020. Some noted that photos of empty store shelves being shared by Biden critics were actually taken in March 2020 when Donald Trump was president.
The White House has promised to take necessary steps to address the supply chain issues. Worker shortages, production delays and shipping problems, compounded by the ongoing coronavirus pandemic and heightened consumer demands, have led to the crisis.
"If federal support is needed, I'll direct all appropriate action, and if the private sector doesn't step up, we're going to call them out and ask them to act," Biden said on Wednesday.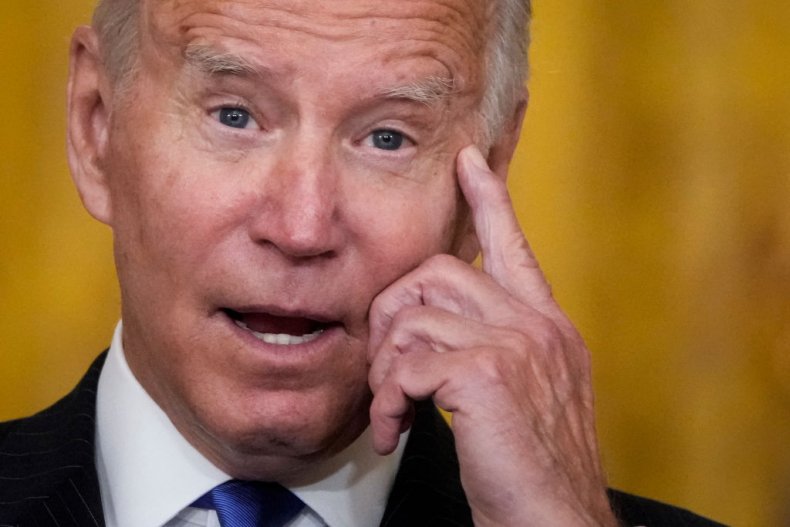 Meanwhile, the White House said that the Port of Los Angeles would join the Port of Long Beach in operating around the clock to address the backlogs of products held up in shipping containers. The ports are two of the nation's busiest, and approximately 500,000 shipping containers are waiting to be unloaded, Reuters reported.
Major retailers—including Target and Walmart—plan to expand overnight operations to help address the problems. However, the White House has cautioned that there still may be empty shelves ahead of Christmas.
Newsweek reached out to the White House for comment but did not immediately receive a response.