A painting by famous Renaissance artist Titian that once traded for just less than $80 in London more than 100 years ago has been auctioned for a whopping 4.8 million euros ($4.9 million) in Austria, which is more than three times higher than experts' estimations.
According to Viennese auctioneers Dorotheum, the 1565 artwork, titled "Penitent Magdalene," once adorned the walls of Christina, Queen of Sweden (1629-1689), Philippe, Duke of Orleans (1674-1723), and most probably the Holy Roman Emperor, Rudolf II.
The auction house said John Maitland, Esq., bought the painting for 350 guineas ($0.04) in London in 1798. After his death, the artwork was acquired by John Rushout, 2nd Baron Northwick, in 1831.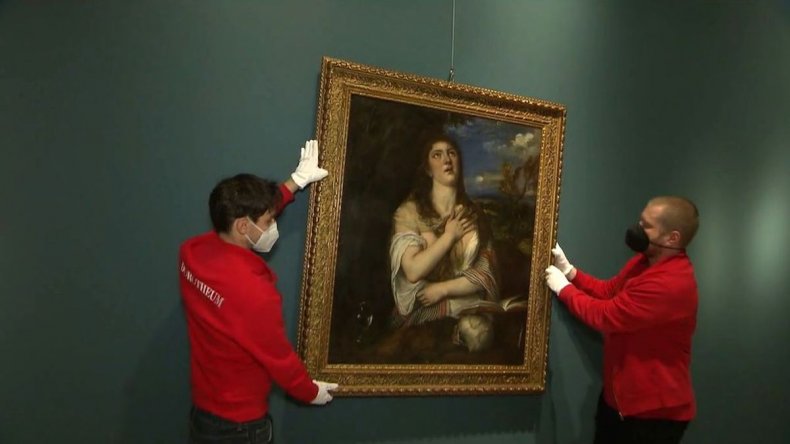 David Marks paid just 66 guineas ($0.0075) for it at a sale at Thirlestane House, Cheltenham, Gloucestershire, in 1859.
The British currency was decimalized in 1971, and Guinea was no longer accepted as legal tender after that, but it had a value of one pound and one shilling ($1.31), or 1.05 pounds ($1.25), in modern currency. So, the 1859 sale would have been an amount of just over 69 pounds ($82).
The outstanding work of art became part of an unidentified private collection in England before being acquired by the grandfather of the previous owner, whose identity has not been revealed by the Austrian auction institution.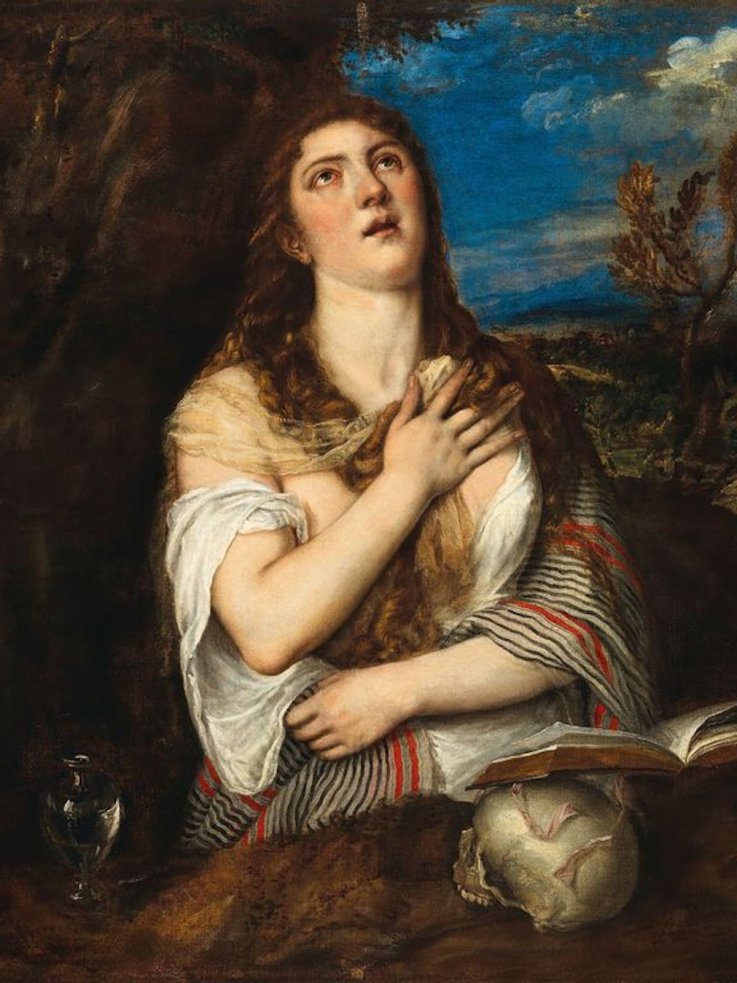 Titian's "Penitent Magdalene" (1565)
Dorotheum/Zenger
Measuring 45 x 38 inches (115 x 97 centimeters), the framed oil on canvas artwork called "Penitent Magdalene" is considered as one of the celebrated Italian artist's most significant paintings.
Specialists on Titian at Viennese auctioneers Dorotheum had announced two weeks ahead of the auction that they expected it to go for around $1.57 million (1.28 million pounds).
The tradition-rich auction house announced: "After several minutes of tense bidding, the painting was secured by an anonymous telephone bidder.
"The winning bid represents one of the highest prices ever achieved at auction, anywhere in the world, for a work by Titian."
Titian, also known as Tiziano Vecelli or Vecellio (1488/90 – 1576) is one of the most important members of the 16th century Venetian school. His painting methods involving the application and use of color influenced many Renaissance artists, as well as future generations of painters.
Mark MacDonnell, the Dorotheum's expert on Old Masters Paintings, described the auction prize as a "truly magnificent result."
He added: "We are absolutely delighted to have been able to bring such an important painting to the market.
"This significant work by Titian, with its fascinating royal provenance, has attracted worldwide interest since its discovery, and it has been rewarded accordingly. With this sale, it has been given the recognition it deserves."
MacDonnell described the painting as an emotionally charged piece of work as it depicted Saint Mary Magdalene with tears in her eyes, which in turn is meant to symbolize a sensual illustration of redemption.
MacDonnell said: "This subject is a penitent Magdalene, and it was Titian's most requested subject."
Titian made over 40 versions of the "Penitent Magdalene" throughout his life, two of which can nowadays be found in the State Hermitage Museum in the city of Saint Petersburg in Russia and in The Getty Center in Los Angeles.
The Dorotheum auction house announced: "Much academic research has been devoted to the study of Titian's 'Penitent Magdalene.' This painting was considered lost. Its rediscovery has revealed a work of extraordinary quality and it is a significant addition to Titian's oeuvre."
The current worldwide record price in an auction of an artwork by Titian was set in 2011 when "The Madonna and Child with Saints Luke and Catherine of Alexandria" — or "Holy Conversation" — went for $16.88 million at Sotheby's New York.
The Dorotheum is the largest auction house in German-speaking Europe. Founded by Holy Roman Habsburg Emperor Joseph I in 1707, it is one of the oldest auctioneers in the world.
This story was provided to Newsweek by Zenger News.