Barnard College Places Safety Officials On Leave After Viral Video Shows Black Student Pushed Against Counter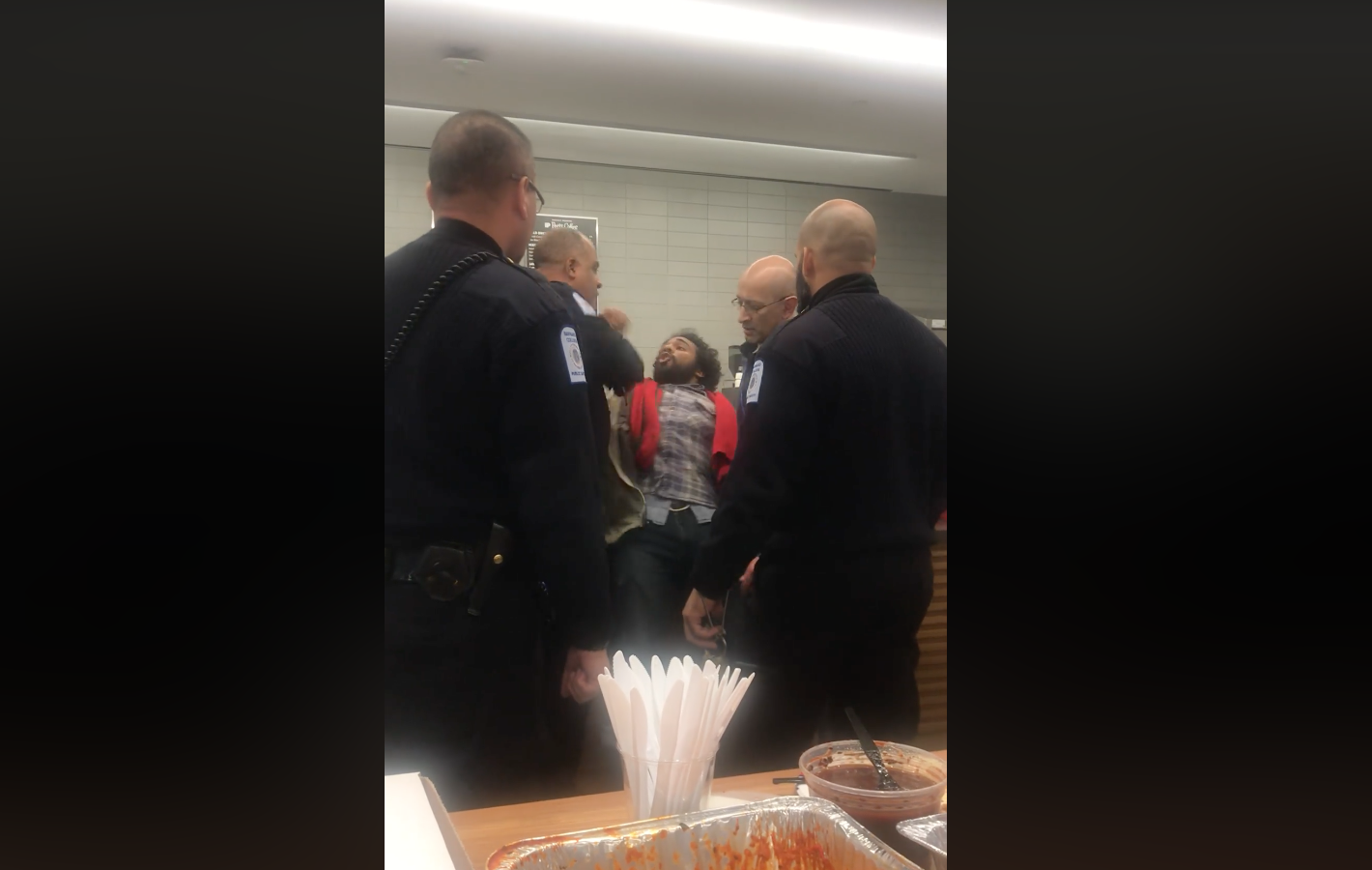 At least six public safety officials at Barnard College in New York City have been placed on leave after a viral video appeared to show the officials pushing a black student against a countertop for failing to show his student ID card.
Captured Thursday at the campus's Milstein Center for Teaching and Learning, The video shows the officials restrain the student, identified by The Columbia Spectator as senior Alexander McNab, who yells for the uniformed officers to remove their hands from his body.
"Take your hands off of me," McNab calls out in the video. "Why are you touching me? Let me show you my ID. You want to see my ID? I am a Columbia University student." (Columbia University and Barnard are partner institutions.)
In a statement, the school confirmed that an incident had taken place and said it was investigating its protocols with the help of an independent investigator. The officials will be on leave pending the completion of the investigation, the statement said.
"As many of you are aware, there was an unfortunate incident [Thursday] in the Milstein Center that has raised concerns about our safety and security policies and how they are enforced," Barnard President Sian Leah Beilock said. "...We deeply regret that this incident occurred, and we are undertaking a thorough review of our public safety officers' actions, and will address our processes and procedures and how they are applied."
McNab told the student paper that he refused to show his identification when trying to enter the building, which requires an ID check past 11 p.m. He described the rule as arbitrarily and unequally enforced, telling the paper that he saw white students slipping by without showing identification.
"What I didn't see coming was when they got the other Public Safety officer come to the side and pin me to the counter," he told the paper, which published an extensive report on the altercation. "I hadn't made any threats; all I said was I'm not going to show you my ID. I don't understand where that came from."
In the video, the officers repeatedly ask McNab to "go outside," presumably to continue the confrontation. At one point, McNab is able to retrieve his wallet from his pocket and show the surrounding officers his ID card. 'This is the third time that Barnard public safety has chased me down," the student can be heard saying.
On Friday, the campus held a "listening session" with representatives from Public Safety, the Deans of the College, Furman Counseling, and the Office of Equity to discuss the matter.
In its statement following the campus meeting, the school expressed a commitment to continuing the discussion.