Barnard Student Defends Campus Officers Who Confronted Black Student: Gender, Not Race, May Have Been the Issue, She Wrote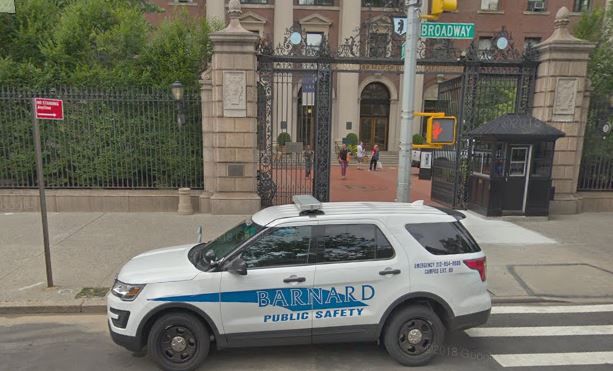 Even Barnard College's administrators joined students and other observers in condemning the actions of the school's public safety officers during an April 11 confrontation with a black male. But now a Barnard student has come forward to say that it was unfair to condemn the officers' actions as racist.
Alexander McNab, a student at Barnard's affiliate institution, Columbia University, told the Columbia Daily Spectator, a student newspaper, that officers had followed him to the school's Milstein Center after he declined to show his identification at the main gates of the Barnard campus. It was after 11 p.m. and identification is required at that time to enter the campus.
McNab said he was aware of the rule but was frustrated that it's inconsistently enforced. After he entered the Milstein Center, several other officers were called to the scene and they pinned McNab to the counter. Video of the incident quickly went viral.
Barnard is hardly the first higher education institution to deal with a video that cast the school in a poor light. Colleges' responses to these incidents can come under heavy scrutiny, and within days, Barnard announced disciplinary action against the security officers.
Morgan Raum, a Barnard senior, wrote in The Columbia Beacon, a source of alternative campus commentary at Columbia, that the outrage over the incident was hypocritical. She said that female students who, a few months earlier, had "accused men of generally behaving like pigs and getting away with whatever they want," were now "indifferent about an adult male belligerently" ignoring campus safety officers and refusing to show his identification.
"It's appalling that so many students, along with the Barnard administration and President [Sian Leah] Beilock, would prejudge this incident to be purely the result of racism," Raum wrote.
Raum told Newsweek that it was "inappropriate and irresponsible" for people to make a quick judgment and in the future, it should be discouraged. However, she added that her opinion on rushing to judgment didn't take away that students may have had problems with public safety.
"I definitely don't want to delegitimize the very real experiences and perspectives of students of color on this campus who claim they have had racist encounters with Public Safety," Raum told Newsweek. "...I haven't personally had problems with Barnard Public Safety, and they've been extremely helpful to me on numerous occasions, but I recognize that others may have had bad experiences with them."
The senior noted that on a large campus, public safety officers can't know who is and is not a student and pointed to a 2017 incident in which a student was assaulted in an all-female Barnard dorm room. Raum told Newsweek that part of the reason she penned the op-ed was that she felt the perspective of herself and her friends as both women and victims of harassment "wasn't being mentioned at all and that only one narrative was dominating and monopolizing the conversation."
Beilock had called the McNab incident "unacceptable and antithetical to our mission" and announced that the public safety officers and the supervisor involved had been placed on administrative leave. The school also hired an independent firm to investigate the incident.
"The confrontation puts into stark relief what some members of the Barnard College community, particularly people of color, have been saying about their relationship with the Office of Public Safety and the lack of trust they have in it to keep them safe," Beilock said.
Students organized an "Anti-Blackphobia Protest," which garnered support from several groups, including the Columbia University Democrats. The group posted on Facebook that black students and nonblack students have different relationships with Public Safety. The confrontation with McNab, the student group said, demonstrated that Columbia and Barnard "have not done nearly enough to remedy" the relationship between black students and campus police.
Raum, however, who identified herself as a "very light-skinned Jewish woman," said she's been asked to show her identification card and argued that McNab's race may not have been the reason officers stopped him.
"I do not deny that racial profiling exists and can be extremely harmful and upsetting," Raum wrote. "However, I can't help but feel that while Alexander McNab may have been 'profiled,' in all likelihood it was due to his being a male student on a women's college campus after 11 PM who repeatedly refused to show his identification."
Raum wasn't alone in supporting the officers. Columbia University student Coleman Hughes, who wrote in an article in support of the officers for Quillette, a "platform for free thought," told Newsweek that the identification policy at Barnard aims to protect students. He said the policy can be enforced with two methods, which he identified as words and force.
"They tried the former, then moved on the latter–which is their job," Hughes said. "They didn't use any more force than was necessary to get him to comply. And now they've been tarred by Columbia administrators as racists for implementing a policy that administrators themselves put in place."
The Columbia University student admitted he was nervous about voicing an opinion that went against the vocal majority. However, as a black person, he said people more readily assume he's "coming from a good place" and understands that "racism is real."
He called the university's condemnation of the officers "scapegoating" and "cowardly."
"If the school finds they did nothing wrong, which I am confident they will, then they are definitely owed an apology (and perhaps more than just an apology) by the administration and every student here that has made generalizations, issued mischaracterizations, or called for their removal," Raum told Newsweek.
This article has been updated to include the response from Morgan Raum and Coleman Hughes.