Barnes Appeals to Family Farmers Pressed By 'Big Ag' in Rural Wisconsin
U.S. Senate candidate Mandela Barnes hosted a rally and two meet-and-greets in rural Wisconsin last Saturday where the issue of big agriculture's dominance over family farms in the state emerged as a top concern.
Flanked by Minnesota's Democratic Senator Amy Klobuchar, chair of the Senate subcommittee on antitrust, Barnes, the state's lieutenant governor, rallied the people of Glenwood City, Wisconsin, a small town with some 1,300 residents about 60 miles east of Minneapolis, around the issue of corporate consolidation.
"Working people are experiencing some of the most difficult challenges they've ever had in their entire lives," Barnes told a group of about 150 supporters. "Our family farmers are being squeezed out by large corporate monopolies that make it harder for them to compete."
Jim Hare, a resident of Prairie Farm, Wisconsin, came out to hear Barnes in Glenwood City. He told Newsweek that he's spent 25 years working as a beef cattle farmer while also engaging with his community as editor-in-chief of the area's newspaper, Hay River Review.
Over the years, he has seen the number of family farms dwindle. Hare said that in the past a family could send their kids to college on the earnings from a farm with a herd of just 40 cows. He said that today, "you're lucky" to get by with 150 cows.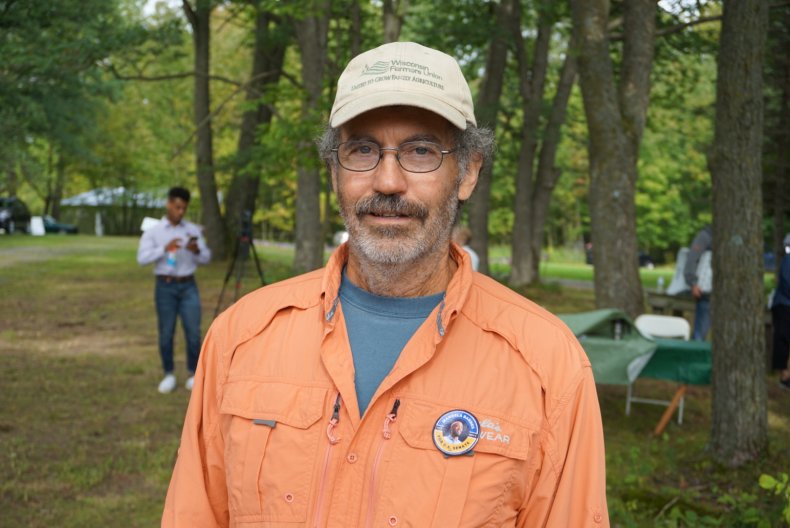 "It's monopolies," Hare told Newsweek. "If a guy has 5,000 cows and a great credit line at the bank, that means the community he lives in is short about 50 farmers. If one guy can control 5,000 cows and 10,000 acres, well, all those farms have disappeared."
In an exclusive conversation with Newsweek, Barnes said agriculture would be a top priority for him if he wins the Senate race. It's his hope to serve on the chamber's Committee on Agriculture, Nutrition, and Forestry, where he could play a role in shaping the nation's next farm investment bill, as the current iteration is set to expire in 2023.
"We have a very strong foundation, rich tradition here of the family farm being strong," he told Newsweek. "We need to make sure that the incentives in the farm bill actually benefit small family farmers, not Big Ag."
"Those conversations about monopolization, antitrust," he added, "they come up all the time."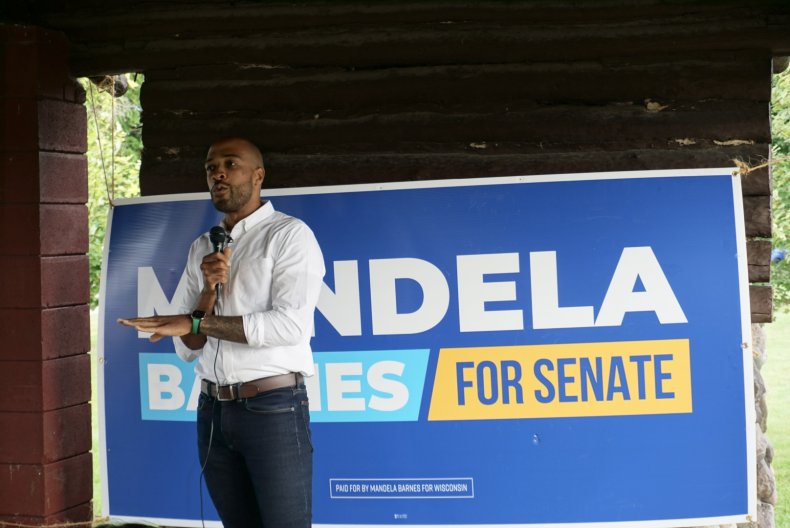 America's agricultural sector has experienced steady consolidation since the late 1980s. The U.S. Department of Agriculture (USDA) reported that in 1987 57% of U.S. cropland belonged to midsize farms (those holding 100 to 999 acres of land). As of 2017, the largest farms (those holding over 2,000 acres) control 58% of that land.
This phenomenon has hit Wisconsin's famous dairy industry particularly hard. From 2014 to the beginning of 2022, the number of Wisconsin dairy cow herds dropped by over one-third, PBS Wisconsin reported. This decline occurred despite milk production in the U.S. reaching an all-time high in the same period, according to the USDA.
A poll published on September 14 by Marquette Law School showed the Senate race to be a virtual dead heat, with 49% of likely voters supporting the state's current Republican Senator Ron Johnson and 48% favoring Barnes. This represented a significant shift from Marquette's August poll, when Barnes held support from 52% of voters and Johnson trailed with 45%.
Barnes and Johnson are neck-and-neck when it comes to capturing support among their parties — 96% of Democrats support Barnes and 97% of Republicans support Johnson. However, among independents, Johnson holds a slim lead, attracting 48% of those individuals compared to Barnes 46%.
But Barnes continues to win the relatability battle, with 44% of voters saying Barnes "better understands the problems faced by ordinary people in Wisconsin," while 40% said the same of Johnson. Further, of the people who knew of each candidate, 44% said Barnes shared their "values" while 42% felt Johnson did.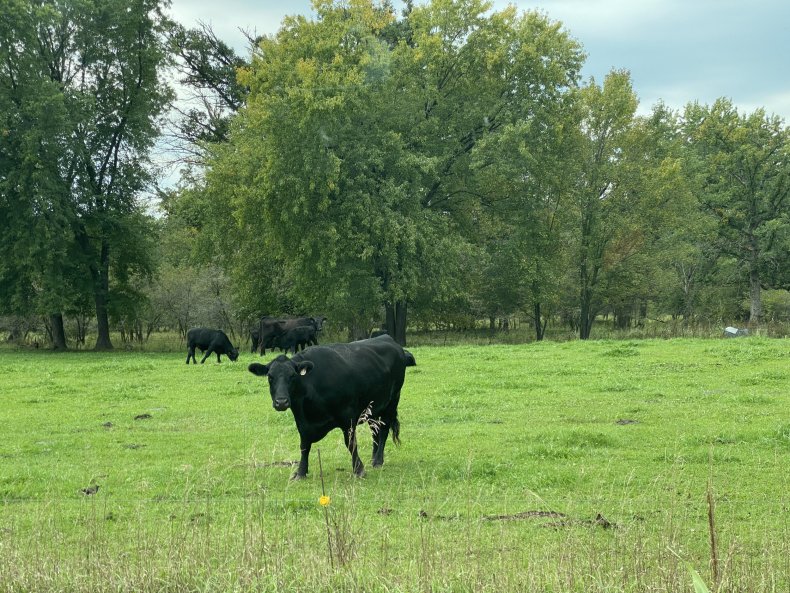 However, the biggest challenge for Barnes may well be getting people to know who he is. Johnson has represented Wisconsin in the U.S. Senate since 2010, while Barnes has only served in a statewide office since 2019 in the less visible position of lieutenant governor. When asked to share their feelings on each candidate in the Marquette survey, 25% of voters said they "haven't heard enough" about Barnes to share an opinion, while just 11% said they hadn't heard enough about Johnson.
Barnes told a group of reporters after the rally that he is not worried about the recent downward trend in the polls. He said he intends to continue meeting with as many people as possible across the state to ensure people are aware of him and his message.
"Polls go up and down," he said. "The fact is we are still showing up everywhere. We've always campaigned as if we were five points down, even in the primary, and we're gonna continue to show up all over the state, delivering our message about rebuilding the middle class, providing opportunity for people."
Barnes stressed throughout Saturday's events that his camp cannot expect turnout in the Democratic strongholds of Madison and Milwaukee to carry them to victory. In turn, he said that they also cannot expect rural voters in Republican areas will withhold their support from him.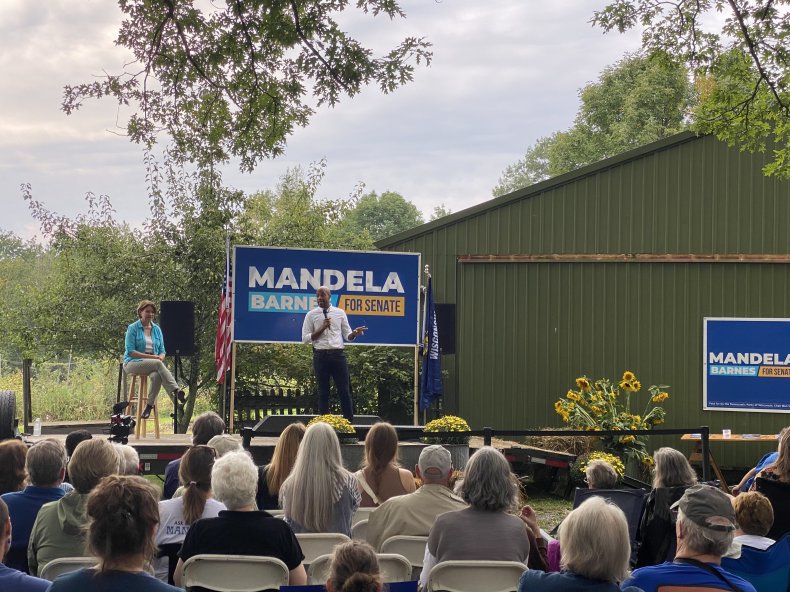 The rally in Glenwood City and subsequent meet-and-greet in Black River Falls took place in Wisconsin's third Congressional District, an area that voted for Trump in 2020 and 2016 but went for Obama in 2012 and 2008. The final meet-and-greet in Portage was in Wisconsin's sixth Congressional District, an area that hasn't voted for a Democratic presidential candidate since 2008.
Barry Burden, an American politics professor with the University of Wisconsin-Madison, told Newsweek there's hope for Barnes as he continues to push a message that puts the economic interests of small business owners at the center of his messaging.
Burden noted that Tammy Baldwin, Johnson's Democratic counterpart in the Senate, has had great success in the state focusing on legislation that supports farmers and the needs of rural people. If Barnes wants to turn Johnson's seat blue, continuing his engagement on issues like agricultural consolidation may prove key.
"Four years ago, we had a tough task ahead of us [running for lieutenant governor]," Barnes told supporters in Portage. "We didn't assume Milwaukee and Madison were gonna make the difference. We didn't assume more rural communities wouldn't show up for us. We had the conversation with anyone who would listen."
"We're going to exceed," Barnes added. "We're going to do even better than we did four years ago."