William Barr: DOJ Will Support Robert Mueller If He 'Doesn't Want To' Testify Before Congress, Despite Subpoena
With a little more than one week until the long-awaited testimony of Robert Mueller will take place before lawmakers, the nation's top law enforcement official on Monday suggested that the former special counsel did not need to comply with a congressional subpoena.
William Barr said that should Mueller not "want to subject himself" to what the attorney general predicted will be a "public spectacle," then the Justice Department will support him.
Barr himself has been held in civil contempt by the House for refusing to adhere to a subpoena and produce the unredacted Mueller report and its underlying evidence.
"I'm not sure what purpose is served by dragging him up there and trying to grill him," Barr told the Associated Press. "I don't think Mueller should be treated that way or subject himself to that, if he doesn't want to."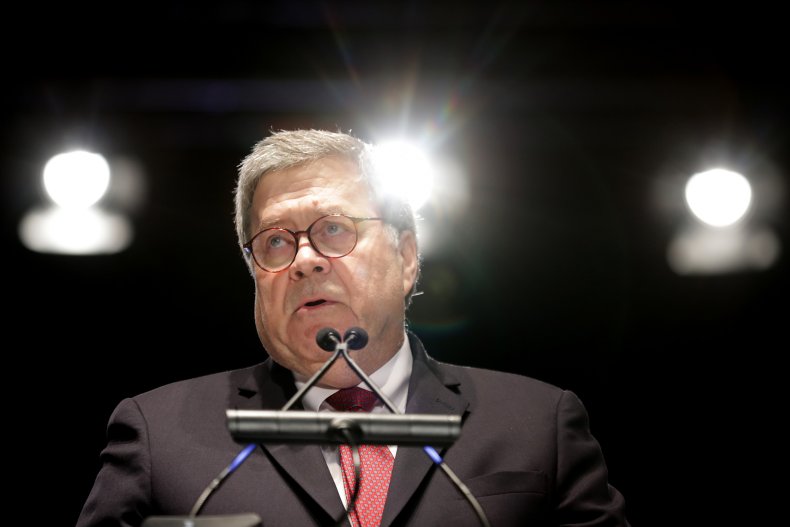 Mueller is slated to testify both publicly and privately on July 17 to the House Judiciary Committee, the Democratic-led panel investigating President Donald Trump for potential obstruction of justice that may have occurred during the 22-month-long probe into Russian election interference.
Mueller has not publicly voiced opposition to testifying, but the former Justice Department official has warned that any testimony he would provide will not go further than what is stated in his 448-page report.
"The report is my testimony," Mueller said in May during a rare public statement. "Any testimony from this office would not go beyond our report. It contains our findings and analysis, and the reasons for the decisions we made. We chose those words carefully, and the work speaks for itself."
House Democrats have said an appearance by Mueller to simply read portions of his report aloud for viewers at home to see and hear on TV would be satisfactory, as they believe it would bring to light allegedly damning portions and would educate people.
The former special counsel's testimony will have a "profound impact" on whether the committee moves forward with an impeachment inquiry, Judiciary Chairman Jerrold Nadler has said. Opening an official inquiry into whether Trump has committed impeachable offenses is a contentious issue that's increasingly divided House Democrats.
The committee did not respond to Newsweek's request for comment concerning Barr's remarks.
Barr has previously directed a Justice Department official not to comply with providing subpoenaed testimony to a separate Democratic-led committee on issues dealing with adding a citizenship question to the 2020 census.
A Justice Department letter to the House Oversight Committee in April that was obtained by Newsweek showed that Barr directed John Gore, the principal deputy assistant attorney general for the Justice Department's Civil Rights Division, not to provide a deposition about the Trump administration's push to add the citizenship question. There were unresolved disagreements about how the deposition would be conducted and whether DOJ lawyers would be permitted in the room.
The Supreme Court has so far blocked the effort, labeling the administration's reasoning that it would bolster enforcement of the Voting Rights Act as "contrived" and to provide legitimate legal justification. Critics allege it could be used to skew census results and to gerrymander congressional districts when redrawing them based on population.
In his interview with the AP, Barr said the administration will soon take action that he believed would solve the issue.
"I agree with him that the Supreme Court decision was wrong," Barr said, alluding to Trump's past Twitter remarks calling the Supreme Court decision "a very sad time for America."
Barr further said he believes there is "an opportunity potentially to cure the lack of clarity that was the problem and we might as well take a shot at doing that."