Barr Says Lockdown 'Greatest Intrusion' on U.S. Liberty, People Point Out Japanese Internment Camps
Attorney General William Barr faced criticism on Thursday morning after it was reported he said pandemic lockdown measures were the "greatest intrusion into civil liberties" in U.S. history outside of slavery.
The top administration official's remarks drew ire from many public figures, with several noting that the U.S. interned thousands of Japanese Americans during World War II.
Others complained about Barr's comparison between COVID-19 lockdown measures and slavery, arguing that his comments had been inappropriate.
It was first reported by CNN on Wednesday night that the attorney general had called stay at home orders and other coronavirus restrictions some of the greatest infringements on personal liberties in U.S. history.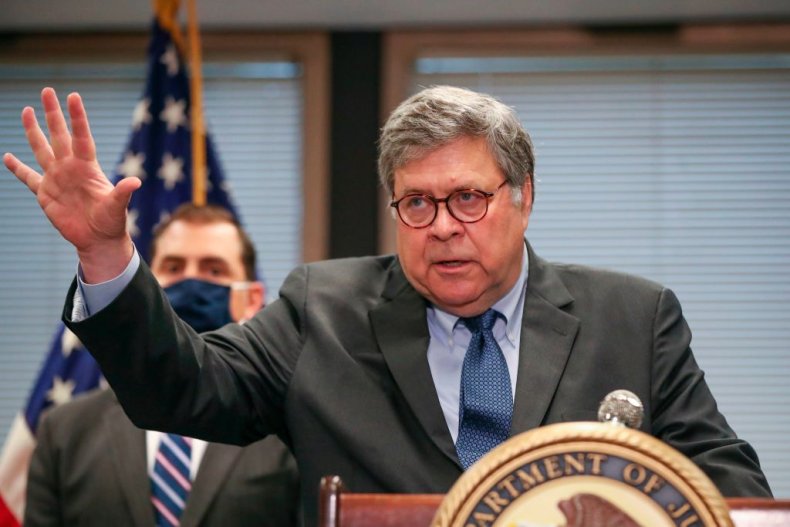 Speaking at Hillsdale College yesterday, Barr reportedly said: "You know, putting a national lockdown, stay at home orders, is like house arrest. Other than slavery, which was a different kind of restraint, this is the greatest intrusion on civil liberties in American history."
Reacting to the attorney general's remarks, ex-federal prosecutor Renato Mariotti tweeted: "We literally forced Japanese-Americans into internment camps."
"Makes you wonder if the man responsible for enforcing federal laws has heard of the internment of Japanese Americans, the Jim Crow era, the Trail of Tears," Jeremy Konyndyk of the Center for Global Development said. "Or perhaps those don't count because they didn't affect white people?"
The Daily Beast politics editor Sam Stein added: "This is really off the walls. Also, Japanese Americans circa WWII would like a word, sir."
Shortly after the Pearl Harbor attack in December, 1941, then-President Franklin Roosevelt interned Japanese Americans from the West Coast in camps under Executive Order 9066. Around 112,000 Japanese-Americans were sent to internment camps between March and August of 1942 alone.
Addressing the administration official's comparison between slavery and lockdown measures introduced at the height of the coronavirus pandemic, House Majority Whip Jim Clyburn (D-SC) told CNN: "I think that statement by Mr. Barr was one of the most ridiculous, tone-deaf, awful things I've ever heard.
"It is incredible the chief law enforcement officer in this country will equate human bondage to expert advice to save lives."
The Harvard Law School Professor Laurence Tribe also tweeted: "What an obscene comparison. Only an evil fool could talk that way." Newsweek has contacted the Department of Justice for further comment. This article will be updated with any response.