Barr Says Mail-In Voting Plans Are 'Playing with Fire' In Divided Country
Attorney General William Barr said Democratic lawmakers were "playing with fire" by shepherding bills that would allow Americans to vote by mail at the November elections amid the ongoing coronavirus pandemic.
Appearing on Fox News on Thursday night, Barr said mail-in voting plans were "grossly irresponsible" and threatened the integrity of the coming presidential and congressional races, despite research showing little voter fraud takes place among voters using mail-in ballots.
The attorney general also told Fox News host Sean Hannity that it was "reckless and wrong" to conduct elections solely through mail-in ballots.
"To do this when we're a closely divided country as we are is playing with fire in my view," Barr told Hannity last night.
Earlier in the interview, the attorney general told the Fox News host: "Yes, I think it is grossly irresponsible to be doing what the Democratic Party is doing now. We've had very close races in recent history. The country is divided.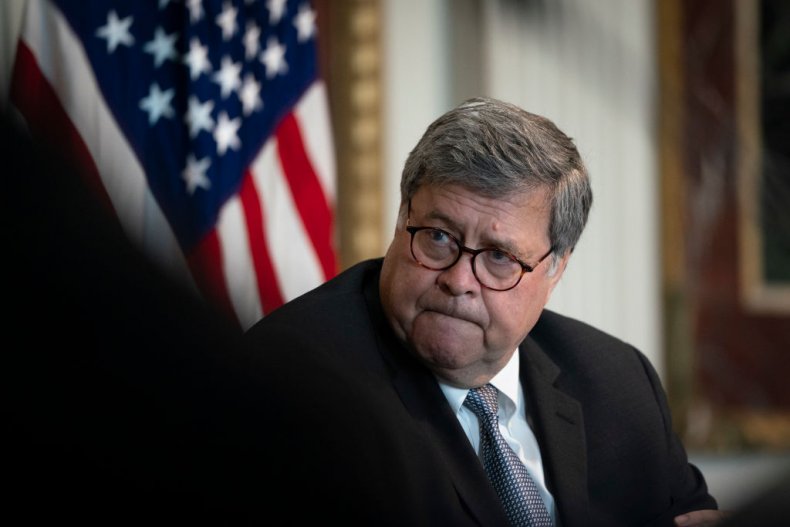 "If anything we should be ensuring the integrity of our elections so that government going forward will be legitimate and be accepted as legitimate. The idea of conducting elections by wholesale mail-in ballots is reckless and wrong."
Barr has previously made the unsubstantiated claims that voting by mail would stop U.S. elections from being secure, or provide foreign powers with an opportunity to produce tonnes of counterfeit ballots.
The attorney general launched his latest attack on mail-in voting days after President Donald Trump claimed Chinese and Russian officials would grab "plenty" of ballots and again tried to dub the 2020 election a "rigged" contest.
"This whole thing with this mail-in ballot, that's a rigged election waiting to happen," Trump said. "It's rigged and everyone knows it, because you can't send out 60 million mail-in ballots to everybody... who knows who's getting them?"
The president's campaign also filed a lawsuit against Nevada last week over its plans to provide every registered voters with a mail-in ballot to prevent COVID-19 from spreading at busy polling stations on November 3.
Research from election experts has consistently refuted the idea that mail-in voting is more prone to instances of voter fraud, with one database kept by the conservative Heritage Foundation noting that a little more than 140 cases of absentee ballot fraud convictions had been recorded since 1988.
A Brennan Center for Justice project also found that voter "many instances of alleged fraud are, in fact, mistakes by voters or administrators," further noting voter fraud and impersonation was "very rare" overall.
"The same is true for mail ballots, which are secure and essential to holding a safe election amid the coronavirus pandemic," the center added.