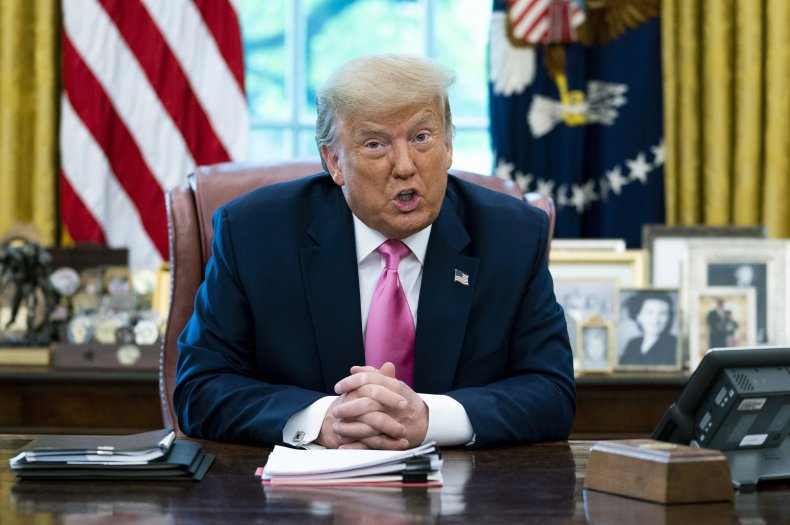 More than a month after President Donald Trump signed an executive order promising to end law enforcement officers' use of chokeholds in most cases, the Justice Department has not yet established a promised framework for moving forward with the effort.
Attorney General Bill Barr, testifying in a House Judiciary Committee hearing on Tuesday, repeatedly told lawmakers that efforts are underway without detailing how long the process could take.
"We're setting up a system of certification of police departments and part of our charter is to come up with criteria that would be used for certification—the limitations on use of force, specifically the use of chokeholds," he said.
Trump held a formal ceremony in the White House Rose Garden June 16 announcing an order to create grants for local police departments that meet yet-to-be defined standards for Justice Department "certification." The move came in the wake of the death of George Floyd, a black Minnesota man who died after police held him on the ground for nearly nine minutes, applying pressure to his neck.
"To all of the hurting families, I want you to know that all Americans mourn by your side," Trump said during the ceremony, which followed a private meeting with families of Black people who had died from police violence. "Your loved ones will not have died in vain."
The order swiftly drew criticism from those who questioned its effectiveness. The ACLU called the effort "meager police reforms," while the Brennan Center for Justice called the order "the bare minimum."
But even those efforts are not yet functional, Barr acknowledged during the hearing.
In addition to providing incentives for departments that meet certification, the executive order also called on the Justice Department to establish a database of officers who have been punished for aggressive use of force.
"Under the president's executive order, we are reviewing the use of excessive force and working with police departments," Barr said.
Chokeholds and the deadly use of them on Black people have made headlines since the deaths of Floyd and Elijah McClain, a 24-year-old Colorado man who committed no crime and was walking down the street when police apprehended him, placed him into a chokehold and injected him with a sedative.
U.S. Rep. Karen Bass, a California Democrat who chairs the Congressional Black Caucus, questioned bar why Floyd and McClain were treated aggressively, while mass murderers James Holmes and Dylann Roof were taken into custody without injury.
"The department is not doing enough to address issues of racial bias and brutality in law enforcement when someone commits mass murder is calmly arrested and served Burger King while a young man walking down the street is placed in a chokehold and injected with ketamine," she said.