Barr Says Russia Appears to Be Behind SolarWinds Hack, After Trump Points to China
As tensions continue to escalate between President Donald Trump and Attorney General William Barr, the outgoing Justice Department chief broke from the president yet again on Monday in comments about the SolarWinds hack.
Asked about the breach during a news conference, Barr agreed with Secretary of State Mike Pompeo in saying that Russia appears to be behind the cyberattack that infiltrated thousands of institutional systems, including the U.S. government and private companies like Cisco, Intel and Deloitte.
"From the information that I have, you know, I agree with Secretary Pompeo's assessment," Barr said. "It certainly appears to be the Russians, but I'm not going to discuss it beyond that."
Last week, Pompeo told CNN, "I think it's the case that now we can say pretty clearly that it was the Russians that engaged in this activity."
Barr's remarks come in opposition to what the president has said. Trump has been reluctant to blame Russia for the hack, pointing instead to China.
In response to Pompeo's suggestion, Trump tweeted, "Russia is the priority chant when anything happens because Lamestream is, for mostly financial reasons, petrified of discussing the possibility that it may be China (it may!)"
"There could also have been a hit on our ridiculous voting machines during the election, which is now obvious that I won big, making it an even more corrupted embarrassment for the USA," Trump added, tagging Pompeo and Director of National Intelligence John Ratcliffe.
White House officials had prepared a statement naming Russia as "the main actor" in the cyberattack but were ordered not to release it, according to the Associated Press.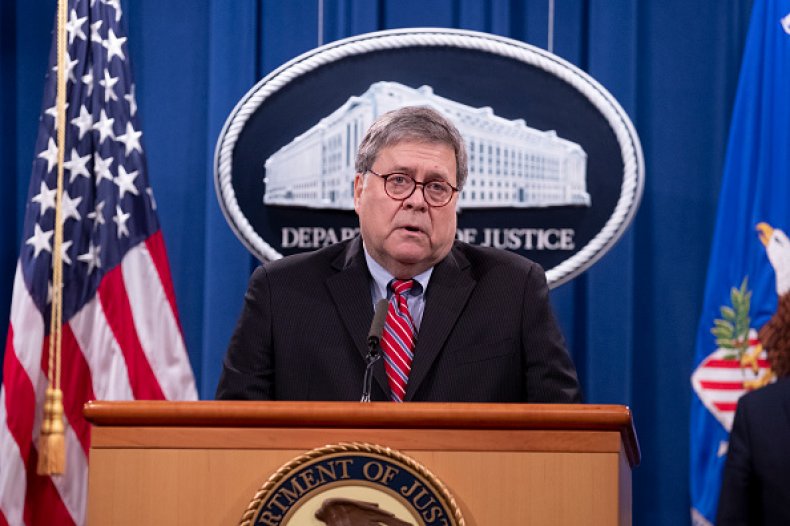 On Monday, Russia denied having any involvement in the hack. Kremlin spokesperson Dmitry Peskov told government news agency Tass that "Russia is not involved in such attacks, namely this one. We state this officially and firmly."
Peskov added that "any accusations of Russia's involvement are absolutely baseless. They are more likely to be a continuation of blind Russophobia that is resorted to in case of any incident."
Meanwhile, a Republican senator has said he was "disappointed" by the president's reaction. "I think we've come to recognize that the president has a blind spot when it comes to Russia," Mitt Romney told Meet the Press on Sunday.
Security experts have agreed that Russia's foreign intelligence service is responsible for the attack.
Barr, whose term ends Wednesday, has recently fallen out of favor with Trump for saying that the Justice Department did not find any widespread voter fraud in last month's election, a claim the president and his campaign have continued to push, without evidence, despite the Electoral College vote last week that affirmed Joe Biden's victory.
Barr has also been accused of disloyalty by Trump for not disclosing the Justice Department's investigation into Hunter Biden during the election cycle. The Trump campaign had attempted to use the younger Biden's financial activities against his father during the presidential race.
Newsweek reached out the White House for comment but did not hear back in time for publication.