Barron Trump's School Signs Open Letter Asking His Dad to Act on Gun Violence, Oppose Arming Teachers
The school attended by President Donald Trump's youngest son has signed an open letter calling on his father and Congress to do more to tackle the epidemic of gun violence and to prevent the arming of teachers with firearms.
St. Andrew's Episcopal School in Potomac, Maryland, which Barron Trump began attending last fall, is one of more than 100 schools in the Greater Washington, D.C., and Maryland area whose heads signed the letter published in The Baltimore Sun Wednesday.
Related: Barron Trump starts school, just 30 minutes away from his dad and the White House
"We urge our president, our Congress, and our state leaders to enact specific, rigorous measures to reduce gun violence in our society, particularly in our schools," read the letter, which was signed by St. Andrew's Episcopal School head Robert Kosasky.
"We need a robust system of registration and background checks, with a particular eye toward weapons capable of rapidly firing a vast number of deadly shots. We need stronger mental health services and more effective communication among agencies responsible for the well-being of children, adults and families. What we do not need is to arm our teachers with guns, which is dangerous and antithetical to our profession as educators."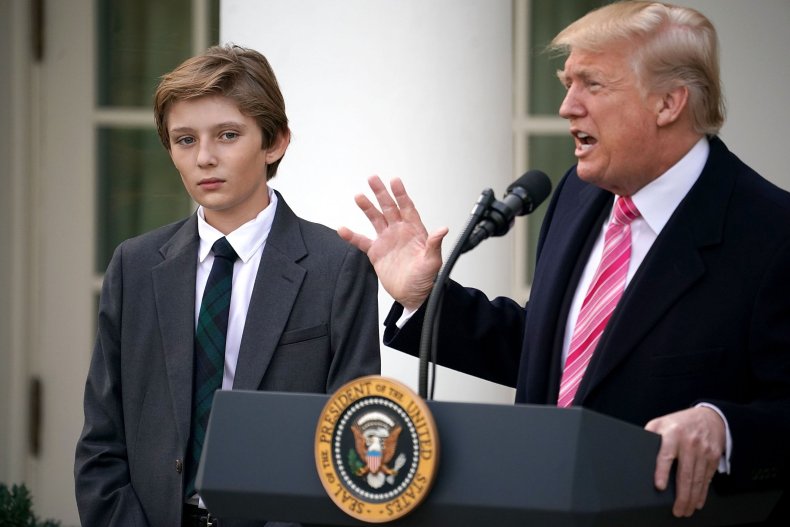 The letter comes at a time of nationwide debate about how to prevent school shootings in the wake of the killing of 17 people at a Florida high school last month. Student survivors of the shooting have led calls for greater gun control legislation, and on Wednesday they joined tens of thousands of students across the United States in protest by walking out of school.
Trump at times has signaled a willingness to help push for modest gun control measures, including expanding background checks and raising the minimum age to buy a semi-automatic rifle to 21. But, in proposals announced Sunday by the White House, there was no mention of the age-limit change. What was included, though, were plans to arm teachers, something that was loudly rejected by the Baltimore Teachers Union in a letter to the state's governor on Tuesday.