A Script About Barron Trump Sabotaging Donald Trump's Presidential Election Makes Hollywood's Black List
A film set in an alternative timeline where Barron Trump, fearful of his father Donald Trump becoming U.S. president, sabotages the 2016 election has been named one of the best unmade movie scripts of 2019.
Nicolas Curcio's imaginative script for Barron: A Tale of Love, Loss & Legacy made the 15th annual Black List, which each year highlights the best screenplays doing the rounds in Hollywood that have yet to be made. Previous movies recognized by the Black List include Late Night, the Mindy Kaling-scripted comedy that finally got made and released this year, and Queen & Slim, written by Lena Waithe.
In Barron, a then 10-year-old Barron Trump tries to sabotage Trump's 2016 election chances fearing the impact the business mogul's presidency might have on his personal life and the world at large.
Franklin Leonard, the founder of the Black List, told Vanity Fair that he doesn't "think there's any scenario where this movie gets made." However, he said the script is "an adorable, smart, winning coming-of-age story."
Responding to his inclusion on the Black List on Twitter Monday, Curcio said: "As someone who nerds out over this list every year because I just love the craft, this is incredible. 2020 is gonna be a good year, baby!!"
Barron Trump, who is now 13, has been in the news in recent weeks after his mother, First Lady Melania Trump, criticized the perceived politicization of her son in the ongoing impeachment process against the president.
Earlier in December, Melania Trump strongly rebuked law professor Pamela Karlan for mentioning Barron during an impeachment hearing. Karlan said: "The president can name his son Barron, he can't make him a baron." Karlan later apologized, saying: "I want to apologize for what I said earlier about the president's son. It was wrong of me to do that."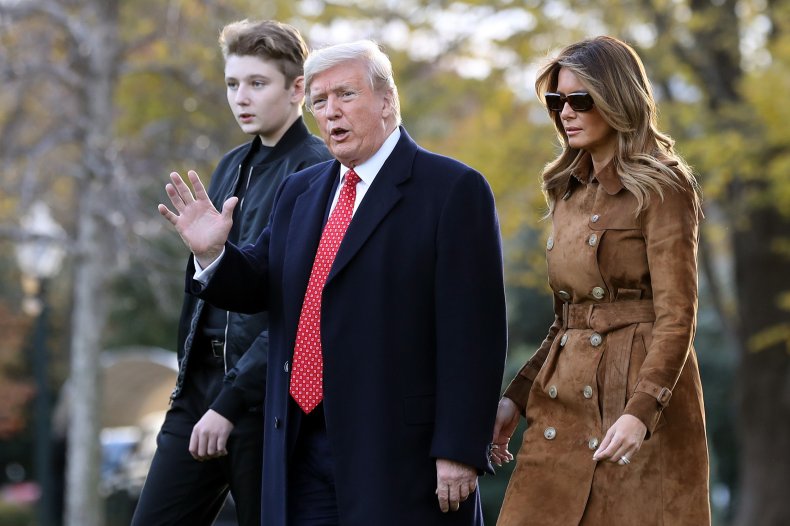 However, the first lady said Karlan should be "ashamed of your very angry and obviously biased public pandering, and using a child to do it."
"A minor child deserves privacy and should be kept out of politics," said Melania Trump in a tweet on December 4.
But the first lady was herself accused of hypocrisy last week for not speaking out against her husband's attack on Greta Thunberg, the 16-year-old climate change activist who was named Time magazine's person of the year.
The president called the decision "ridiculous" and said Thunberg should "work on her anger management," prompting social media users to ask why Melania Trump did not defend her as she had her son.
In addition to her staunch opposition of her teen son being politicized, the first lady is also behind a cyberbullying campaign aimed at children called Be Best.
In a statement last Friday, following criticism over her silence, Melania Trump's press secretary Stephanie Grisham issued a statement appearing to suggest that her husband's criticism of Thunberg was valid.
Grisham said that Barron Trump "is not an activist who travels the globe giving speeches," referring to the difference between him and Thunberg. "He is a 13-year-old who wants and deserves privacy."
Curcio has been contacted for additional comment.