The Department of Justice is seeking to replace President Donald Trump's private legal team with government lawyers to defend him in a defamation lawsuit by author E. Jean Carroll, who has accused him of raping her in the 1990s. As psychologists who specialize in working with survivors of sexual trauma, we know this extremely unusual intervention is about more than taxpayer-funded protection of the president. It's also an enormous betrayal of trauma survivors everywhere.
Coming forward as a survivor of sexual assault is grueling. Survivors face disbelief and minimization, as well as flat-out attacks against their truthfulness and perception of reality. On top of all that, organizations and systems ostensibly built to protect and serve all people, like the Justice Department, often not only fail to protect alleged survivors but attack them outright. That's institutional betrayal. And that's what Carroll is facing now.
Research into institutional betrayal comes after more than two decades of research into betrayal trauma theory. Initially proposed by pioneering trauma psychologist Jennifer Freyd, the theory argues that abuse is particularly insidious when perpetrated by someone on whom the survivor is dependent. Child abuse, sexual assault and domestic violence perpetrated by trusted authority figures and family members are all high in betrayal. Years of scientific investigation provide unequivocal evidence that high-betrayal traumas are especially damaging to psychological and physical health.
Freyd later coined the term institutional betrayal to describe the ways that institutional actions and inactions can increase and compound the injury to survivors. That is, institutions can create the circumstances that facilitate abuse, fail to investigate it or even cover it up. Examples abound of religious, military, youth, government and educational institutions betraying survivors in these ways.
Think of the 2015 Oscar-winning movie Spotlight, which follows a team of investigative journalists from The Boston Globe as they expose a pattern of Catholic priests abusing children and the church covering it up. Think of the 2018 HBO movie Paterno, which showed the story behind Penn State's football coach Joe Paterno and the university's institutional failure to protect the boys that Jerry Sandusky abused.
Survivors of sexual violence face intense nightmares, fear, depression and shame that can follow them for the rest of their lives. Many will have a hard time looking at themselves in the mirror, doubting what they did or didn't do. Their minds will swirl in self-loathing. They will flinch at a loved one's touch, and they may have trouble trusting other people.
Research indicates that institutional betrayal of trauma survivors is linked to particularly severe emotional and physical health. It compounds the injury. It inflicts deeper and wider wounds. And it thickens the psychic scars.
The Department of Justice's mission is "to enforce the law and defend the interests of the United States according to the law; to ensure public safety against threats foreign and domestic; to provide federal leadership in preventing and controlling crime; to seek just punishment for those guilty of unlawful behavior; and to ensure fair and impartial administration of justice for all Americans." Meanwhile, an estimated one in three women, as well as at least one in six men, has experienced sexual abuse or assault—and these are likely underestimates. Therefore, it is the Department of Justice's duty to marshal all possible resources to stop the widespread sexual abuse and assault of people in the United States.
Instead, the agency seeks to defend one man—the president—against the defamation allegations of a woman who said she was sexually assaulted, which Trump denies.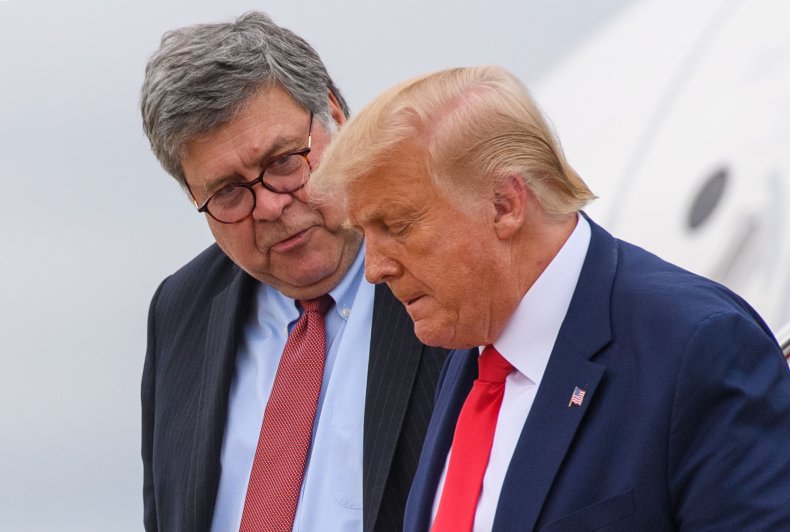 Make no doubt about it, this move by Attorney General William Barr is no different than what many institutions do to silence survivors by wielding their power and resources to intimidate. In this case, the institutional betrayal brings the full force of the U.S. government against one woman. The Department of Justice is poised to betray its mission to ensure fair and impartial administration of justice for all Americans.
Americans cannot allow Trump and his administration to compromise the integrity of yet another investigation and potentially harm one more survivor. We, as a nation, must speak up against such violations at the Department of Justice and institutions across the country. Now is the time for all of us to engage in collective institutional courage to champion fairness and equity for all.
Joan Cook, Ph.D., is a psychologist and associate professor at Yale University who researches traumatic stress and clinically treats combat veterans, interpersonal violence survivors and people who escaped the former World Trade Center towers on 9/11.
Anne P. DePrince, Ph.D., is a psychologist and professor in the department of psychology at the University of Denver whose trauma research focuses on the consequences of violence against women and children.
The views expressed in this article are the writers' own.