Tropical Storm Barry Timeline, Path: Where Is the Potential Hurricane Headed?
Tropical Storm Barry is headed for the coast of Louisiana and could bring life-threatening storm surges, heavy rain and strong wind to those in its path.
Ahead of the storm making landfall, the National Hurricane Center (NHC) informed citizens the storm was moving slowly, which could result in a long duration of heavy rainfall. That could lead to flash flooding and river flooding, putting people's lives potentially at risk.
As of Friday morning, Tropical Storm Barry was moving west-northwest at four knots, according to the NHC. The storm was located about 95 miles southwest of the mouth of the Mississippi River and about 120 miles from Morgan City, Louisiana.
The storm was expected to make landfall on Saturday morning in Louisiana before continuing north into Arkansas on Monday and then veering east toward Tennessee, Missouri, Illinois and Indiana on Tuesday and Wednesday.
The NHC issued a number of warnings and watches for areas that are in the storm's path, listed on a Friday morning advisory as:
Hurricane Warning: Intracoastal City to Grand Isle
Hurricane Watch: Mouth of the Mississippi River to Grand Isle, Intracoastal City to Cameron
Tropical Storm Warning: Mouth of the Pearl River to Grand Isle, Lake Pontchartrain and Lake Maurepas including Metropolitan New Orleans, Intracoastal City to Cameron
Tropical Storm Watch: East of the mouth of the Pearl River to the Mississippi/Alabama border
Storm Surge Warning: Intracoastal City to Biloxi, Lake Pontchartrain
Storm Surge Watch: Biloxi to the Mississippi/Alabama Border
A warning means that conditions, whether that be for a hurricane, tropical storm or storm surge, are expected, whereas a watch means that conditions are possible. In areas where a hurricane warning is issued, preparations to protect life and property should be rushed to completion.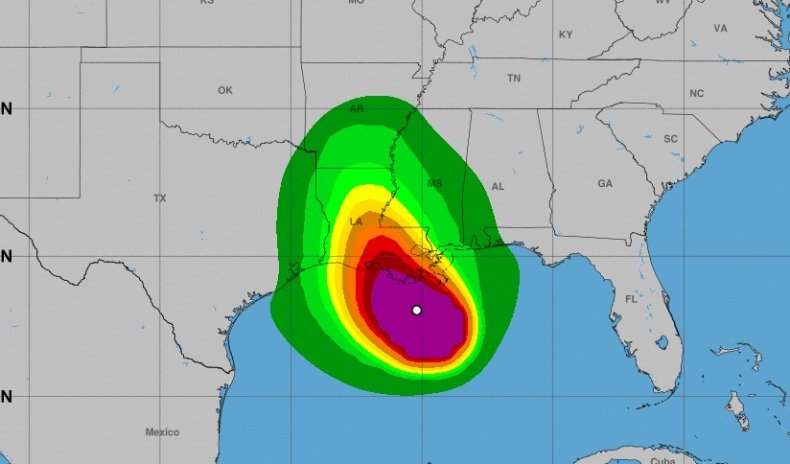 During an advisory released at 10 a.m. CDT, the NHC reported that Barry was strengthening and shortly before making landfall and passing through Lafayette, Louisiana, the NHC forecasted that Tropical Storm Barry would turn into a hurricane. As the storm moves inland, it was expected to weaken.
Barry was expected to produce rainfall totals up to 20 inches over south-central and southeast Louisiana, with areas receiving isolated maximum amounts of 25 inches. Tornadoes were also possible on Friday afternoon and evening across southeast Louisiana, far southern Mississippi and the Alabama coast.
Ahead of the storm's landfall, President Donald Trump issued a federal disaster declaration for Louisiana, which Governor John Bel Edwards credited with helping the state to better coordinate and respond to the storm.
"The investment made by the country in the hurricane risk reduction system in New Orleans and that area, we feel very, very good about the situation of New Orleans and we believe it's going to be able to withstand this storm," Edwards told CNN on Friday morning. "At the same time, you never know what Mother Nature is gonna throw at you."
Edwards added he was "confident" that New Orleans, which was decimated by Hurricane Katrina in 2005, would be able to weather the storm. The governor asked residents to pay attention to the National Weather Service and information that's being dispensed and heed warnings from officials.