Bars Open Near Me: You Can Grab a Drink in These States
As some states move through their phased reopening plan and begin allowing bars to open, others are backtracking on their initial decisions. States like California, Texas, and Florida have ordered bars across multiple counties or the entire state to close following a spike in cases of the coronavirus linked to bars.
Some states are allowing outdoor seating only, while others are open with limited capacity indoors. Other bars are allowed to remain open, but local authorities have prohibited the sale of alcoholic beverages.
Below is a guide to the states where you can stop for a drink, and whether they allow indoor seating or limited capacity.
Alabama
As of May 22, bars in Alabama are permitted to open with limited seating, six feet between tables, and additional sanitation and guidelines.
Alaska
Bars in Alaska have been allowed to open since May 8 with 25 percent capacity, however, rules surrounding masks vary by local governments and businesses.
Arizona
The governor of Arizona Doug Ducey ordered all bars to close on Monday, June 29, for at least 30 days.
Arkansas
Bars in Arkansas reopened on May 26, but on June 26, Governor Asa Hutchinson asked the Alcohol and Beverage Control Board to ensure that bars are following the guidelines.
California
On Sunday, June 28, Governor Newsom ordered bars to close in Los Angeles, Fresno, Kern, San Joaquin, Tulare, Kings, and Imperial counties. Additionally, Contra Costa, Santa Clara, Sacramento, Riverside, San Bernardino, Ventura, Santa Barbara, and Stanislaus have been asked by state officials to close their bars.
Colorado
Colorado was allowed to reopen its bars at 25 percent capacity or with a 50 person limit, whichever is fewer, from June 19.
Connecticut
On Monday, June 28, the governor of Connecticut Ned Lamont said he is rethinking opening bars in the state's third phase of reopening, which is expected in mid-July.
Delaware
Bars are currently open with reduced capacity, but Delaware health officials said there may be changes in the rules following new cases.
Florida
Florida banned drinking alcohol at bars on June 26 due to new coronavirus cases.
Georgia
On June 16, Georgia lifted more of its restrictions, including allowing bars to increase their capacity.
Hawaii
Hawaii announced on June 25 that its bars would be allowed to reopen with safety measures.
Idaho
The status of bars in Idaho varies, as though there is no statewide order to close them, bars and nightclubs in Ada County closed again on June 22 following an increase in cases of coronavirus.
Illinois
Bars in Illinois were permitted to reopen on June 26, though guidelines may vary by city and county. In Chicago, indoor capacity is limited to 25 percent or 50 people per room, whichever number is lower, with no limit outside.
Indiana
Indiana allowed its bars to reopen on June 12 with 50 percent capacity.
Iowa
Although bars are allowed to be open in Iowa, some are choosing to close due to an increase in cases of coronavirus.
Kansas
Bars in Kansas are allowed to be open but some are taking extra precautions due to outbreaks linked to bars and nightclubs.
Kentucky
Kentucky bars were allowed to open from Monday, June 29, after being closed since March 16.
Louisiana
Louisiana bars are allowed to open, and as of June 16, they are allowed to play live music too.
Maine
Bars in Maine can now serve drinks outside, but the suggested July 1 date to permit bars to offer indoor service has been postponed.
Maryland
Baltimore joined the rest of Maryland and reopened its bars on June 19, with 50 percent capacity.
Massachusetts
Bars in Massachusetts will be allowed to reopen as the state enters phase 4, having been moved from the phase 3 plan.
Michigan
Michigan bars are allowed to be open, but one bar has closed following an outbreak in which more than 80 people tested positive for coronavirus after visiting the bar.
Minnesota
Bars are currently open in Minnesota but Gov. Walz has suggested that something may change following a number of coronavirus cases linked to bars.
Mississippi
Mississippi bars have been open since June 15 with a capacity of 50 percent.
Missouri
Missouri bars began reopening in May.
Montana
Montana bars have been open since early May and the state eased its restrictions further in early June.
Nebraska
On June 15, Gov. Ricketts eased restrictions on bars in Nebraska, allowing them to operate with full capacity.
Nevada
Bars in Nevada can open as long as they operate with 50 percent capacity limit.
New Jersey
On Monday, June 29, New Jersey announced it was postponing its plans to allow indoor service in bars and restaurants.
New Mexico
Bars in New Mexico are not permitted to open yet, despite breweries being able to do so.
New York
Indoor service is not permitted at bars in New York, but Mayor Bill de Blasio is considering allowing the bars in New York City to offer indoor service with phase 3 of the reopening plan.
North Carolina
A judge ruled on Friday that North Carolina bars must remain closed.
North Dakota
North Dakota bars were allowed to reopen in early May.
Ohio
Ohio opened its bars in May, with some restrictions.
Oklahoma
Bars in Oklahoma are allowed to open but some individual businesses are choosing to remain closed.
Oregon
Gov. Kate Brown said she will close bars again if coronavirus cases increase in Oregon.
Pennsylvania
Bars in Pennsylvania are generally allowed to be open, but some counties are ordering bars to stop selling alcohol.
Rhode Island
Rhode Island has not reopened its bars yet, but restaurants are allowed to reopen.
South Carolina
South Carolina bars are open with limited capacity.
South Dakota
South Dakota did not issue a stay at home order but encouraged businesses to enforce social distancing.
Tennessee
Tennessee bars opened with restrictions in May.
Texas
On Friday, June 26, Gov. Greg Abbott ordered all bars in Texas that receive more than 51 percent of their gross receipts from the sale of alcoholic beverages to close at 12:00 p.m. that day.
Utah
Utah began lifting restrictions on bars and restaurant in May.
Vermont
Vermont bars have been permitted to open with indoor seating since June 8.
Virginia
On June 30, Virginia Gov. Northam said bars areas would not open indoor seating in the next phase of reopening on July 1. People will be allowed to use bar areas if they are eating at high-top tables that are set at least six feet apart.
Washington
Washington Gov. Jay Inslee announced on Saturday that the state would prevent counties from going ahead with reopening plans.
West Virginia
Bars in West Virginia have been open with 50 percent capacity since late May.
Wisconsin
Wisconsin ended its restrictions on bars in May.
Wyoming
Bars in Wyoming were allowed to open in May.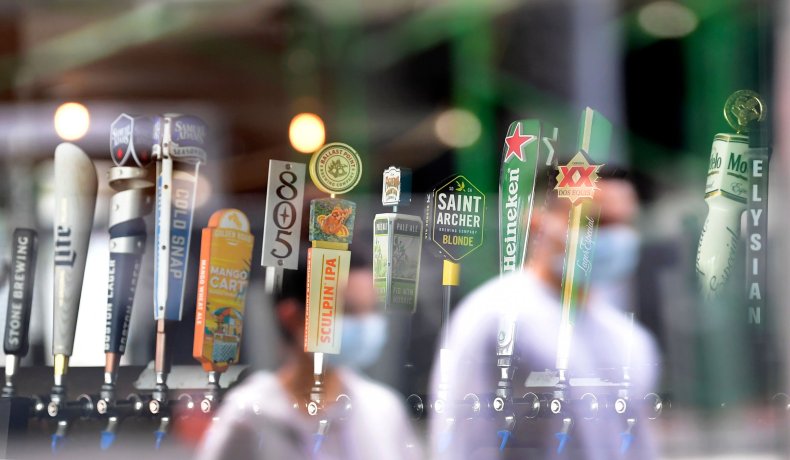 Bars Open Near Me: You Can Grab a Drink in These States | U.S.