Bartender Robbed at Gunpoint Says Owner Told Him 'Pay Back' or 'Get Fired'
A barman has said he was given an ultimatum to reimburse money stolen at gunpoint or being fired from his job.
The armed robbery occurred at a bar in the western Las Vegas Valley on December 4, 2020.
According to the Las Vegas Review-Journal, the Metropolitan Police Department said in a statement at the time, a male "brandished a handgun at employees," before the suspect "fled the business with money taken from the business."
Edward Parker, 42, who was reportedly working at The Lodge bar at the time, has now said his employers instructed him to reimburse them for their financial loss.
Newsweek has contacted Parker for comment.
The barman has published his version of events he described as a "cautionary last call" to the Vegas Bartenders & Servers Facebook page, which was shared by the Vital Vegas Twitter page, a news and tips site popular locally, on September 20.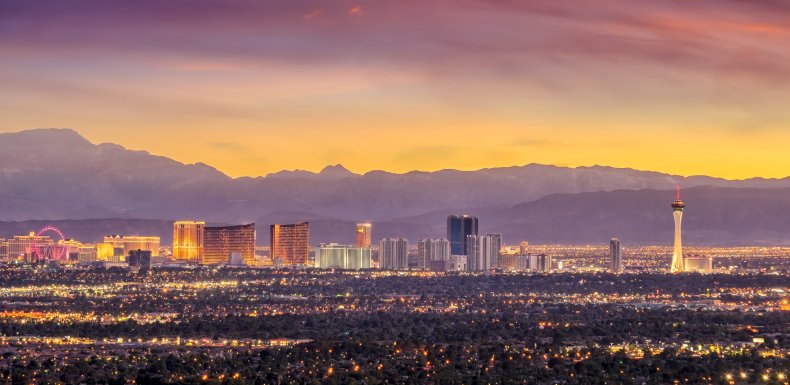 The Twitter account reports Parker writing: "I was then given the choice to pay back the money that was stolen to keep my job or get fired (TRUE STORY)."
A photo purporting to show the Lodge repayment form was also uploaded to the private Facebook page with around 14,500 members, described as "the largest gathering of bartenders, servers and industry professionals who live and work in the Las Vegas Valley."
This is cited as proof of the bartender being presented with two stark options: repaying the stolen $3,937.35 in full through a "lump-sum payroll deduction" or via $300 "equal deductions from paychecks."
He added in the Facebook post how he felt remorse about his decision, writing: "I'm ashamed to say that I was terrified of losing a great paying job during a chaotic time in America and chose to pay the money back and stay employed. I will regret that choice for years to come.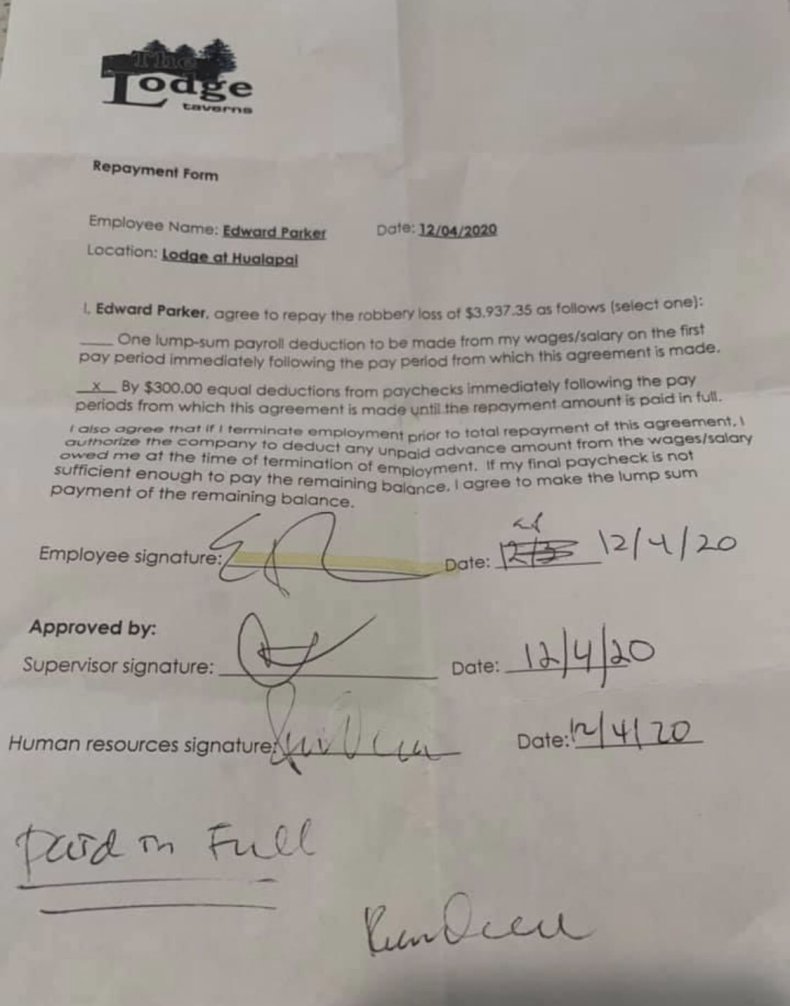 "And I REALLY thought it was classy when they asked me about the incident BEFORE actually asking me if I was OK. I'll never forget that.
"My point is I hope you all stick up for yourselves when your moral/ethical compass is challenged by those in power.
"Loyalty in the service biz is a rare commodity these days on both sides and for good reason, I guess."
Newsweek has contacted The Lodge at Hualapai for comment.
Attorney Robert Murdock believes this could be an "example of the powerful taking advantage of the powerless."
He told Newsweek via email: "Briefly, Nevada law basically allows employers to fire employees for any reason or no reason. But, there are exceptions. One of those is the violation of public policy.
"I believe that the alleged threat of losing his job if he didn't pay this money to the Bar that was taken from a robbery is a violation of public policy and could very well result in a wrongful termination claim against the Bar if he had been terminated from this.
"As well, I believe that the 'contract' is equally repugnant and violates public policy and Courts would refuse to enforce it."
The attorney adds this case could potentially set "a dangerous precedent."
He said: "For example, should bartenders now start to arm themselves with an AR 15 to protect their income? The cops tell people all of the time: do not fight, just give the money.
"The Lodge seems to be violating this safety procedure that Metro endorses! There is no way that our Courts would allow employers to create such an outrageous and dangerous situation. People will get killed over this."
Las Vegas police have arrested Jack McLaughlin, 42, and Daniela Tito, 38, in connection with a string of robberies, including the one at the Lodge, according to the Las Vegas Review-Journal.
The pair were indicted on various charges, including of robbery with a deadly weapon, conspiracy to commit robbery, burglary with a firearm.