Bartender Slammed for Refusing to Serve Customer 'Because They're Black'
A Hungarian bartender was slammed online after an anonymous customer claimed he refused to serve them a drink because the customer is Black.
The Original Poster (OP), or u/ghhybbeeje, posted about the incident in Reddit's popular "True Off My Chest" forum where it received more than 11,000 upvotes and 1,700 comments. The post can be found here.
Countries, Ranked
According to data published in 2021 by U.S. News & World Report, Hungary falls at number 48 of 78 in the overall ranking of best countries by looking at a variety of metrics, including social purpose, which includes gender and racial equality. Of which, Hungary scored 21.6, placing it No. 24 for social equity, while Canada took the top spot, followed by Denmark.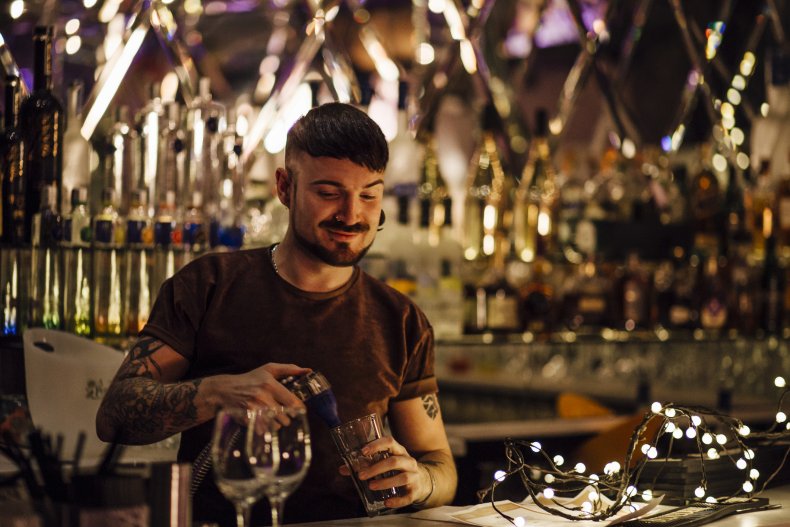 The report places the United States at number 34 overall, ranking it No. 19 for social purpose.
The ranking was decided using the country's racial equity score and survey responses from more than 17,000 individuals.
'True Off My Chest'
In the post titled "A bartender flat out told me he can't serve me because i'm black," the OP said they recently visited Hungary and the "reception has been terrible."
"I can't even begin to describe just how shocked I am," the post read.
While visiting, the OP went out for drinks with friends at Fogashaz, a popular bar in Budapest, Hungary. The OP said they went to the bar to order a drink but the bartender just made eye contact and said something in Hungarian.
"I called my friend over to translate and as soon as he heard what the man said, he started arguing with him in their language," the post read. "It got heated between both of them and there were men starting to surround us."
The OP told their friend to "let it go" but before ordering a cab, the bartender called them the N-word. The OP's friend explained that the bartender was "angry" because he thought they "are ungodly folks mixing with their people."
'I Can't Wait To Get Back To The States'
"Jeez, and that was nothing but the cherry on top of the s**t cake," the post read. "I've been called the N word multiple times on the street OPENLY."
The OP added that they received rude stares while visiting and claimed an old woman spit on them.
"I can't wait to get back to the states. This is f**ked up," the post read.
Redditor Reactions
More than 1,700 users commented on the post, many sharing their own experiences in other countries and criticizing the bartender.
"Hungarians are notoriously racist," one user commented.
"I can confirm. I'm Portuguese and Spanish. When I visited Hungary with a black friend from the states they do not even hide it," another wrote.
"This is what a lot of Americans don't realize...the rest of the world is significantly more racist," another user commented. "Why do you hear about racism all the time in America? Because people care here. It's actual news and a concern when it happens."
"Things are far from perfect here, but fml some of the stories from other countries make you want to curl up and snuggle in an old glory blanket lol," another user commented.
"Seriously tho, we actually have it good in the states compared to these countries, holy f**k," the OP replied.
"When I went to Budapest, I didn't feel it. Granted I didn't visit the rest of Hungary. It's common in the more eastern part of Europe sadly," a user commented.
Newsweek reached out to Fogashaz for comment.
The account u/ghhybbeeje was suspended by moderators before Newsweek could reach out for comment.
Other Viral Posts
Last month, another anonymous Redditor went viral after they shared details about the "racist letter" they received from a neighbor.
In other viral Reddit posts, a teacher was called racist for making a student sit alone at lunch because of their "foreign food" and a man was backed for taking his "racist son" out of his will.