Baseball Hall of Famer Mike Piazza Advocates for Recall of California Governor Gavin Newsom
Tuesday is a big day for voting in California, and a Baseball Hall of Famer is among those who will choose to recall Gavin Newsom.
Mike Piazza recorded a video in support of recalling the California governor and advocating for Republican Larry Elder's candidacy in a video that Elder shared on Twitter that went viral.
Newsom, a Democrat who has been the California governor since 2019, is facing a recall from more than 40 challengers, and Californians will vote Tuesday to determine whether Newsom gets to continue his term.
If a majority of Californians vote "no" on a recall then Newsom will stay in office. If more than 50 percent vote "yes" then the challenger with the most votes will become governor. Elder, the Los Angeles-based conservative radio host, television host, author, and lawyer who opposes most COVID-19 restrictions like mask and vaccine mandates, has become the most popular candidate to unseat Newsom.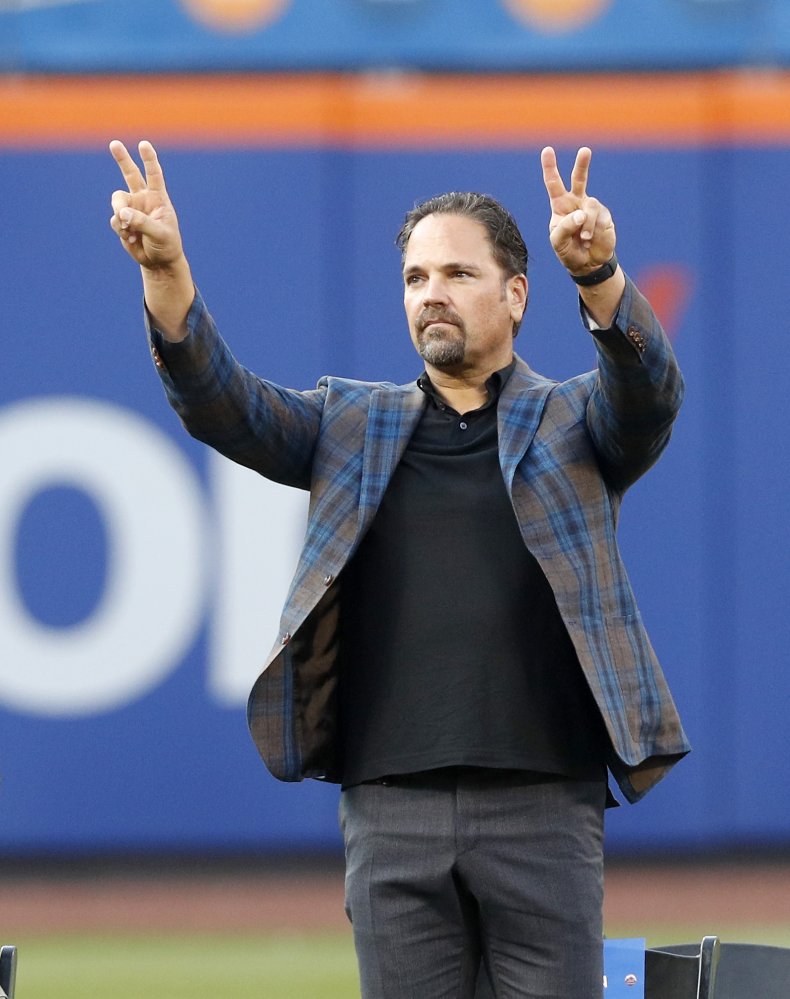 Enter Piazza, arguably the greatest offensive catcher in baseball history who started his unlikely Hall of Fame career with the Los Angeles Dodgers. Piazza stumped for Donald Trump during the 2020 Presidential election and is throwing his support for Elder to unseat Newsom and move into the governor's mansion in Sacramento.
"Get out and vote to recall Gavin Newsom and put Larry Elder in Sacramento," Piazza said. "Larry Elder will bring back the California dream. ...He's a man who deeply loves California and will bring back the California dream."
Newsom is particularly unpopular with California Republicans due to his enacting of COVID-19 regulations, including a vaccine mandate to attend events of 1,000-plus people. Wealthy Republicans are also especially nonplussed since California has one of the highest income and sales tax rates in the United States.
Piazza is the latest in a group of high-profile supporters for Elder—joining actors Rose McGowan, Adam Carolla, Scott Baio, Kevin Sorbo and Clint Eastwood—to declare the state broken while lending their voice for the 69-year-old challenger.
"When I got to L.A., that's all my friends were talking about was coming to California," Piazza said. "Now all everyone talks about is moving out of California."
Piazza has been estranged from the Dodgers since they traded him in 1998 first to the Florida Marlins then to the New York Mets—whose hat he dons on his Hall of Fame plaque in Cooperstown, New York. He has not visited Dodger Stadium since retiring from baseball in 2007 and publicly lashed out against the organization, its fans and even beloved former broadcaster Vin Scully.
Piazza was again noticeably absent among the Dodgers alumni who returned for Tommy Lasorda Bobblehead Night on Monday—despite the fact the legendary longtime Dodgers manager was Piazza's godfather and helped get him picked by the team in the 62nd round of the 1988 MLB draft. Yet, if Elder takes over as governor, Piazza swears that will be what brings him back to the Dodgers family.
"If you guys do this, I'll personally come out to Dodger Stadium to thank all the Dodger fans who voted for him, and say hi to a lot of friends I haven't seen in a long time," Piazza said.