Baseball has Made its Choice. Now Come the Consequences | Opinion
When I was a kid, my city's baseball team packed up and left town. My dad and I were regulars at Washington Senators games until they migrated to Texas and became the Rangers when I was 14. Nearly 50 years later, I have spent decades in Texas rooting for those Rangers. Back in Washington, fans endured a baseball void for 33 years until the birth of the Nationals. Time heals, new loyalties are forged and the history of baseball marches on through good times and bad.
But now, as the nation cherishes every precious step toward post-COVID normalcy, Major League Baseball has mortgaged its opportunity to enjoy a key role in the recovery. Consumed by today's penchant for craven political opportunism, the sport famously known as "America's pastime" has bought into hostile misinterpretations of Georgia's election reform laws and joined the movement to punish the state with activist boycotts.
Wrapping himself in "our values as a sport," Commissioner Rob Manfred pulled this year's All-Star Game from the city of Atlanta, which was awarded the game two years ago. The city had been thrilled to get the game; securing the midsummer classic can mean tens of millions of dollars. What's more, an Atlanta All-Star Game this summer would have brought a poignant tribute to Braves legend Hank Aaron, who passed away in January.
That mattered not one bit to MLB management, nor did the subsequent revulsion of fans nationwide who saw the move as opportunistic posturing. Two of Atlanta's corporate kingpins—Delta Airlines and Coca-Cola—had already registered their disapproval of Georgia's bolstering of election security. But there are other airlines and soft drinks. There is only one Major League Baseball, and it chose to sacrifice immeasurable goodwill on the altar of politics.
"Major League Baseball fundamentally supports voting rights for all Americans and opposes restrictions to the ballot box," said the commissioner's statement, echoing the familiar Democratic talking point that taking extra care to ensure the legality of votes amounts to racial discrimination.
That sermon came all the way from the top. President Joe Biden has called the Georgia efforts "Jim Crow in the 21st century," calling to mind the restrictions—such as literacy tests and poll taxes—deployed against blacks in the South from the end of the Civil War through the passage of the Civil Rights Act of 1964.
Manfred's willingness to equate those historical obstacles with the simple showing of an ID or the verification of a signature did not go over well with baseball fans. They flooded social media with their expressed intent to pull support for the MLB, from buying tickets and merchandise to watching games on television.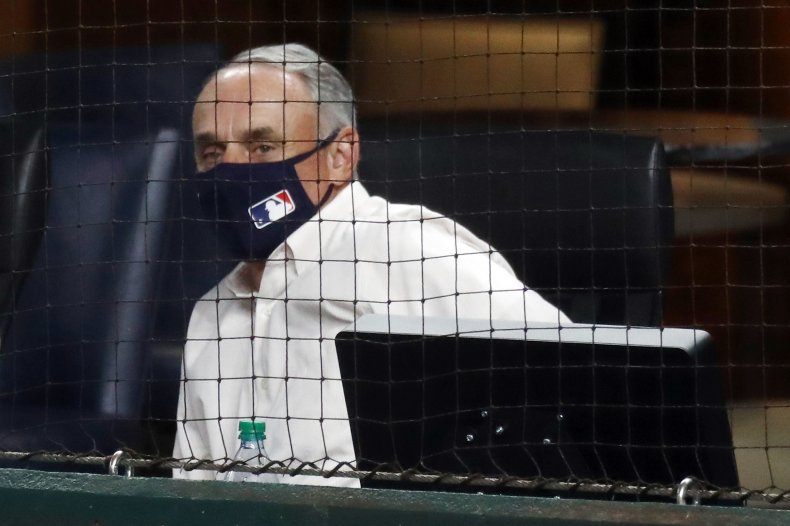 This fan backlash seems swifter and deeper than the criticism the NBA and NFL faced during the peak of anthem kneeling. While flag and country are of broader import than a skirmish over voting laws, the kneeling players at least enjoyed some benefit of the doubt for having a motivation born of a real issue—concerns over race and policing. Baseball and the various corporations condemning Georgia, on the other hand, are driven by the myth of "voter suppression."
Buying into that narrative will carry a cost for the MLB. But how great a cost? Will this burst of anger subside as spring turns to summer, or will there be a lasting loss of TV viewership and attendance, even as ballparks begin to welcome back fans in person?
For her part, Atlanta mayor Keisha Lance-Bottoms characterized baseball's abandonment of Atlanta as a justified reaction. "Just as elections have consequences, so do the actions of those who are elected," she wrote in a statement.
But the biggest star in Georgia politics, Democrat Stacey Abrams, expressed disappointment (while nonetheless praising the sport for "speaking out"). She had already released a video asking businesses to refrain from boycotting the state out of concern for the negative economic impact on minority Georgians.
In a brief fantasy, I had envisioned Abrams making a joint announcement with Manfred announcing a decision to keep the game in Atlanta as a way to "continue the conversation" sparked by this entire nightmare. But reality intruded as reports broke that the MLB is moving the All-Star Game to Denver.
So now we wait to see what the reactions will be, as the concrete sets on this terrible decision.
My Texas Rangers opened their season Monday in front of the first full-attendance crowd since the lockdowns began. Governor Greg Abbott had looked forward to throwing out the first pitch on a day that accentuated his stewardship over the state's reopening. But he pulled out in a last-minute letter of regret to the team, citing the commissioner's stunt as a last straw: "It is shameful that America's pastime is not only being influenced by partisan politics, but also perpetuating false political narratives," he wrote. "I will not participate in an event held by MLB."
For my part, neither will I. My money and TV time will find other pursuits. I have loved baseball my entire life, but I will not be insulted by its management. I hope the sport rediscovers the precious relationship it once had with fans of all political stripes.
Mark Davis is a talk show host for the Salem Media Group on 660AM The Answer in Dallas-Ft. Worth, and a columnist for the Dallas Morning News and Townhall.
The views expressed in this article are the writer's own.