Baseball's $215 Million Man Holds His Own, Even Against a Legend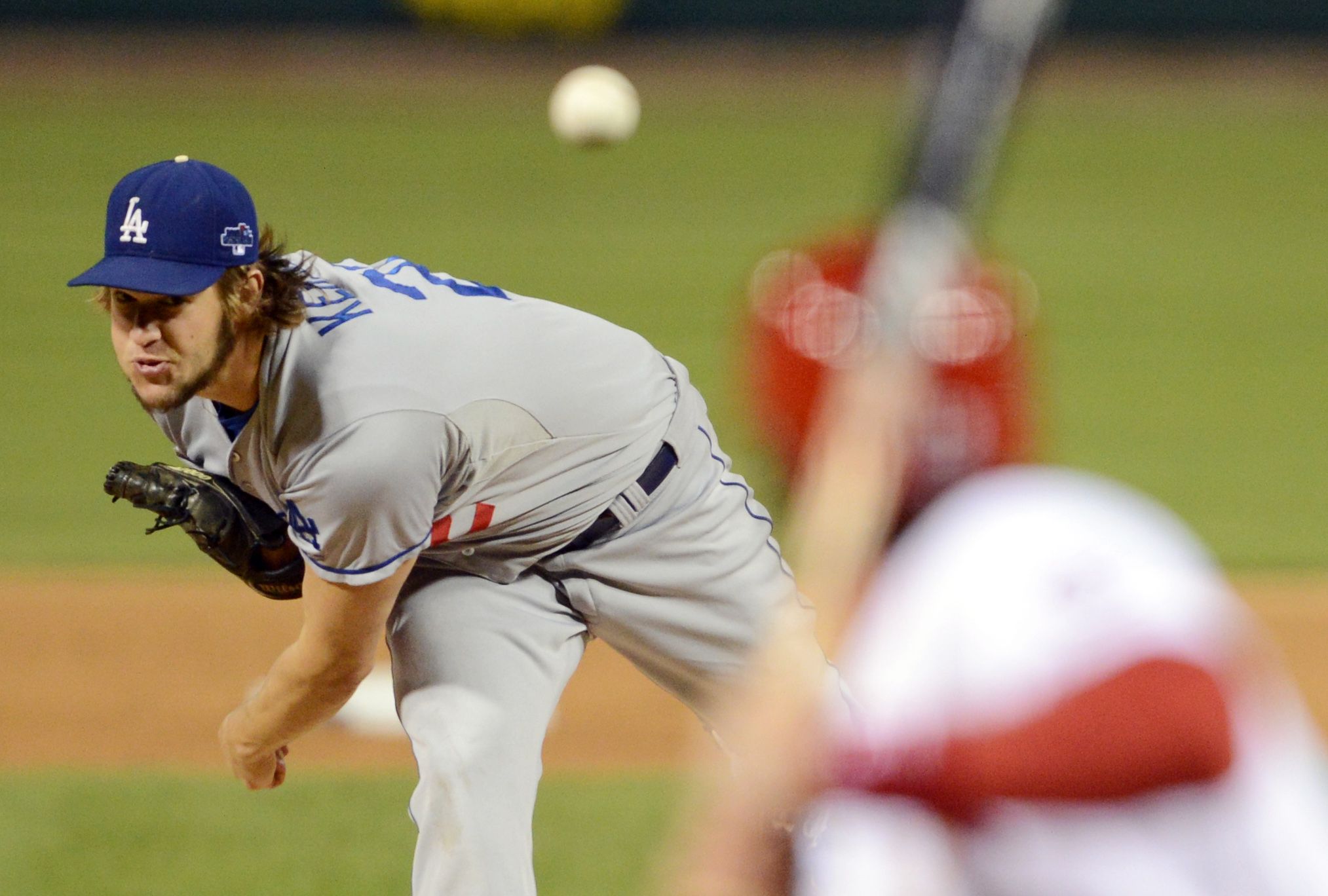 On Friday the Los Angeles Dodgers are expected to formally announce that they have signed southpaw pitcher Clayton Kershaw to a seven-year contract extension worth $215 million. Kershaw's deal eclipses the extension of the same length that Detroit Tiger ace Justin Verlander signed last March by more than 15 percent ($180 million). It also makes the Dallas native, on a per annum basis, the highest-paid player in Major League history.
On one hand –presumably Kershaw's left—why not? The six-foot-three lefty, who turns 26 in March, throws molten heat. He throws faster than teammate Yasiel Puig drives.
Kershaw has already won two Cy Young Awards. He has the lowest career E.R.A. of any pitcher who has pitched at least 1,000 innings since the advent of baseball's live-ball era (1920) and is only the third pitcher to ever have the lowest E.R.A. in all of baseball for three consecutive seasons (Greg Maddux, 1993-1995, and Carl Hubbell, 1933-1935, are the others.)
Strikeouts? Kershaw is one strikeout shy of having led the National League in whiffed hitters the past three seasons. And as for the post-millennial but highly telling WHIP stat (Walks + Hits per Innings Pitched), Kershaw has led the league as well.
As Dodger catcher A.J. Ellis told the Los Angeles Times on Wednesday, "He's the highest-paid pitcher of all time, and it still feels like he's underpaid."
W-L ERA WHIP Ks/Year
Clayton Kershaw 51-23 2.20 .971 236.3
2011-2013
Sandy Koufax 72-22 1.84 .921 307
1964-1966
If Kershaw is underpaid – he will earn approximately $1 million per start, in the neighborhood of $10,000 per pitch – then imagine what could be said of Dodger Hall of Famer Sandy Koufax. Like Kershaw, a southpaw whose surname serendipitously began with a "K," Koufax was known as "The Left Arm of God." As the table shows, Koufax's three most dominant consecutive seasons were more brilliant than Kershaw's.
How far has compensation come in the past half-century? In 1966 Koufax, at the age of 29, led the National League in wins (26), innings pitched (335.2), ERA (2.04), WHIP (.855), strikeouts (382) and complete games (27). A season that noted Dodger Stadium spectator Larry David might describe as, "Pret-tee, pret-tee good."
And yet, that winter Koufax held out for more than his $110,000 per season, taking a part in the film Warning Shot rather than report to Vero Beach, Fla., for spring training. Eventually, Dodger general manager Buzzie Bavasi upped Koufax to $125,000 per year. However, even adjusted for inflation, that salary equals $898,753 in 2014 dollars. That would be 3 percent of Kershaw's 2014 salary.
The ghost of Curt Flood says, "You're welcome."
Koufax retired the following year, in 1966, at the age of 30. In his final five seasons, his era of mastery, the Left Arm of God hurled four no-hitters, among them a perfect game; led the Dodgers to a pair of World Series titles in which he was named the Most Valuable Player, won three Cy Young Awards and thrice achieved pitching's triple crown: leading the league in wins, strikeouts and ERA.
The Dodgers had the second-highest payroll in the National League last season; only the New York Yankees' was greater. Yet the Dodgers flailed out in the National League Championship Series against the St. Louis Cardinals, with Kershaw taking two losses (one he deserved, the other L.A. lost 1-0, squandering a two-hit gem by Kershaw). In Los Angeles, the era of Kobe is fading and the era of the Clippers, a.k.a. Lob City, is stuck in traffic.
The Dodgers, with Kershaw and the Cuban sensation, Puig, are the future. They are ready for their close-up.
Kershaw is toeing the rubber on the brink of greatness, if not immortality. In five years he will be 30, the age at which Koufax put his arm on ice for good, with an option to opt out of his contract if he so desires. He has already achieved more before the age of 26 than Koufax had; if he does even half of what Koufax did between 26 and 30, he will be a Dodger immortal.
And worth every dollar.