What Sharon Stone Has Said About Filming The Leg-Crossing Scene in 'Basic Instinct'
Basic Instinct is getting what its lead star Sharon Stone has called a "director's XXX cut" for its 30th anniversary, and the actor is not happy that the film is coming out again.
On Australian show A Current Affair, Stone discussed the upcoming anniversary of the film in which she played bisexual psychopath Catherine Tramell, in which she said she cannot stop the film being released.
She said: "There are new [Screen Actors Guild] rules about that that have been made and created but they were made after I, as a young lady, made this film, and so they don't apply to me."
Asked about her participation in the film, the Oscar nominee (for Casino) said: "Regrets are like farts, you can't get them back. Once they're out, they're stinky and gone."
This is far from the first time that Stone has expressed regret about working on the film from the controversial auteur Paul Verhoeven, who previously made Total Recall and Robocop. In particular, she has alleged that she was tricked into a scene in which her character uncrosses her legs, briefly revealing her genitals.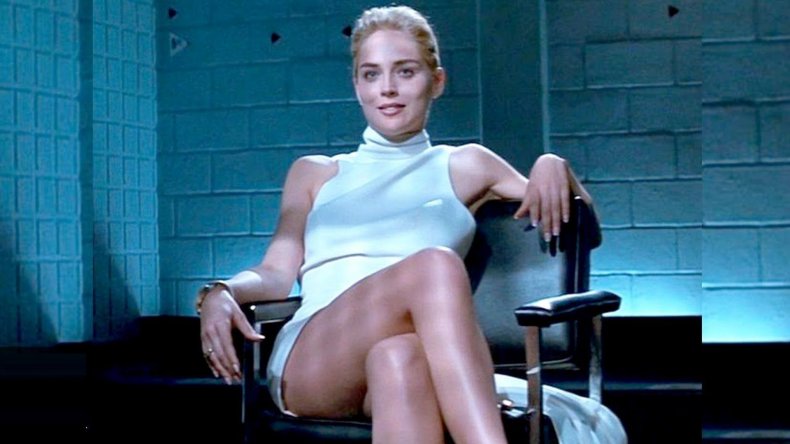 Most recently, she discussed the incident in her autobiography The Beauty of Living Twice, in which she claims she was told to remove her underwear as it was reflecting the light, but was told her privates could not be seen on camera.
She says on seeing the scene for the first time in a room full of agents and lawyers: "It didn't matter anymore. It was me and my parts up there. I had decisions to make. I went to the projection booth, slapped Paul across the face, left, went to my car, and called my lawyer."
Stone claims she was told the film could not be released in the form it was in as it would get an NC-17 rating, a rating studios were wary of as it was seen as box office poison (as was later proven when Verhoeven's next movie Showgirls got the rating). However, the film was submitted to the Motion Picture Association of America seven times until it was given an "R" rating.
At the GQ Awards in 2019, meanwhile, the actor said of filming the scene: "Some years ago I was sitting on a sound stage, and my director said, 'Can you hand me your underpants because we're seeing them in the scene and you shouldn't have underpants on, but we won't see anything.'" After asking the audience to copy her leg cross, she asked, "Do you feel empowered? Maybe not."
Verhoeven's recollection of how the leg-crossing scene came to be varies from Stone's. In 2016, he told Empire Magazine that the idea came from a party the director attended with a woman who was not wearing underwear. The director claimed that he had discussed the idea with Stone before they shot the scene and she was "really excited by the idea." However, the Empire article also notes that Stone has been claiming she was misled about the scene since Basic Instinct was first released.
The pair's accounts of how the scene came to be do share some common factors. Speaking to Icon, Stone has said that she did know of Verhoeven's intention in filming the scene, but that you would only see a "hint" of her crotch. Watching the scene on a fairly low-definition monitor on set, she said, "I really did not see anything." But that changed when she watched the movie projected on a screen.
She did admit to the outlet that she would have probably kept the scene in the film too, but added, "I would have had the courtesy to show it to the actress."
Speaking to the same outlet, Verhoeven said of the scene and Stone's account of what happened: "Sharon is lying. Any actress knows what she's going to see if you ask her to take off her underwear and point there with the camera... I am Dutch, so we act with total normality towards nudity. And Sharon was carried away by this relaxed attitude.
"But when she saw the scene surrounded by other [American] people, including her agent and her publicist, she went crazy. Everyone told her that this scene would ruin her career, so Sharon came and asked me to take it away. I told her no. 'You accepted, and I showed you the result,' I said, and she replied, 'F*** you.' But Sharon is not going to tell you that, surely not."
The pair's stories also contradict on some of the smaller details. Verhoeven told Empire that, "she gave me her panties as a gesture of confidence," while Stone claims, she "put it in my shirt pocket."
In 2000, Stone signed up to make a sequel to Basic Instinct, despite her problems with the first film. This film, which was not directed by Verhoeven, was eventually released six years later after a troubled production history that saw Stone sue the producers at one point for reneging on a verbal guarantee to pay her $14 million. This was settled in 2004, and the film was released in 2006 to uniformly negative reviews.
Newsweek has contacted Paul Verhoeven for comment.
Basic Instinct is streaming now on Cinemax Go.