'On the Basis of Sex' Fact vs. Fiction: The True Story Behind Ruth Bader Ginsburg
If you're looking for a blood-boiling yet heartwarming story of female struggle and success, look no further than On the Basis of Sex, the true story of Supreme Court Justice Ruth Bader Ginsburg. The film follows "notorious" RBG's days in law school and looking for a job while fighting sexist culture.
Played by Felicity Jones, the film shows Ginsburg's life, along with the roadblocks she hit throughout her career. The film comes on the heels of documentary RBG, which was released in May, and current news of Ginsburg's broken ribs and cancer surgery. Ginsburg has become a feminist pop-culture icon, and her name has been more prominent than ever in 2018.
Ginsburg told NPR the movie is "part fact, part imaginative—but what's wonderful about it is that the imaginative parts fit in with the story so well," in a December conversation.
Here are some of the key moments in Ginsburg's life the movie got right.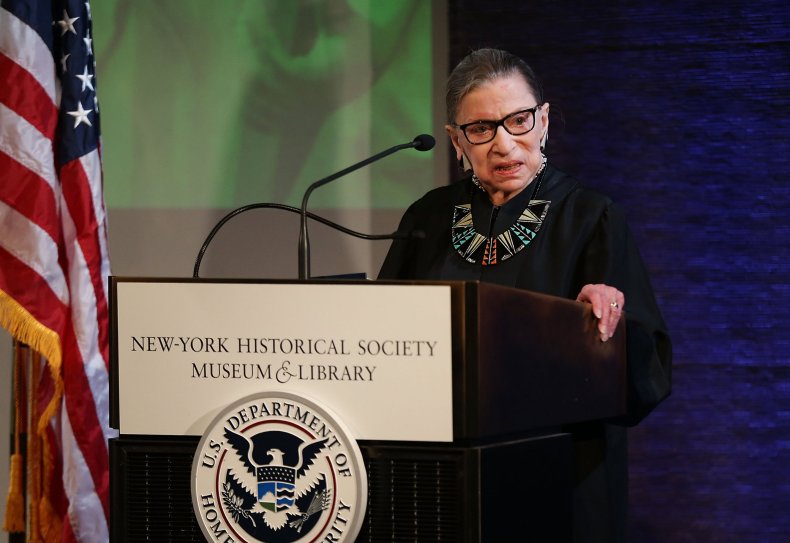 Her Time in Law School
The film plays true to its real-life history, showcasing a few of Ginsburg's feats by name. The story begins showing Ginsburg attending law school, where she's overshadowed by the men in her program, all while attending her husband's classes, besides her own, as he battles cancer. Ginsburg is a caretaker, a wife, a mother and a dedicated student.
At the time, Ginsburg was one of eight women in her class at Harvard Law School, according to The Smithsonian Magazine. Though she graduated at the top of her class after transferring to Columbia University, she was not recommended for any jobs. "I was Jewish, a woman, and a mother. The first raised one eyebrow; the second, two; the third made me indubitably inadmissible," she said in a 1993 interview with The Harvard Crimson.
Moritz vs. Commissioner
Moritz vs. Commissioner, Ginsburg's first gender discrimination case, is featured in the film, according to Time. The film's version of the court event is designed in the memory of Ginsburg, noted the The Smithsonian. The case followed Charles Moritz, an unmarried single man, who was denied a tax deduction for payment of his mother's caretaker. His mother was his dependent. Ginsburg argued this was gender discrimination. In November 1972, Moritz won his legal battle.
Ginsburg also argued a handful of gender discrimination cases to the Supreme Court. She only lost one. The film does not feature her time as a Supreme Court Justice, as it focuses on her time as a lawyer and all angles of gender inequality.