A basketball fan was ejected from the Sacramento Kings vs. Memphis Grizzlies game on Sunday after reportedly heckling Tristan Thompson.
In video footage shared on TMZ, a man was seen being approached at his courtside seat by game officials and staffers at the FedExForum in Memphis, Tennessee, as Kings player Thompson appeared to be upset while standing on the court.
The man in question was then approached a second time and asked to leave the stadium, an order with which he complied as he raised his cup to onlookers.
According to The Daily Memphian's NBA reporter Drew Hill, the man was removed for making comments about the Kardashian family in Thompson's direction. Thompson shares a three-year-old daughter, True, with Khloe Kardashian.
"Per multiple people around the fan that was thrown out of the Grizzlies game tonight, he was tossed because he was making comments about the Kardashian family in the direction of Tristan Thompson," Hill wrote on Twitter after the game.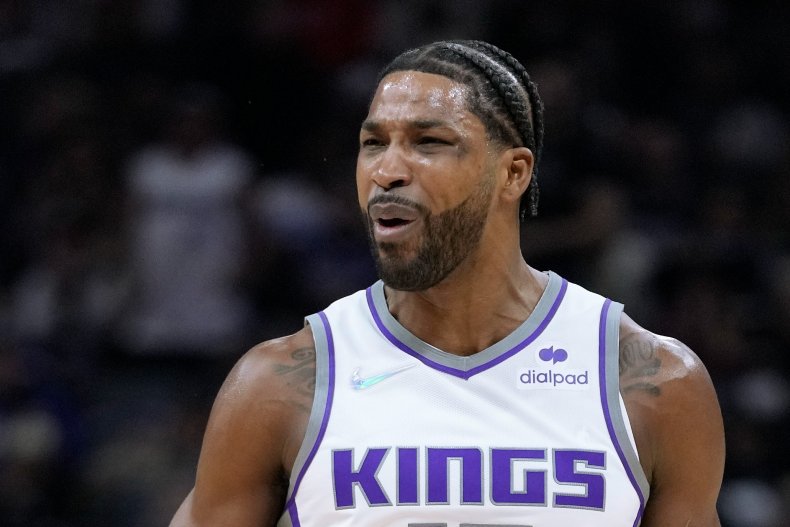 Hill added in a follow-up tweet: "It was Kings interim coach Alvin Gentry that took issue to the comments first. The fan was issued a warning card, but when he returned Gentry went back to the officials and said he wanted him gone, so the fan was kicked out."
Gentry addressed the incident after his team's 128-101 loss, telling reporters: "I think [when] you pay for a ticket you've got a right to boo guys, you've got a right to cheer for your team... But inappropriate things should never be what anyone should say."
Gentry declined to repeat or specify the comments that led to the fan's ejection, explaining: "I don't think it needs to be talked about or anything.
"But obviously it's not anything that I'm going to tolerate people saying to my players, I know that, not without intervening and asking them to be removed."
He added: "They can say anything they want to me or they can boo and do everything they want with the players, but there's no room for saying inappropriate things in a sporting event. That's not why you're there."
Newsweek has contacted a representative of Thompson for comment.
The incident comes days after Los Angeles Lakers ace LeBron James had two basketball fans ejected from a game after he pointed them out.
While not confirming the exact comments made, James said that the man and woman had made obscene comments and gestures toward him as he played.
A video of the moment James pointed out pair at the game went viral, and has been viewed more than 10 million times on Twitter.