Basketball Fans Praise Gonzaga, Pile on Alum John Stockton for 'Idiotic' Stance on COVID
Basketball fans and players alike took to social media Monday to sharply criticize the COVID stance of former NBA point guard John Stockton, while also praising Stockton's alma mater, Gonzaga University, for suspending his season tickets.
Stockton, 59, is widely known for his anti-vaccine views and had reportedly refused to wear a mask while attending Gonzaga basketball games, violating the university's indoor mask mandate. As a result, the school suspended his season tickets for the remainder of the year.
The move entered the Spokane, Washington-based university into a quarrel with Stockton, who is widely considered their most famous athletic alumnus. After a standout college career with Gonzaga, Stockton would be drafted in 1984 by the NBA's Utah Jazz, with whom he would spend his entire professional career.
Stockton reiterated a number of unproven conspiracy theories regarding the COVID vaccine in an interview with The Spokesman-Review following Gonzaga's decision, including the debunked claim that massive numbers of people have died as a result of the vaccine.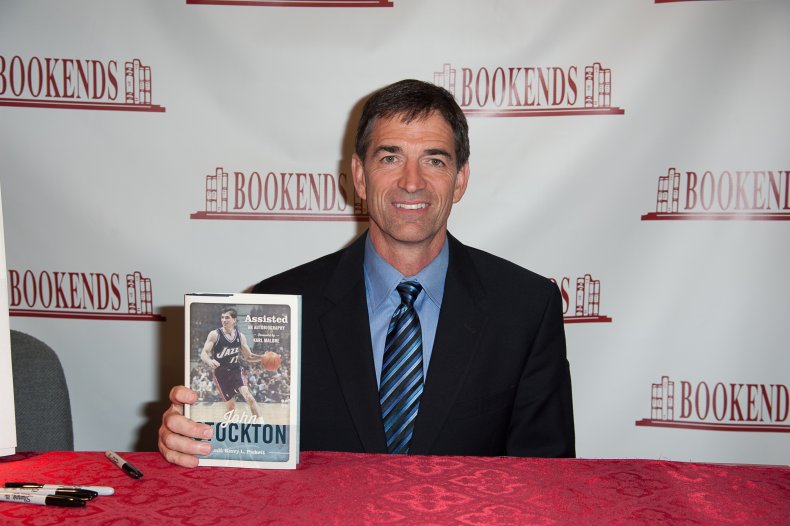 "I think it's highly recorded now, there's 150 I believe now, it's over 100 professional athletes dead—professional athletes—the prime of their life, dropping dead that are vaccinated, right on the pitch, right on the field, right on the court," Stockton claimed.
This claim has been widely shown by the medical community to be untrue. The U.S. Centers for Disease Control and Prevention (CDC) reported over 529 million doses of the vaccine administered in 2021, of which less than 0.0022 percent died from a possible complication of the shot.
Stockton also claimed in the interview that "children and kids...have literally zero statistical risk of being harmed by the disease and they have significant statistical risk of being harmed by the side effects of the so-called vaccines."
This has similarly been proven untrue, as a number of studies have found that unvaccinated younger people still had a risk of contracting severe illness or potential death from COVID. While younger people may experience worse side effects from the vaccine than the elderly, according to the CDC, these symptoms typically pass within a few days.
Following Stockton's claims, people across social media criticized the point guard for spreading misinformation, while also lauding Gonzaga for their actions.
"Someone should tell John Stockton how idiotic he sounds about all this," @jackfrank_jjf tweeted. "Everything about his stance is embarrassingly bad."
"Well done, Gonzaga," a user named @PlagueDocIsIn wrote on Twitter. "Yet another athlete who thinks he is better than everybody else. This is getting old."
Fans were not the only ones speaking out, as some of Stockton's former contemporaries also voiced their displeasure with his claims.
Detlef Schrempf, another NBA Hall of Famer, called Stockton's views "bat s**t crazy."
"I am so disappointed we have so many role models not up to the task." Schrempf wrote on Twitter. "This is not helping!"
Hall of Famer and humanitarian Kareem Abdul-Jabbar, widely considered one of the greatest players in NBA history, stated on CNN that Stockton's views "made the public look upon athletes as basically dumb jocks for trying to explain away something that is obviously a pandemic."
"I think John [Stockton's] reaction to the vaccine is extreme and not based on reality or facts. If John could just check the facts out, he would understand that this vaccine is saving lives." Abdul-Jabbar said.
Newsweek reached out to the Utah Jazz for comment.