Basketball Pickup Game Leaves Obama in Stitches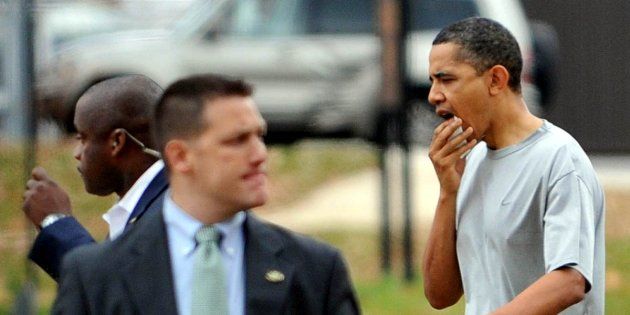 President Obama hasn't hidden the fact that he enjoys the occasional round of golf, or a basketball scrimmage from time to time. He's caught plenty of flak for it, too, from critics suggesting he takes too much leisure time.
Now the sportiness appears to have caught up with the athletic president. During a post-Thanksgiving basketball game at Fort McNair, Obama, playing with personal aide Reggie Love and a few family members, took an unfriendly elbow straight to the lip. The result: an open gash that sent the Secret Service and White House Medical Unit scrambling. Rushed home, the injured president received 12 stitches to close up the wound.
White House officials declined to disclose exactly who was responsible for the thrown elbow, or how the president reacted immediately. But for a man who spends most of his time in front of the cameras, Obama did receive some special treatment. Doctors used a smaller type of filament than typically used for similar mishaps, which increased the number of stitches but results in a tighter stitch and a smaller scar.
Despite being given a local anesthetic to dull the pain, the point guard in chief was seen back at the White House nursing an ice pack. And, presumably, willing to take a break from contact sports.
UPDATE: Late Friday, the White House released a statement by Rey Decerega, director of programs for the Congressional Hispanic Caucus Institute, who admitted he was the culprit. "I learned today the president is both a tough competitor and a good sport," Decerega said. "I enjoyed playing basketball with him this morning. I'm sure he'll be back out on the court again soon."