Basketball World Mourns Death of Karl-Anthony Towns' Mother, Who Passed Away From Coronavirus Complications
The Minnesota Timberwolves of the NBA announced Monday afternoon that Jacqueline Towns, the mother of star player Karl-Anthony Towns, passed away of complications from COVID-19, also known as coronavirus.
She was simply known as "Jackie" to the many friends and family who knew her. Her battle with coronavirus lasted more than a month, according to a statement issued by a family spokesperson through the team's website.
"Jackie was many things to many people - a wife, mother, daughter, grandmother, sister, aunt, and friend," the statement read. "The matriarch of the Towns family, she was an incredible source of strength; a fiery, caring, and extremely loving person, who touched everyone she met. Her passion was palpable and her energy will never be replaced.
"The Towns family is extremely grateful for the outpouring of love and support they have received during this very difficult time. They would like to thank the medical warriors at Penn Presbyterian Medical Center and JFK Medical Center, who fought for Jackie day in and day out, and helped Karl Sr. recover from the same virus that took Jackie's life."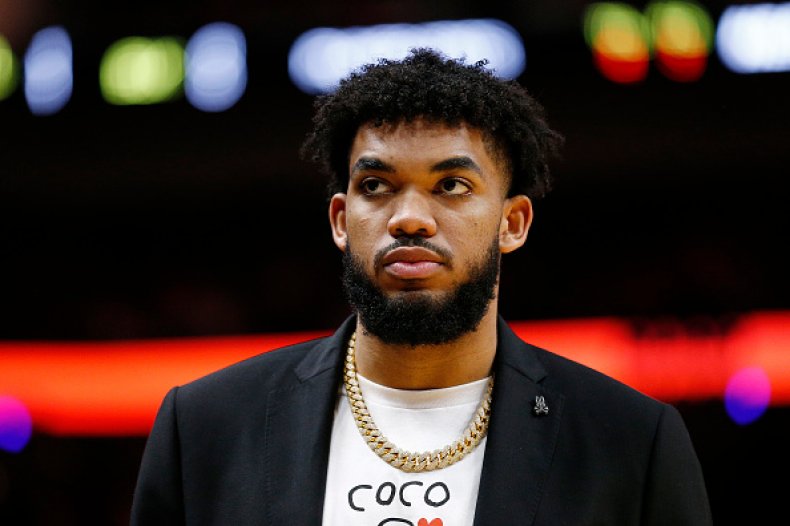 Karl-Anthony Towns is Dominican-American and a dominant basketball player since he was a child. He made the Dominican national team at age 16, starred at the University of Kentucky and was the No. 1 overall pick in the 2015 NBA Draft, getting selected by the Timberwolves. He won NBA Rookie of the Year in 2016, and he is a two-time all-star.
Once news of his mother's death was released, an outpouring of support rained in from around the NBA, basketball fans and those who knew the family.
NBA TV posted, "The NBA family sends its condolences to Karl-Anthony Towns and his family following the passing of his mother, Jacqueline."
Former NFL quarterback Donovan McNabb sent condolences to the family, calling it "terrible news."
"Terrible news. Blessing to the Towns family. RIP momma Towns. Praying for you," McNabb wrote on Twitter.
Kentucky's basketball program remembered Jackie, sending their condolences to one of their fans, and mom of a former player.
"We are devastated for @KarlTowns and his family. Ms. Jackie was a ray of sunshine and Karl's No. 1 fan. Our thoughts and prayers are with Karl and the entire Towns family. #BBN, please keep them in your thoughts."
The coronavirus was first detected in Wuhan, China during late 2019, and by April 13, nearly 2 million people worldwide have tested positive for the virus, and there have been more than 119,000 deaths around the globe.
In the United States, there have been more than 580,000 cases—the most by any country. The U.S. has more than 23,000 deaths so far, which also leads all countries.
President Donald Trump said on March 29 he expects the number of cases and deaths in America to peak by April 12, and that the social distancing guidelines have been extended to April 30. Trump also said he expects a "full recovery" by June 1.
The NBA was the first major sports league to indefinitely suspend its season, when it took action on March 11, after a player from the Utah Jazz tested positive for coronavirus. Since then, every major sports league in the world has either canceled or postponed until further notice.