Baskin-Robbins Launches Non-dairy and Vegan Coffee Caramel Chunk As Flavor of the Month for November 2019
Baskin-Robbins' November Flavor of the Month is the plant-based "Non-Dairy and Vegan Coffee Caramel Chunk." The Coffee Caramel Chunk has an espresso-flavored base with rich chocolate chunks and a smooth caramel ribbon.
The ice cream has been available nationwide since November 1 and will be in stores through the end of November. It is the brand's third vegan ice cream.
In August, Baskin-Robbins launched two vegan ice creams, the Non-Dairy Chocolate Chip Cookie Dough, made with cookie dough pieces, chocolate chunks, and a chocolate ribbon, and the Non-Dairy Chocolate Extreme, made with chocolate chunks and a chocolate ribbon.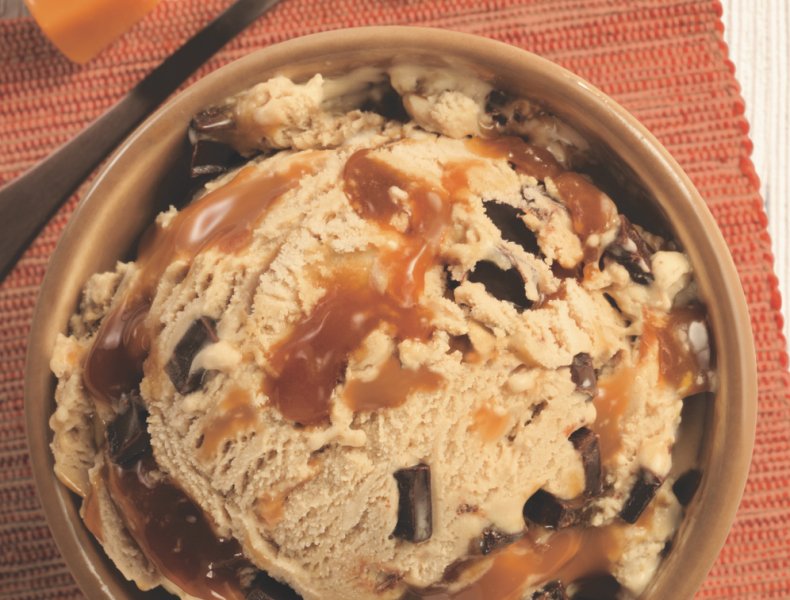 Jeanne Bolger, Director of Research and Development at Baskin-Robbins, said in a statement: "The Baskin-Robbins culinary team has been hard at work on our non-dairy flavors for over two years. It was important for us to take the time to get it right.
"Both flavors are so smooth and indulgent, and the final product delivers the incredible quality that our customers have come to expect from any Baskin-Robbins ice cream. We're very proud of the result."
The non-dairy products are made with coconut oil and almond butter, and are free from preservatives, artificial flavors and high fructose corn syrup. They are also kosher.
Baskin-Robbins introduces a flavor of the month each month. October's Flavor of the Month was Candy Mashup, chocolate ice cream featuring Snickers, caramel cup pieces and a salty caramel ribbon.
September's Flavor of the Month was Pumpkin Cheesecake, which featured pumpkin- and cheesecake-flavored ice creams with ginger snap cookie pieces and a cinnamon cream cheese flavored ribbon.
The vegan ice cream is not the only new addition to Baskin-Robbins' menu, however. The ice cream chain has also launched a Caramel Delight Ice Cream Cookie Torte for Thanksgiving. It features Gold Medal Ribbon ice cream on top of a chocolate chip cookie crust, garnished with caramel praline and fudge toppings and almonds.
Baskin-Robbins Top Facts
In January, March, May, July, August, October, December, the months with 31 days, Baskin-Robbins celebrates its 31 flavors with a special deal on the 31st of the month, typically at $1.31 a scoop.
Baskin-Robbins has created more than 1,300 and unique ice cream flavors in its 70-year history, according to the Baskin-Robbins website.
Baskin-Robbins' top-selling ice cream flavors in the US are Vanilla, Chocolate, Mint Chocolate Chip, Pralines 'n Cream, and Chocolate Chip. Internationally, Pralines 'n Cream outsells Vanilla.
Baskin-Robbins was founded in 1945 by Irvine "Irv" Robbins and Burton "Burt" Baskin and now has 8,000 retail shops in 55 countries worldwide.