Scientists Say Mysterious Georgia Creature Is Likely Just a Rotting Fish or Shark
Scientists may have pinpointed the identity of a mysterious sea creature that washed up on a Georgia beach last week.
Last Friday, Georgia resident Jeff Warren found the washed-up carcass of an unidentified creature on St. Simons Island beach in the southeast part of the state. The animal's odd body shape and features led some to believe it may have been related to a prehistoric ocean monster.
Some scientists, however, have come forward to say the truth is likely less intriguing.
Warren sent a photo of the creature to his local news agency and explained the carcass was about four to five feet long with two fins and tiny teeth, WJAX-TV reported. As of yet, Warren has only released photographic evidence of the creature.The Georgia Department of National Resources is still trying to locate the actual carcass for closer examination, WJXT reported.
Even without a body, scientists are hesitant to label the creature mysterious.
"I would say pretty certainly that it's not a never before seen sea monster and would lean towards some kind of fish," Meaghan McCormack, a PhD student in aquatic resources at Texas State University told Newsweek. "It doesn't look like a marine mammal decomposition."
According to McCormack, it's difficult to identify the creature from the photograph alone as it appeared to be in an advanced state of decomposition. However, she agreed with other scientists who suggested the carcass may be that of a dead shark.
"A basking shark sounds probable," explained McCormack.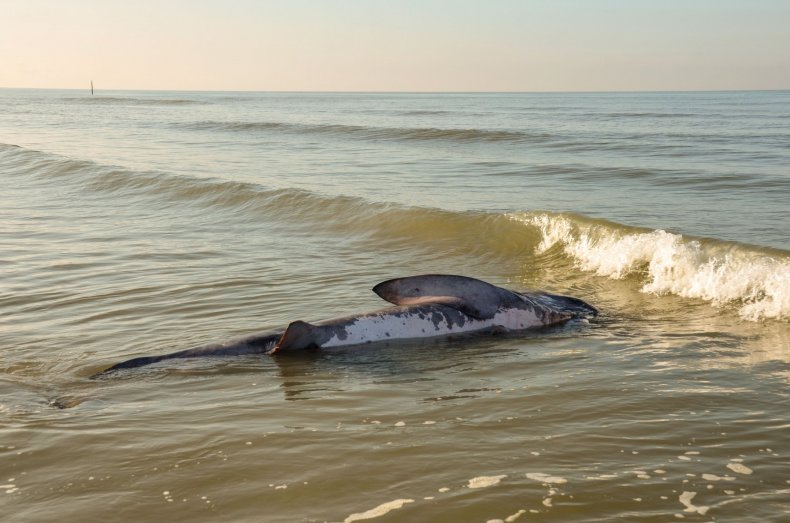 Though not quite the Loch Ness monster, basking sharks are fascinating in their own right. The reclusive creatures are rarely seen by humans. In 2015, fishermen off the coast of Australia unknowingly caught a basking shark for the first time in that area in 80 years, National Geographic reported.
Although the sharks can grow up to 39 feet long, they are no monsters and are known for their gentle ways. Typically the shark feeds on small prey, such as shrimp and copepods.