Bat Dog Apologizes to Cavan Biggio, Blue Jays After Running on Field Mid-Inning
Even the most polished bat dog can get overexcited sometimes, and Rookie the Bat Dog said he was sorry for getting away.
The legendary golden retriever/bat dog shared remorse on Twitter after he charged onto the field during the first inning of the Triple-A baseball game between Lehigh Valley and Buffalo on Wednesday.
Rookie has retrieved bats for the minor-league Trenton Thunder since 2013—he is the third bat dog for Trenton since his grandfather Chase became the first trained bat dog in 2000—and got a little overzealous and took off from the Bison's dugout to the mound during Cavan Biggio's at bat at Sahlen Field.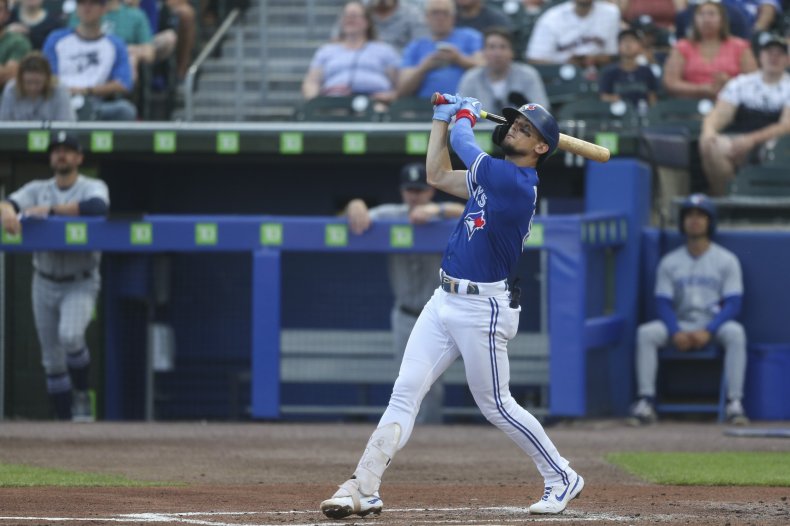 Lehigh Valley starter Colton Eastman seemed fine despite the large dog charging at him. Biggio, the Blue Jays infielder/outfielder who is on a rehab assignment while recovering from an ankle injury, seemed unperturbed by Rookie's on-field appearance as well.
But that didn't stop the dog from feeling remorse, and his Twitter account explained what happened and how he committed the rare in-game gaffe.
The video was viewed nearly one million times on Twitter as of Thursday, and baseball fans, dog people and even dog-related accounts online quickly rushed to Rookie's aid.
Rookie was making his first appearance in Buffalo in conjunction with the Bisons Dog Night promotion. He is no stranger to the Buffalo players, even though Wednesday was his first trip to the ballpark in Western New York because he bat-dogged for games while Trenton hosted the Blue Jays Triple-A affiliate for the season's first three months while the Blue Jays played home games first in Dunedin, Florida then in Buffalo due to the U.S.-Canada border closing caused by the COVID-19 pandemic.
The Bisons returned to Buffalo on August 10 after the Blue Jays were given border exemptions to cross into the United States and return without needing to quarantine. The Blue Jays have been playing home games at Rogers Centre since July 30.
His account said Rookie was a little over-excited to see so many familiar faces that he hadn't in nearly two months.
Despite the early-game jitters, it seemed Rookie overcame the mistake and settled in, making it an enjoyable experience for the 2,518 human fans in attendance and those who brought their dogs.
Rookie was the only dog to pause the action Wednesday, but his wasn't the only delay in the game. Rain caused the game to end in the seventh inning with the IronPigs claiming a 3-0 victory.