Bat Signed by Michael Flynn Sells for $8,000 at 'QAnon Conference'
A baseball bat signed by retired General Michael Flynn was sold for thousands of dollars at the "For God and Country: Patriot Roundup" conference held in Dallas, Texas this weekend.
The event, which many have described as the "QAnon conference" due to the beliefs promoted by the keynote speakers and many in attendance, featured Flynn as well as attorney Sidney Powell as keynote speakers.
Flynn served briefly as former President Donald Trump's national security adviser until he was forced out due to his contacts with Russia's ambassador. He later pleaded guilty to lying to investigators about the communications, but was pardoned by Trump last year. Powell served as Flynn's attorney and also filed a series of baseless—and often bizarre—election lawsuits in an unsuccessful effort to overturn President Joe Biden's 2020 win.
The weekend conference included an auction of various items. Among the items sold off to the highest bidders was a baseball bat signed by Flynn. The Trump associate told the audience that he and his wife referred to the bat as "the Department of Just Us" before it sold for $8,000.
A QAnon quilt, which Flynn held up for the audience to inspect, also reportedly sold for "thousands" of dollars. The blanket—which featured a prominent "Q"—was signed by Flynn in addition to pro-Trump lawyer Lin Wood and MyPillow CEO Mike Lindell. Like Flynn and Powell, Wood and Lindell have been key to promoting Trump's baseless claims that the 2020 election was fraudulent, as well as views that align with the QAnon conspiracy theory.
During the event, Flynn also expressed support for a violent military coup to overthrow the U.S. government. An audience member asked: "I want to know why what happened in Myanmar can't happen here?"
Flynn quickly responded, following raucous cheers from the crowd, by saying: "No reason. I mean, it should happen here."
The military coup in Myanmar began in February and reportedly has led to the deaths of at least 800 civilians. The Asian nation's civilian leaders were placed under house arrest, and the military leaders have been internationally condemned for their actions.
During the conference, Powell asserted once again that she believes Trump is the legitimate president—not Biden.
"He can simply be reinstated," the attorney said of the former president during the conference. The audience cheered loudly in response to her false claim.
"And Biden is told to move out of the White House," Powell continued with a smirk on her face. "And President Trump should be moved back in. I'm sure there's not going to be credit for time lost, unfortunately. Because the Constitution itself sets the date for inauguration. But he should definitely get the remainder of his term and make the best of it. That's for sure," she insisted.
Although there is no truth to Trump's claims about the 2020 election, polling has shown that many Republicans believe the baseless theory. A survey released last week by Quinnipiac showed that two-thirds (66 percent) of Republican voters do not believe Biden legitimately won the election. Another poll released by Reuters and Ipsos last week showed that 53 percent of Republicans believe Trump is still the rightful president.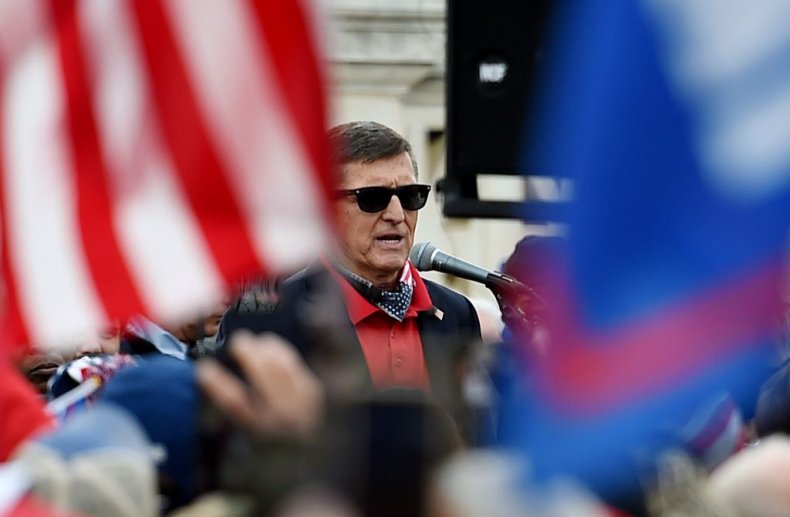 Dozens of election challenge lawsuits filed by Trump and his allies failed in state and federal courts. Even judges appointed by Trump and other Republicans rejected the allegations. Meanwhile, multiple audits and recounts in key battleground states—including in places where the election was overseen by pro-Trump Republicans—reaffirmed Biden's victory.
Former Attorney General William Barr, who was widely viewed as one of Trump's most loyal Cabinet members, said in December that there was "no evidence" of voter fraud that would change the 2020 election's outcome. Furthermore, the Cybersecurity and Infrastructure Security Agency at the Department of Homeland Security described the 2020 election as the "most secure in American history."
Newsweek reached out to Powell and Flynn for further comment but did not immediately receive a response.