Fury as Teacher Applies Credit System to Bathroom Breaks for 12th Graders
A high school English teacher's introduction of hall passes for bathroom breaks has come under fire online, as students are forced to sacrifice extra credit for them.
One student took to Reddit to share the newly-introduced system, which carried a list of terms and conditions with it.
According to the 12th grade student, the English teacher is allowing each student just three passes to use the restroom for the first quarter of the academic year. The class is 90 minutes long.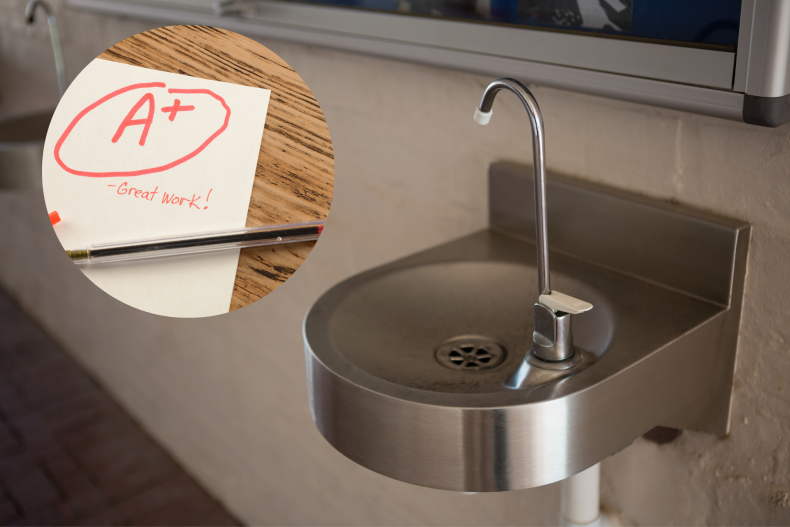 Each hall pass, however, comes at the payment of five points for extra credit in either coursework, performance assessment or formal writing. Using the pass for a bathroom break during a lesson means handing the pass over and sacrificing the extra credits. If a student has the pass by the end of the quarter, they can trade it in for the credits.
"These passes can be used for any trip out of the classroom during the course of the quarter. Each student will be issued three passes per quarter. Cut this pass out, hand it to (retracted), then sign-out using the sign-out sheet," reads the instruction.
"Each pass is worth five points, but in different categories. If you do not use your passes during the quarter then you can turn the passes in for extra credit at the end of the quarter.
"Passes are due at the end of the quarter when directed, and will not be accepted if late. Passes do not carry over from quarter to quarter. If you are tardy to class four times or more, the passes are void."
Bathroom breaks are a polarizing subject when it comes to school rules, with arguments from all students, teachers and even parents. Data recorded by Women's Health Research from nurses across schools in the United States found that just 8 percent of schools had concrete bathroom policies in place with almost half of school allowing free access to the bathroom.
The rest, however, reported active restrictions on students' bathroom breaks during class. The main cause, as per the data, was a matter of distrust in students leaving the classroom. Eighty-four percent of participants said that teachers couldn't be sure that students were really using the restroom when they left the classroom.
On the other hand, holding in urine is well-reported to have serious medical consequences on an individual, including weakened bladder muscles and urinary tract infections.
Fellow students on Reddit were appalled by the hall pass system, with some even suggesting tactics to get the upper hand. For many, however, the focus was left on how it would impact female students who face their periods on school days.
"How is this not penalizing students that menstruate? Aside from the fact that it's absurd to have any points at all tied to hygiene and access to a basic tenant of public sanitation. It takes longer to address tampons/ pads/ cups than just urinating, so how the f**k are they supposed to do that?" wrote one angered user.
Another recalled: "When I was in high school a girl got her period and wasn't allowed to go to the toilet. She bled through her white pants on the chair and it was the saddest thing ever. Luckily, nobody in class made fun of her and no one forgave the teacher. I honestly don't get how these 'toilet passes' are allowed. It's not even mildly infuriating. It just makes me so mad and sad."
"You can't prevent someone from using the bathroom, they wouldn't even do that if you were in jail," reasoned another.
The student updated in a comment that they plan to talk to their school counselor about the issue.
Newsweek contacted Reddit user HighDef23 for comment.