How Frank Miller's 'The Dark Knight Returns' Brought Grit Back to Batman
The Dark Knight Returns reshaped the comic book industry; introducing an older, grizzled, beaten Bruce Wayne as he tries to save Gotham City once more. Scenes ripped straight from the pages can be seen in the movie Batman v Superman and the dark, gritty tone permeates the DNA of The Dark Knight and The Joker. The 1986 four-issue miniseries written and drawn by Frank Miller has sold over one million copies and is still heralded to this day. The book DC Comics: A Visual History calls The Dark Knight Returns "arguably the best Batman story of all time," which "revolutionized the entire genre of superhero."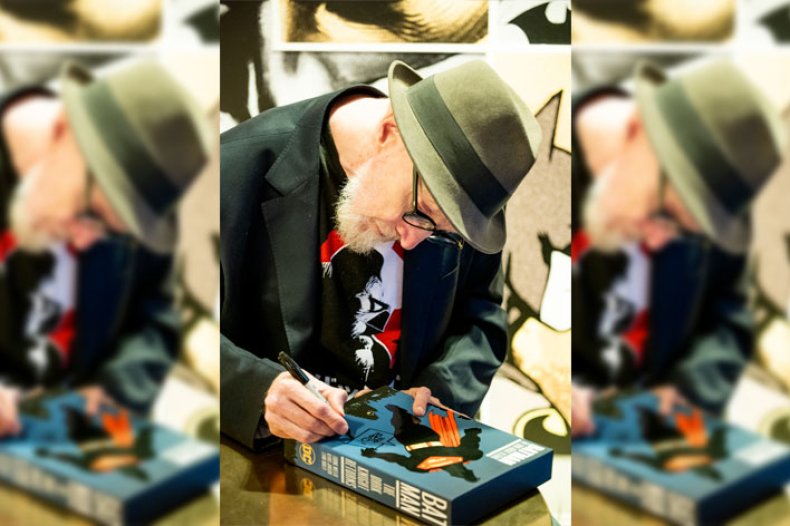 "I took a sanitized version of a tough character and took him closer to his 1940s roots," Frank Miller told Newsweek at an unveiling event for a black and white statue based on the suit Batman wore in The Dark Knight Returns at FAO Schwarz in Rockefeller Center. The 62-year-old veteran cartoonist was signing autographs for fans, juxtaposed between greeters in toy soldier outfits and ceramic statues of Paw Patrol.
The comic veteran known for 300, Sin City, Daredevil and countless other dark tales, had a hand in reinventing the identity of Batman after Adam West had turned him into a joke. All it took was a four issue-comic book miniseries.
"I was an artist possessed with a story and an artist doing a job," Miller said.
In 1939, National Comics published Detective Comics #27, featuring the first appearance of Batman. Created by Bill Finger and Bob Kane, the caped crusader was very unlike the icon we know now, 80 years later. He carried a gun and didn't hesitate using it to shoot down criminals. Early Batman was more a pulpy crime thriller than a collection of super hero heroics. As the Golden Age turned to the Silver Age, Bruce Wayne's gritty demeanor started to fold into fluffy Americana, featuring wackier story lines and his sidekick, Robin the Boy Wonder.
"Batman started out really dark and grim, he was killing people," Jim Fletcher, the Creative Director of DC Entertainment, said at the event. "Then you go into the 60s when he's goofy and he stays like that for a while."
The "pows" and "bams" of Adam West and Burt Ward in 1966's Batman television show, gave the hero a massive burst of pop cultural influence. But after two decades his comic persona was wearing thin — until Miller's interpretation hit comic book store shelves.
"Around that time, I had fallen out of comics and Batman was going on adventures like flying through space, which I didn't care for," Fletcher said. "Then this book and Watchmen come out and it drags me back into comics." Reading Batman not only challenging but defeating the god-like Superman and Miller's reinventing of Gotham as gritty and decrepit opened his eyes to a world of creative opportunity.
"Batman is very relatable," Fletcher said. There's always injustice in the world and Batman is that normal guy who can get out there and do what needs to get done. He's an outlet for people's frustrations or anger for things they can't control."
These different iterations of Batman could not exist without the artists and writers innovating at their easels. Neal Adams, Jim Lee and Greg Capullo are just some of the creative forces that gave Batman life for generations.
"It's always been about the characters and not the people who make them," Miller said. "If you ask the average person who created Superman, they might say Richard Donner, George Reeves or Christopher Reeves. They certainly wouldn't remember two Jewish kids from Cleveland."
Batman will continue to fight crime in Gotham and avenge his parents long after the rest of us are gone. Whether it's with eyebrows drawn onto his costume, a batarang flung from under his cape or a sniper rifle perched on a roof.