'Batman: The Enemy Within' Episode 5 Review: A Tale of Two Jokers
Telltale's games have always suffered from a severe lack of consequences. Sure, the games are filled with various choices to make, but ultimately, the decisions don't matter that much at the end of the story. However, that couldn't be further from the truth for the season finale of Batman: The Enemy Within. Because of branching story paths, there are basically two different episodes.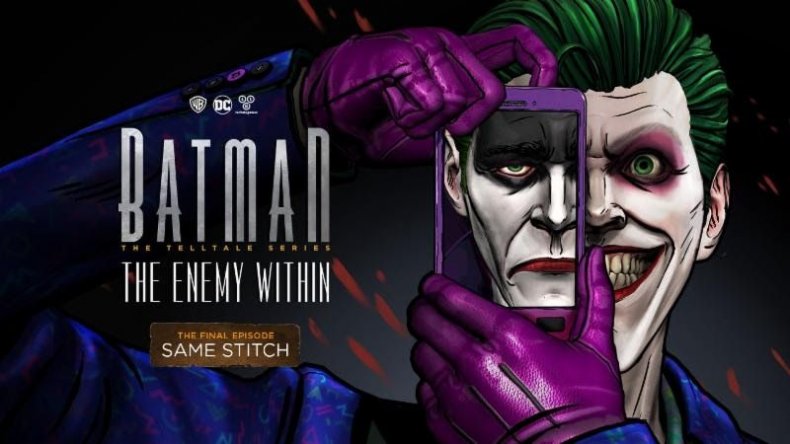 Episode 5 of Batman: The Enemy Within, titled Same Stitch, finally sees John Doe shed his former moniker and adopt his new role as The Joker. However, The Joker character can be born in one of two incarnations, depending on how he's been treated up to this point.
If you've been friends with John over the course of The Enemy Within, you'll strike an uneasy alliance with the man who dreams of being a hero. This version of The Joker is torn between doing what he knows is right, and doing what he feels is right. This Joker has been wronged and abandoned by just about everyone, and can be saved if Batman, or Bruce Wayne, makes sure to say and do the right things. This isn't always easy, as The Joker tends to resort to excessive violence, despite repeated warnings.
Of course, allying with The Joker will make Batman look like he's becoming a villain as well. The Agency, Jim Gordon and just about everyone else will have a hard time accepting Batman's actions. Make sure you pick your enemies with the same scrutiny that you pick your friends.
On the flip side, Same Stitch can also see The Joker turn into the sick, twisted and sadistic villain fans of the Batman franchise have known for years. This version of the character hasn't been wronged by Harley Quinn and instead builds up an army alongside several elaborate traps for our heroes. While this version of The Joker is much more deadly, it's still possible to appeal to his better intentions. This is hard, as The Joker is just waiting to strike at any opportunity, and wants revenge against Gotham and its inhabitants. Even if you think you've gotten on his good side, always be sure to keep an eye on The Joker. You never know what he'll do next.
Aside from The Joker, Same Stitch features the same great writing found across all previous episodes of The Enemy Within. Gameplay is the same familiar Telltale formula, featuring decision making and quick-time action. The fight sequences are pretty cool this time around, and showcase Batman's ability to work with a partner to fight crime. Also, seeing The Joker play out his superhero fantasies was both hilariously endearing and frighteningly troublesome once you see how brutal the Clown Prince can be, even when masquerading as the "good guy."
Having played through the final episode twice, there are at least two completely different games hidden in Episode 5. Telltale says this is the "branchiest" episode the company has ever made, and there are more lines of dialogue in Episode 5 than in all of Christopher Nolan's Batman trilogy combined. In fact, only three scenes at most can overlap between the different versions of The Joker, and even these have added choices to tweak the story even further. Batman/Bruce Wayne can find himself in wildly different situations, and is worth it to play through multiple times to make different choices.
Having played both versions of Same Stitch, I can say they do lead toward the same final conversation Bruce has with Alfred. It's a tough conversation, and anyone with a connection to these characters will have a hard time making these decisions. The episode, and the entire season of The Enemy Within, ends on one of the toughest choices players will have to make over the entire run of Telltale's take on Batman. It also leads to some major implications for the potential third season.
Telltale hasn't commented yet if Batman will return for another season, but a post-game scene seems to leave the door open to continue the story. Without giving away too many spoilers, it will be interesting to see if Telltale manages to maintain the wide breadth of content for every episode of the third season.
Batman: The Enemy Within Episode 5 - Same Stitch releases for PS4, Xbox One, PC, Mac, iOS and Android devices on March 27.
So what do you think? Are you excited to play through the finale to Batman: The Enemy Within? Will you play twice to see both versions of The Joker? Let us know your thoughts in the comments section below.